Guest Author - Mavis Metcalf
Sketch the Cockatiel is looking very pretty for this jigsaw puzzle.
As always, you can make this puzzle easier (or harder) by changing the number and shape of puzzle pieces. See how fast you can get Sketch back together again.
Click here
to send this picture as a postcard.
Click here
for more jigsaw puzzles. There are plenty to choose from.
Sketch is a cinnamon pearl whitefaced Cockatiel. Whitefaced Cockatiels are missing the bright yellow face and the orange cheek patches of the normal coloured Cockatiels. The pearls on her are the spots that you can see along her back. The cinnamon colour replaces the grey on normal Cockatiels.
Different colour mutations of Cockatiels are being developed all the time now. When I first started in Tiels, most of the birds were the normal grey colour and if you were lucky, you might find a lutino (pale yellow with the orange cheek patches) or a pearl in the grey colour.
I spent many years raising and breeding many of the different colour mutations of Cockatiels. Many of them can be found in my Cockatiel e-book.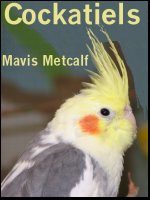 If you have any questions or comments, please feel free to drop by the forum, where there is almost always someone available to talk to.