Building a Tatting Library - Ineke Kuiperij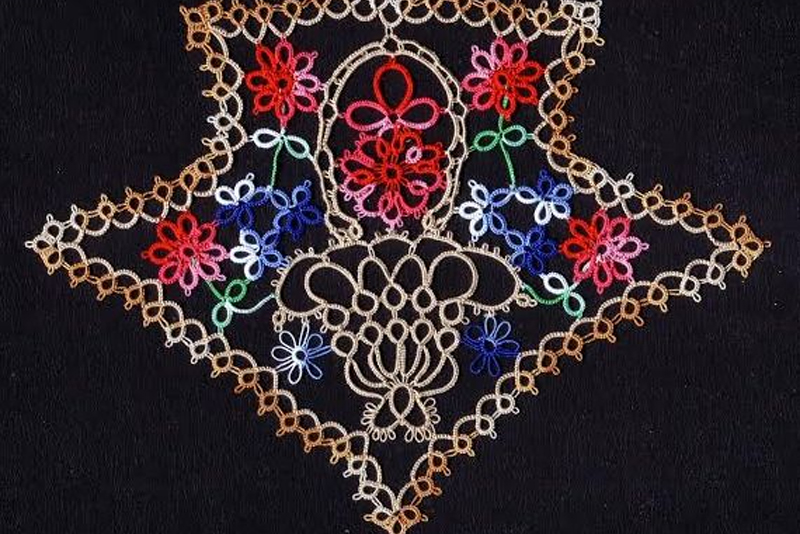 Ineke Kuiperij is a master tatter from the Netherlands. Her talent for constructing 3-dimensional (3-d) objects from tatted lace is astounding. Her first book was a delightful nativity set done all in delicate white thread. The figures were created from simple tatted lace strips formed into cones for bodies and cloaks with arms. Very interesting work. The second book was a chess set complete with chessmen and board. Again, simple tatted strips in cone shape to stand unaided on the board of simple tatted squares. Book three had a larger standing figure, Santa Clause, and a 3-d butterfly to be worked in thread or wire. Even more intriguing.
Book four had stunning 3-d figures in children's toys. A drum, a carriage, a rocking horse, a truck, all with tatted details, eyelashes for the horse, headlights and wheels for the truck, even a fluffy collar for the clown. The fifth book had some traditional tatting in it but with a bit of a twist. Two edgings used split rings in two colors and it was a repeating color pattern thoughtfully constructed. Another nativity set, the Holy Family, done also in 3-d but in a very modern presentation.
The Carousel book which came next was a masterpiece of tatting. It is truly hard to describe, there is so much going on in it. The use of color was stunning. The big top circus feeling was created by the top of the carousel in bold yellow and red stripes done in block tatting. The fancy edge of the top was a mirrored two step edging with beads added to give the impression of lights. The floor of the merry-go-round was also in yellow, a plain ring and chain repeat, but the additional of five lines of tatted red chain created the illusion of movement. Pairs of prancing horses and a swan, turn-about car and a lovers' seat surround the center post decorated with stripes and flowers.
A five car train set with depot followed shortly after the little village of four houses, a church and 3-d trees. A clock on the train station kept the trains running on time and the bell in the church tower rang out the hours for the village. Simply charming. These designs relied heavily on block tatting and tightly tatted edgings. The church windows were even given the impression of leaded glass panes with the use of long picots crossed and attached to opposite sides.
2010 and 2011 brought 2 books packed with 3-d holiday ornaments. Several round or oval pieces were made of strips of tatting joined at top and bottom. But, opposite sides have the lace strip twisted for a modern look. The hanging Christmas tree is represented in minimal tatting but formed with uprights and curves. The most basic of repeating rings and chains are curved to look like stylistic tree limbs. Remarkable structure.
An incredibly creative tatter, Ineke's books are a treasure. Here is a table of tatting terms in three languages: https://www.georgiaseitz.com/reviews/ineketattermsdutch.jpg
Unfortunately, Ineke Kuiperij is not on the web. She may only be contacted through Maria Surtel-Smeulders at riet.surtel@gmail.com .
I have acquired these books over the last decade for my personal tatting reference library. - GS
You Should Also Read:
Building a Tatting Library -Techniques
Building a Tatting Library - Standards
Tatting Basics and History


Related Articles
Editor's Picks Articles
Top Ten Articles
Previous Features
Site Map





Content copyright © 2023 by Georgia Seitz. All rights reserved.
This content was written by Georgia Seitz. If you wish to use this content in any manner, you need written permission. Contact Georgia Seitz for details.