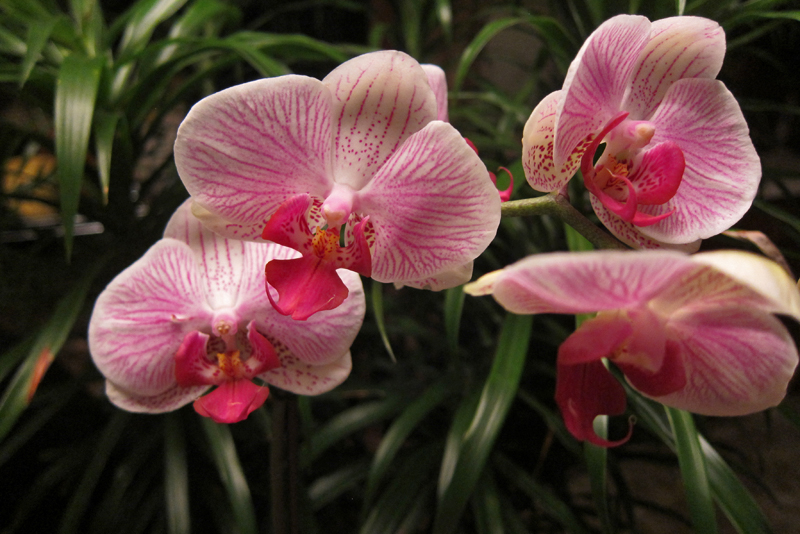 Put away fresh fruit
Fresh fruit emits gases which will cause many orchid flowers to wilt. When you bring in your orchids, be sure to put fruit in your refrigerator so that you can enjoy your flowers to their fullest.

If it won't grow or bloom for you
Many of us have orchids that simply are not happy. They're not growing well and they're definitely not blooming. They are just sitting there taking up space that could be better put to use. If you have some of these, either give them to someone else or throw them away. Spend your time with something that does well in your conditions and will reward you with blooms.

Bayer Rose and Flower spray
There's a new spray out, Bayer's Advanced Rose and Flower Insect Killer spray, which contains Imidacloprid that will kill insects on your plants and when absorbed through the roots and leaves will provide a 30 day systemic action for killing any kind of sucking bugs. It can be applied once a month and is cleared for orchids. Be sure to apply on a cloudy day or early in the morning so that leaves are not burned through the spray on the leaves.

Use Epsom Salts in your fertilizer
Some growers recommend adding a teaspoon per gallon of Epsom Salts to fertilizing solutions for Phalaenopsis when they are flowering to keep the leaves from yellowing. If you decide to do this, do not spray on the leaves -- you will get a buildup of salts on the leaves which is difficult to remove.

Use rainwater if you can get it for all your orchids
Rainwater is the best water to use for your orchids. Species especially have a problem with tap water containing chlorine and other minerals, especially salts. Rainwater is ecologically friendly since you are using less processed water, especially if you have a greenhouse and use lots of water. Be sure that any storage containers are closed so that mosquitoes cannot lay eggs in the water.

Use a calcium filter on misting systems in a greenhouse
It is a good idea to use a calcium filter on the water used in misting systems for a greenhouse. It is better for your plants in that they will not get a coating of calcium deposited on their leaves. It's better for the equipment since you will not have the mineral buildup on the nozzles to clean up constantly.

Repot new orchids after they've finished blooming
It is better to repot new orchids in the mix you're using for most of your specimens after the plant has finished blooming. If all your orchids are in the same mix you can follow an established watering and fertilizing schedule and will not risk over- or under-watering or fertilizing the new additions. Clean off all old media; soak the plant in a fungicide and insecticide to get rid of any pests and fungi before replanting.

You Should Also Read:
Spring Orchid Growing Tips
Repotting Your Orchids - Phalaenopsis
How to Make an Orchid Tree


Related Articles
Editor's Picks Articles
Top Ten Articles
Previous Features
Site Map





Content copyright © 2022 by Susan Taylor. All rights reserved.
This content was written by Susan Taylor. If you wish to use this content in any manner, you need written permission. Contact Anu Dharmani for details.