Marie Rice Researches 1930's Butterfly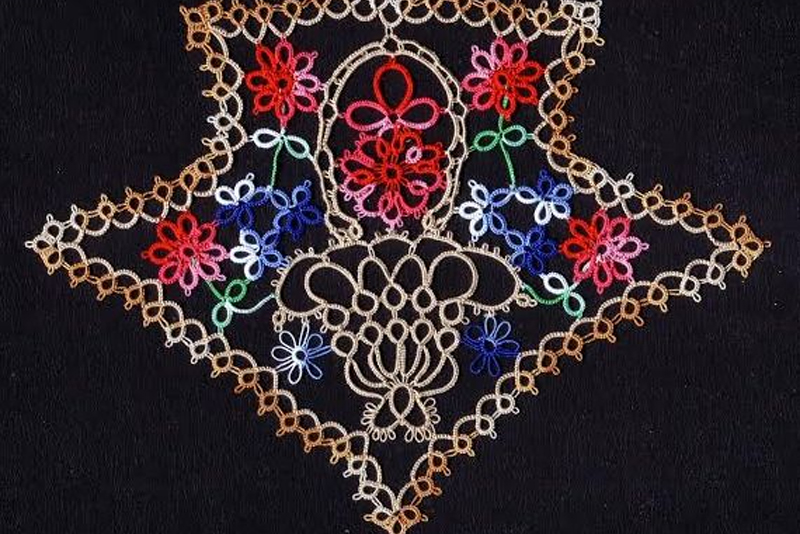 Marie Rice Researches 1930's Butterfly
A few years ago Marie Rice researched a 1930's tatted butterfly which she purchased during a visit to LACIS in Berkeley California. LACIS is a lace maker's and needleworker's paradise. Marie had collected tatting books and patterns for over 50 years, but had never seen this tailed butterfly pattern before. The late Kaethe Kliot dated the original tatting to the 1930's.


This butterfly is a very simple pattern of sets of four rings joined to make a quatrefoil or four leaf clover. These squares were then appliquéd onto pale blue silk. When all rings are joined, the four rings make a block. The original sample was made one block at a time and (GASP!) cut and tied. However, if split rings are used, it may be tatted in 1 pass (or 2 passes if the tatters chooses to make the body a second color) without cutting or tying.








The Basic quatrefoil Diagram

The 4 rings are R 3 - 3 - 3 - 3.








The original layout of the tailed butterfly



This diagram marks the path for tatting a split ring version of the butterfly. The body may be tatted afterwards in a second color if desired. And the open spaces in the butterfly wings may be filler with a third color for more drama. The butterfly wings are mirror images of each other so the tatter may begin at the bottom far side of the tip of either wing. The solid rings are the split rings. The open rings are regular tatted rings. When you reach the head block of four rings, you might consider making a long picot on each of the regular rings. Snip them later to make antennae. Or tie a knot in the end of the picot.


You Should Also Read:
More Fun with Split Ring Tatting - Karen Bovard
Modernize Vintage Tatting Patterns


Related Articles
Editor's Picks Articles
Top Ten Articles
Previous Features
Site Map





Content copyright © 2019 by Georgia Seitz. All rights reserved.
This content was written by Georgia Seitz. If you wish to use this content in any manner, you need written permission. Contact Georgia Seitz for details.