Writing prompts help you to jump-start your imagination and generate ideas. You receive a prompt, such as an intriguing image, and you write down all the fictional scenarios that occur to you. You can do it as a timed exercise or not. The point is to have fun and to let your creativity roam free, unhampered by self-consciousness or the pressure to produce.
You want an intriguing image for a writing prompt. Look for photos that show emotions through people's facial expressions or body language. Photos that show people interacting are also good. Because of our focus on characters, fiction writers get the obvious use from photos of people. But even images of objects or landscapes are helpful if factors such as the arrangement and lighting can suggest a strong mood such as fear, desolation, or even ridiculousness.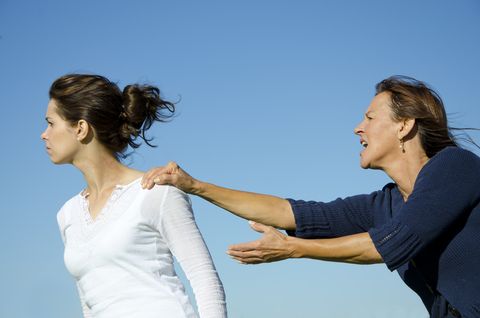 Take the photo I have given you. Don't try to invent anything elaborate that will slow you down such as world-building or character backstory. What do you see in this photo? Two women, right? One younger and one older. But obviously they are feeling some strong negative emotions. You can see this especially in the tension in the older woman's face. Look at the way she grabs the younger woman's shoulder with one hand while stretching out the other hand to…what? Implore her to cooperate? Slap her? See how the younger woman doesn't just turn away. She
leans
away from the older woman as if desperate to escape.
Probably your imagination is shifting into overdrive to explain the situation as you view this photo. Do you see the women as mother and daughter? Wife and mistress to the same man? Lesbian lovers? Mother-in-law and daughter-in-law? Teacher and protégé? Two cadre leaders within a revolutionary movement? Or what? There are numerous potential stories attached to each relationship.
What emotions do you think they are expressing here? We know from the women's tense stances and strained expressions that they are not at peace. But everything else is open to interpretation. Are they fighting with each other? For what reasons? Maybe the older woman wants her daughter not to follow a certain path. Or maybe they are squaring off to see which one will claim a lover that they are both involved with – that is, if they are not lovers breaking up with each other. And for reasons would they break up? Maybe things aren't as obvious as they seem, and the two women are not antagonists. The older woman might be terminally ill (or going to prison – now there is a potential novel!) and trying to get her daughter to accept that fact, and the daughter might be too overcome with grief to listen.
Everyone responds differently to a writing prompt. Only you can write your unique interpretation of what the image seems to suggest based upon your past experiences and way of looking at the world. Using writing prompts can help you blast past writer's block, get in touch with your issues, and think of new ideas. Perhaps best of all, it can put you back in touch with how much fun writing can be when you're not toiling on a project to meet a deadline but are just playing with ideas for their own sake. Try it as a refreshing way to take a break and recharge.
This writing prompt photo is one of the stunning stock images that you can purchase for very reasonable prices at
Dreamstime Stock Photography
.
You might also enjoy
Write Starts: Prompts, Quotes, and Exercises to Jumpstart Your Creativity
available at Amazon.com