S Annie Frost Tatting 1877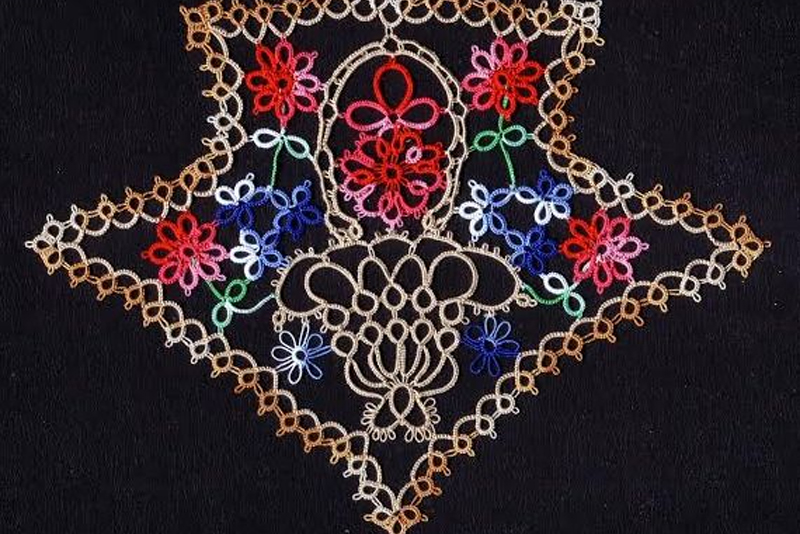 "The Ladies' Guide to Needle Work, Embroidery, ETC., by S. Annie Frost" being a complete guide to all kinds of Ladies' Fancy Work, with Full descriptions of all the various stitches and materials, and a large number of illustrations for each variety of work."
This book by Sarah Annie Frost Shields was printed in 1877 by both Adams & Bishop and Henry T. Williams, publishers in New York. This version has one chapter on tatting, that being Chapter VII on pages 65 - 72. The entire chapter may be downloaded free. See link here on this page of free tatting books posted online: https://www.bellaonline.com/subjects/3137.asp
The tatting illustrated in this chapter is of the simplest variety. If you look closely at the picots between the single rings and the cloverleaf rings you will note that they are not joined in the modern way. It could be that they were simply sewn down touching each other, or it could be that the picots were actually sewn together in the old-fashioned method.
Those tatters who are also interested in the history and development of tatting will find the introduction to the tatting chapter (pg. 65) fascinating. It begins with a description of "an edging of loops, made in a kind of buttonhole stitch, sometimes ornamented with tiny points...These loops and lines,... are made with a small instrument called a SHUTTLE,...and the art of making them is termed the art of tatting or frivolité."
The chapter continues and describes the tools tatters use referring to the engraving on page 66. Shown with the shuttle is also a "purling pin" and a ring. The ring fitted over the thumb and the pin was used to make picots, also known in that era as purls. Loop, loop pearls, pearl and picot are also terms used to describe the length of thread left between stitches which when firmly set or snugged up is pushed outward away from the tatting.
Also included are directions for a tatting etui, a draw string bag with tatting trim. However, the finest image of tatting shown, that of an end for a necktie, has no pattern to accompany it. Close examination of the illustration shows lines of opposing rings broken up by tatted trefoils and quatrefoils. And, surprisingly, it shows modern joins between the rings. If any tatter would like to reproduce this pattern, I will be happy to post it with this info.
You Should Also Read:
Which half stitch come first?
Pearl Stitch in Tatting


Related Articles
Editor's Picks Articles
Top Ten Articles
Previous Features
Site Map





Content copyright © 2023 by Georgia Seitz. All rights reserved.
This content was written by Georgia Seitz. If you wish to use this content in any manner, you need written permission. Contact Georgia Seitz for details.