Tea Drink and Veggie Wrap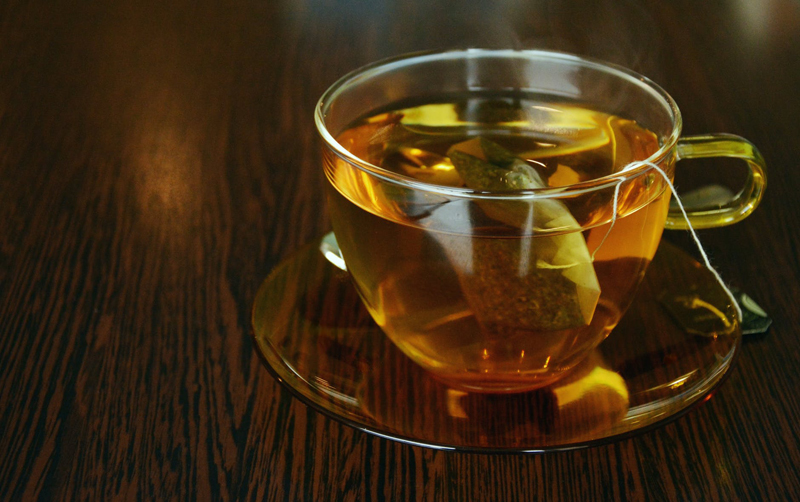 Tea Drink and Veggie Wrap

When the summer starts to heat up, and the humidity is thick in the air it would be refreshing to have something tall and cool. Your goal is to relax and enjoy a lazy summer afternoon.

I found these two recipes and truly enjoyed them. The recipe for the tea was not only refreshing; it could be good for you too! The wrap is quick and easy to make so you can spend more time enjoying yourself.

Sparkling Green Tea Soda

The ingredients for this recipe are:

Iced Tea glasses
1 large tea pitcher or punch bowl
4 c. boiling water
8 bags of your favorite green tea
1 chilled liter of your favorite sparkling water *(flavored waters work best for this recipe)
Strawberry, peach, or raspberry flavors are recommended
3 tbsp. of either sugar or honey
At least 4 c. of assorted fruits (I use either blueberries or limes) other choices could be used such as nectarines or raspberries

The first step:
Add tea bags to the boiling water, and then let stand for up to three minutes.
After the three minutes have expired, remove the tea bags and discard. Then chill the brewed tea.

Step two:
When the tea has been chilled for at least one hour or longer, then add your preferred sweetener.

Step three:
Divide the tea among iced tea glasses
Then add your fruit to each glass (it is your choice how much fruit you like to use)

And finally, the last step:
Add the flavored sparkling water to fill each glass to the rim.

This recipe will yield 8 to 10- 12 ounce glasses.

*Optional: Add a sprig of fresh mint to each glass.

Sit back, sip and enjoy!

Veggie Snack Wrap

This wrap can be served for dinner, or used as a snack. Chicken can be added for a heavier meal. When you really do not want to cook, this is for you. If you have fifteen minutes, that's all you need.

What you'll need for this recipe is:

2 cups of any favorite shredded cheese (can use Havarti, Monterey Jack, or cheddar)
3 cups of coleslaw or any other veggie salad in your deli case
2 medium tomatoes (seed them and then chop)
8 flour tortillas (use your favored kind, *10 inch work best for this recipe)

First, preheat your oven to 350 degrees.

1. Combine the cheese, the coleslaw, and the chopped tomato
2. Divide mixture evenly on the tortillas (if not using all 8 tortillas, adjust the amount of mixture)
3. Roll the tortilla, tuck ends.
4. Place tortillas seam down on an ungreased baking sheet, cover with foil
5. Bake for 10-15 minutes, check for bubbly melted cheese, they are done then
(*optional: use salsa or ranch dip for dipping)

Quick and easy veggie wrap that is not only easy to make, it can be adjusted quickly for a heavier meal. Enjoy!



Related Articles
Editor's Picks Articles
Top Ten Articles
Previous Features
Site Map





Content copyright © 2021 by Mary Caliendo. All rights reserved.
This content was written by Mary Caliendo. If you wish to use this content in any manner, you need written permission. Contact Mary Caliendo for details.