A Personal Look at Michael Jackson The Beer Hunter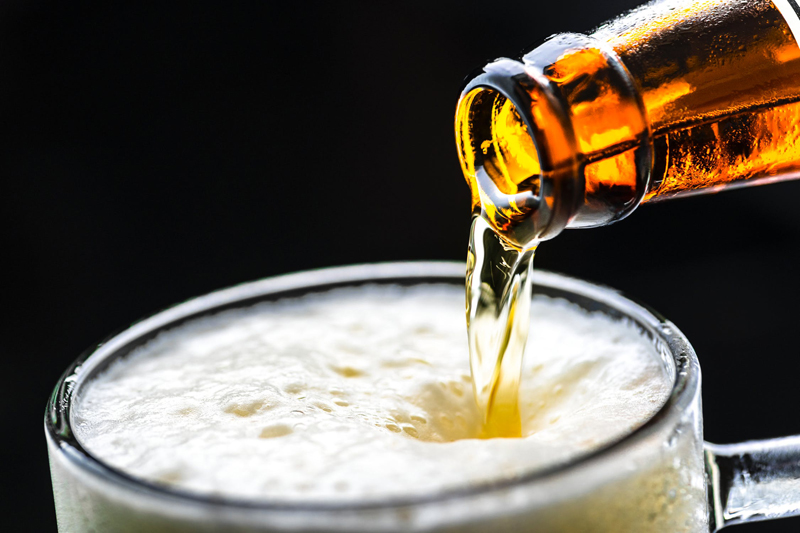 That Thursday morning, darkness visited. It arrived without warning, like a cryptic prowler in a black cloak, waiting in the shadows for its next victim. Totally unexpected…a day without an end…dismal, sombre, oppressive, nefarious.

As the phone resonated its echoing tinkle, I lunged to answer it, positive that the deep resonance of Michael's voice would shower me with yet another robust melody, similar to his greeting two days earlier when he phoned at this precise time to sing "Happy Birthday." It was Cathy, Michael's assistant.

Even at that, my internal alarm took a moment to engage. I thought she was calling to finalize the arrangements for our trip to Ireland, a discussion Michael and I had confirmed the previous evening. Her words tumbled through the phone like an obsidian cloak that strangled my voice. My guts knotted up. A feeling of numbness enveloped me. She had to be wrong.

Michael Jackson, our Beer Hunter, had died.  It was August 30th, 2007, and Michael's housekeeper, Pauline, had found him only 45-minutes earlier. The police and ambulance corps responded quickly, but there was no hope for resuscitation. I felt as though a piece of me died with him.

Michael Jackson, the most influential and distinguished authority on beer and whiskey in the world, had been dealing with many health problems, but always handled them as private matters, keeping news of his Parkinson's under wraps for over ten years. In his personal life, he rarely complained, but trudged onward like a mighty warrior, even when his fingers or legs fought against him. For a considerable time, he allowed people to think he was drunk. When his condition dramatically unfurled at the Great American Beer Festival in 2006, he decided it was time to make his Parkinson's a public matter.

His personal belief system never let Parkinson's beat him. In July 2007, his opening to a personal email reveals his strength of spirit:
"…Dear Steely Strong Determined Partner to a man who seeks to sustain his spirit in a battered brain and broken body by invoking Yorkshire stubbornness, the belief that Huddersfield will one day get their hands back on the Rugby League Cup (preferably by wresting it from St Helens), the beliefs of Vince Lombardi, and the Jewish survival instinct…"

Despite his uncooperative health, he continued to travel extensively. Since April, he had visited Poland twice, Italy, Belgium three times, Russia, the Netherlands, Scotland, and Finland. He had just completed "The Eyewitness Guide to Beer," was writing a Polish book on beer, and had primed himself to begin a book on Parkinson's.

Yes, he was a fighter…tenacious and solid.

Through this tenacity, Michael symbolically carved that Statue of David that was "Beer," elevating it and placing it in a throne of honour. He shaped every corner, smoothed every line. He bestowed favor upon the most obscure Belgian beers – Lambic, Flanders Red, Saison, Biere Brut, Grottenbier – styles that might have been lost to the world, but were resurrected in the global community because of his artistic words. So astounding was his accomplishment within the Belgian economy that Crown Prince Phillippe of Belgium presented Jackson with the Mercurius Award. He was initiated as an Officer of Honour in the Chevalerie de Fourquet, and was admitted as a member of the Belgian Confederation of Brewers in 1997.


Michael understood how terroir affects every nuance in brewing, and how it imparts delicate flavors within the dram. Craft brewers in the USA were ignited with passion through his books, and became inspired to design beers with greater complexity - all due to Jackson's personal interest in their brewing operations, be they large and complex, or small and plain. If they brewed good beer, he applauded them. He received countless honors, including the Recognition Award from the Brewers Association and, in 2006, the James Beard Award in the Drinks Category for his book, Whiskey – The Definitive World Guide a huge accomplishment when weighed against a book about Hugh Grant, the Emperor of Wine.

In keeping with most people who discover an interest in beer, my first exposure to Michael Jackson was through his engaging books. As the beer world expanded in my own life, I observed seasoned publishers and brewers repeat his name over and over, as if he were a Rock Star. It did not take long to discover that whatever he wrote was firmly based on authoritative research, a skill he developed over years of work in editorial journalism in the print and video genre. He traveled the world and, by 1976, began authoring books of people, customs, architecture, literature and art, and their association with beer and whiskey.

When I met up with Michael for the second time in 2006, we discovered a charismatic electricity between us. Our personal relationship found fertile ground, and I saw a man who was even more powerful, kind, and engaging than any tribute has revealed. We exchanged considerate gestures – perhaps breakfast on a silver platter or freshly brewed coffee at the end of the workday. Maybe it was the gift of an unpublished story, or a surprise of chocolate and yogurt.

Even with Parkinson's interfering with his bodily motion, Michael managed to play basketball with Tyler, my youngest son who is 20. Tyler is, at times, physically clumsy since a motor vehicle accident five years ago, but admits that "MJ" was a better basketball player than he was. Michael also encouraged him to cook, and introduced him to the wonders of fresh herbs and spices. He bought Tyler the book "Tyler's Ultimate" by Tyler Florence, knowing that the title would engage his interest. He advised him, "Tyler, pick one recipe each week to cook with your mum."

Although they never had the opportunity to meet, my oldest son Michael, who lives away from home, was fond of MJ and wrote him occasional letters. In one letter to MJ, my son wrote, "…a lot of people seem to take his [Tyler's] actions the wrong way. I like that you're not judgmental with him. You also seem to make my mother extremely happy …"

Although we had not yet completed a plan that would keep us on the same side of the Atlantic, Michael and I managed to spend a considerable amount of time together, coordinating his complex schedule with my work obligations. For those times when we could not be together, we were grateful for the technology that allowed tactile contact through daily phone calls and personal emails. During Rugby League season, he often called me three times during the game so I could hear the excitement of the crowd and talk to each of his buddies. When he traveled, he would phone as he arrived at his destination, describing the lobby as he walked into a grand hotel. He would have me speak with the Polish barmaid who had just dispensed him a fine cask ale. He was fun, and it was wonderful sharing our love with one other.

His words from his last article for All About Beer Magazine could be spoken by me, as well. "Let me see, where have I been? In love. Yes, I have been in love. That's for sure. Still am."
 
You Should Also Read:
International Pilsner Urquell Master Bartender of the Year Award 2006
Whiskey - The Definitive World Guide
Michael Jackson Passes Away - World Beer & Whiskey Authority


Related Articles
Editor's Picks Articles
Top Ten Articles
Previous Features
Site Map





Content copyright © 2023 by Carolyn Smagalski. All rights reserved.
This content was written by Carolyn Smagalski. If you wish to use this content in any manner, you need written permission. Contact Carolyn Smagalski for details.