Re-bloom Your Phalaenopsis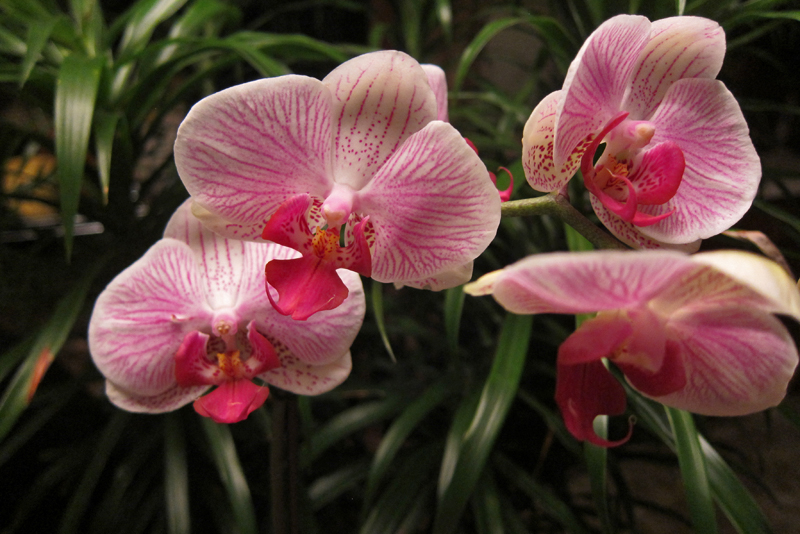 Since Phalaenopsis are the most popular orchids and are now available in mass marketing outlets, one of the most common questions orchid experts get is "How do I get my Phal to flower again?" Fall is the perfect time to address this question since it is now, at least in the northern hemisphere, that you encourage your Phals to initiate their inflorescences.

Phals are temperature sensitive plants and will start producing their flower stems as a result of cooler night-time temperatures in the range of 55-60 degrees Fahrenheit or approximately 15 degrees Celsius. They will need about a month of cooler night temperatures to initiate flowering. The new growth appears at the bottom of the plant from below the last leaf, or from between the oldest leaves. At first it looks much like a new root growth, but will grow straight up rather than outward or downward. Once the inflorescence is started, the plant can be replaced in its normal environment and the flowering will continue.

Stake the inflorescence once it has reached approximately 4 inches or 10 centimeters high, being careful not to damage the new growth. For most Phals, you will need a sturdy stake approximately 18 inches or 45 centimeters long. Place this as close to the bottom of the new growth as possible without injuring the roots. Attach the growth loosely to the stake at about 2 inch or 5 centimeter intervals as the end grows until you notice the first bud appearing. Most growers only stake their Phals up to this first bud so that the arching inflorescence will best display the flowers.

One thing that is very important to remember is that in order to produce the best display of flowers, it's imperative that you allow the plant to produce its flowers without changing the light direction that it gets. Put a marker on one side of the pot so that you know how to replace the plant in the exact same relationship to light as it had been before it was moved for water or spraying. If you do not take care about this, the flowers can become twisted on the stem.

One thing that home growers must guard against is bud blast in Phals. This is most commonly caused by low humidity or by air pollution in a house. Put your Phals on a humidity tray and make sure that they are away from sources of gases such as kitchens. Cigarette smoke will also cause buds to dry and drop from the stems.

Many Phals will bloom for months from the time the first flower opens. If the stem doesn't turn yellow, cut it back to where the second or third flower appeared and you may be lucky to get a side branch on the inflorescence which will then bloom. If you are serious about keeping these plants, I recommend that you cut any live inflorescences in June or July to allow the plants to rest before starting new flowering. If the stem turns yellow after the last flower has bloomed, then there is no chance of branching. Cut the inflorescence back as close to the bottom of the plant as possible and allow the plant to rest and get ready to bloom again.

You Should Also Read:
Repotting Your Orchids - Phalaenopsis
Phalaenopsis--What next?
Phalaenopsis--Pick a good one


Related Articles
Editor's Picks Articles
Top Ten Articles
Previous Features
Site Map





Content copyright © 2019 by Susan Taylor. All rights reserved.
This content was written by Susan Taylor. If you wish to use this content in any manner, you need written permission. Contact Anu Dharmani for details.