Orchid Profile – Brassocattleya Maikai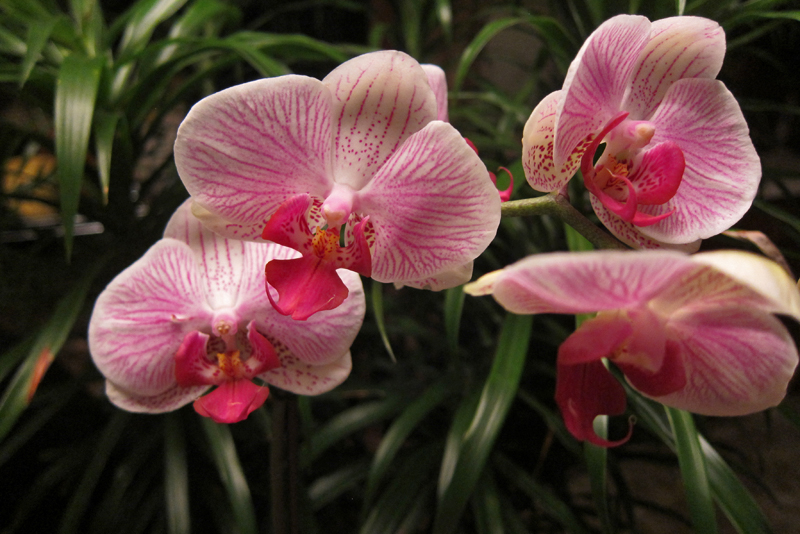 This is one of the first hybrids to be spotlighted in my Orchid Profile series because it's one of my favorites and very easy to grow. There are two well known clones of the hybrid available
Bc. Maikai 'Louise' AM/AOS
and
Bc. Maikai 'Mayumi' HCC/AOS
. They are very similar in appearance and growth, but the flowers on 'Louise' do not fade quite as much as 'Mayumi'. I was lucky that I picked this plant as one of the first that I purchased when I started growing orchids. It did not bloom for me the first year I had it because it was not getting enough light. But since then with better conditions, it has been one of my favorites.
There are several reasons I really like this orchid. It is considered to be a compact size plant which means that it rarely exceeds 12 inches or 30 centimeters in normal leaf height (the flowers will grow up above the leaves); it regularly produces multiple leads (growths) so that normally you will get more than one inflorescence at a time; and each inflorescence has multiple flowers (called multi-floral). When all these are put together you get a plant that really produces a show for you.
The flowers are about 3 inches or 10 centimeters across with interesting spotting that shows through to the back of the petals and sepals. The spotting is particularly noticeable on the throat in the center of the flower where it can be almost solid. The color varies from light to dark orchid in color and the tone will change as the flowers mature. Some growers can get them to bloom several times a year, but I have only seen them bloom in the late fall/winter here in Houston. They do require fairly high light during their growing season in order to produce flowers so putting them outside in the summer can be very beneficial.
Bc. Maikai is a cross between
Cattleya bowringiana
and
Brassavola nodosa
. As with most nodosa crosses, the flowers are star-shaped with divided sepals and petals rather than a rounded flower. The nodosa background gives the plant its nice size and leaf shape as well as its growth habit.
They need repotting when they have filled their pot, or they will simply stop flowering. Mine filled the pot after 3 years and produced 44 flowers on one flowering; the next year when I did not repot it produced 4. This is a plant that will grow into a good sized container and allow you to split it up for friends or newcomers groups in your orchid society.
You Should Also Read:
Orchid Profile - Oncidium papilio
Enough Light for Orchids
Repotting Your Orchids - Cattleyas


Related Articles
Editor's Picks Articles
Top Ten Articles
Previous Features
Site Map





Content copyright © 2022 by Susan Taylor. All rights reserved.
This content was written by Susan Taylor. If you wish to use this content in any manner, you need written permission. Contact Anu Dharmani for details.