Orchid Profile - Oncidium (Psychopsis) papilio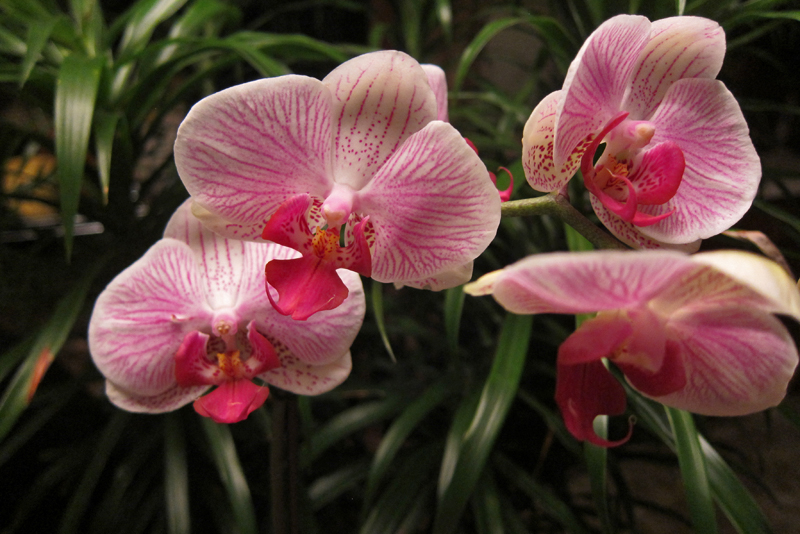 Oncidium (previously known as Psychopsis) papilio
, or Butterfly Orchid is one of the most distinctive of all orchids. The flowers are bright orange and yellow with sepals that are slender and resemble the antennae of a butterfly. It is a member of the Oncidium Alliance and fairly easy to grow. A native of Trinidad and South America, it grows as an epiphyte at low elevations. Papilio needs intermediate temperatures and a fair amount of water during the growing season. Pseudobulbs should be nice and plump, not wrinkled.
As you can see, the flowers are spectacular! The orange and yellow 5-6 inch, or 13-16 centimeter, flowers are held high above the plant itself on a long inflorescence that can reach 2 feet, or 24 centimeters. There is also an alba (white) variety, but it is much harder to grow than the standard variety. At an orchid show these are always show stoppers, since there is nothing else like them. Don't cut the inflorescences since they will continue to produce buds for years. The leaf of this Oncidium is a mottled purplish green color which given additional interest to the plant. Intermediate to warm temperatures are perfect for them. Night-time low temperatures should be approximately 55 degrees during the winter with high daytime temperatures below 90 degrees Fahrenheit.
The plants do not like to be moved so should be grown in an open medium that is slow to break down. Some experts suggest that when repotting is necessary, remove the plants from their mix, clean off old media and then allow to dry until new root growth is apparent. Then pot in fresh mix, being careful to place in the new pot so that the new roots are in contact with medium rather than the air. Be sure to provide good support for the plants until they are well established in their new pots. A light watering schedule should be followed for a couple of weeks after repotting to let the plant establish new roots faster. It is also recommended that all old inflorescences be removed in order to encourage the plant to use its energy to establish new roots.
These plants are especially susceptible to rot, so be careful to provide extremely good air circulation as well as monthly applications of Consan or Physan 20 to keep rots under control. They like high humidity as long as the air circulation is adequate. Light requirements seem to be varied as some grow them with Phalaenopsis and others with Cattleyas. The more light you give them, the more water and fertilizer they will need. Cooler winter temperatures will reduce the need for water as they will be growing more slowly.
You Should Also Read:
Spring Orchid Growing Tips
Hobby Greenhouses for Orchids
Enough Light for Orchids


Related Articles
Editor's Picks Articles
Top Ten Articles
Previous Features
Site Map





Content copyright © 2022 by Susan Taylor. All rights reserved.
This content was written by Susan Taylor. If you wish to use this content in any manner, you need written permission. Contact Anu Dharmani for details.