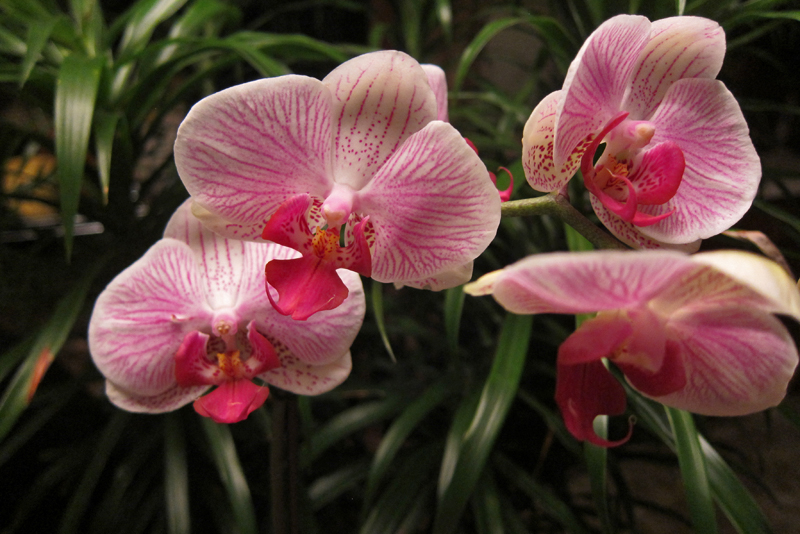 As a last ditch effort to save a favorite orchid or to try to save one given to you in the last stages of life by a friend, putting together an intensive care unit in your growing area may just do the trick.

Most plants in the end stages of life got there by over-watering and therefore the roots are rotting away. After the roots have rotted, the plant has no way to get nutrients into it and will slowly wilt lose leaves and then die.

Your ICU unit can consist of almost any kind of container which can be covered and partially sealed to hold in humidity. An old terrarium will work well if you have the space for it. Some people use the plastic containers available in markets which have tops. There are trays available in gardening centers too which can be used for this purpose. In actuality, almost anything will work as long as it is tall enough to accommodate your orchid. Cut and put a piece of indoor/outdoor carpeting or carpet padding or other water retentive material in the bottom of the container. Wet with water until the carpeting is saturated – this will provide the constant humidity the plants will need.

Unpot the plant and clean off any old media. Cut off all dead roots and then soak the plant for five minutes in some kind of antifungal agent. Replant in a small pot with sphagnum moss only. Sphagnum has natural antifungal properties and should keep the root rot from occurring again.

Once you have plants in the unit, you will only have to water them about once a week since the humidity will be high. Do not put your unit in direct sunlight or the plants will be steamed to death in a very short time. You will need to place your hospital in a location that receives diffused light, but less than the plants usually need. Use a very weak solution (one-half to one-quarter strength) fertilizer every other week and make sure that you spray on the leaves so that additional nutrition can be absorbed through the leaf openings. Be sure to allow air to circulate after misting so that the leaves may dry before enclosing the plants again.

You should see new root growth in about a month if the plant is going to survive. Once root growth is restored, slowly move the plant into your regular growing area and move back to normal light sources. Give this a try with your next plant that seems to be doing badly!

You Should Also Read:
Growing Orchids for Beginners
Orchid Growing Tips #18
Repotting Your Orchids - Cymbidiums


Related Articles
Editor's Picks Articles
Top Ten Articles
Previous Features
Site Map





Content copyright © 2022 by Susan Taylor. All rights reserved.
This content was written by Susan Taylor. If you wish to use this content in any manner, you need written permission. Contact Anu Dharmani for details.