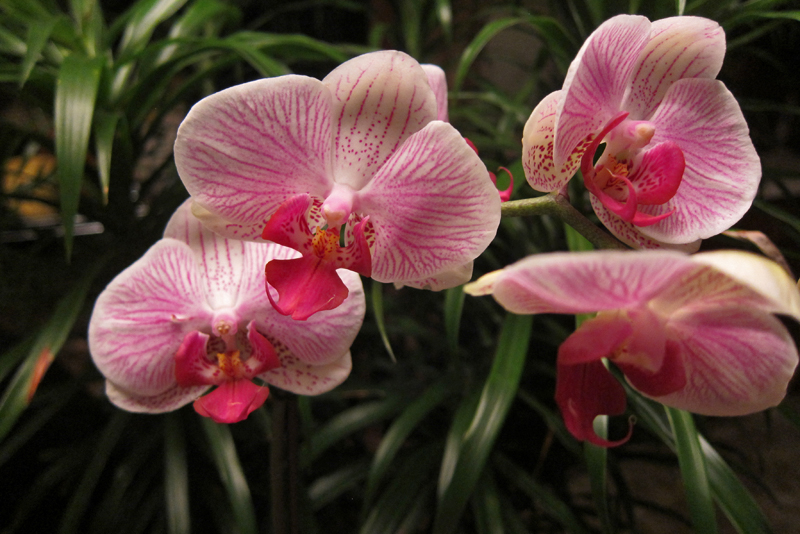 Use old Venetian blinds for labels
Venetian blinds are made of UV resistant material so that they will last longer as labels. Cut up the old blinds to the correct size and use a number 2 pencil or an indelible ink pen to write on them. It is a good idea to replace labels every two or three years since the plastic ones rarely last much longer and you want to make sure that you know the name of that plant.

Hardware cloth for hanging or mounted orchids
Almost all of us run out of space in a growing area or greenhouse. Use hardware cloth (a kind of fencing generally with 4-inch by 2-inch spaces) to make additional room by attaching to an inverted "V" frame. The frame can be used to hang mounted plants. An alternative is to put the cloth on the inside of a wooden greenhouse which will provide all kinds of new space for hanging.

Move your plants around if they are not doing well
Orchids need appropriate conditions to grow, flower and produce the best show. If you have one that is not flowering try moving it to a sunnier or lighter area. If you have one whose leaves are turning yellow from too much sun, move it to a shadier spot. Certain areas in your growing area -- either outside or inside -- will provide slightly different conditions and a specific orchid might do better there.

Use fungicide when repotting
In order to prevent fungus when repotting and cutting roots, always soak the plant for a few minutes in a recommended fungicide with liquid soap added to the water for about five minutes. This will kill insects, protect and seal cuts from pruning roots and the plant, and prevent fungus and bacterial rot. This is always a good preventative when repotting.

Fungus gnat control
Here's a good idea for control of fungus gnats -- those annoying little bugs that live in your pots and buzz around the house. Sprinkle cinnamon powder (non-sugared) on top of the medium and it will kill the fungus that the gnats eat, thus eliminating them. This will work for any kind of potted plant.

Homemade remedy for red spider mites
Blend together equal parts of water and buttermilk and add a couple of drops of liquid soap. Spray affected plants thoroughly to the point of runoff to kill infestations.

Epsom salts for Cattleyas
Some Cattleya hybrids will develop reddish colored leaves under cool conditions in the fall and winter. Add a teaspoon of Epsom Salts to your fertilizing water to help prevent this. As always, do not spray the plant with this mixture, just provide it to the roots.

You Should Also Read:
Fall Orchid Growing Tips
Water Quality
Greenhouses - Light Requirements


Related Articles
Editor's Picks Articles
Top Ten Articles
Previous Features
Site Map





Content copyright © 2022 by Susan Taylor. All rights reserved.
This content was written by Susan Taylor. If you wish to use this content in any manner, you need written permission. Contact Anu Dharmani for details.