Guest Author - Mavis Metcalf
Cockatiels make wonderful pets, especially when they have been hand fed by the breeder. Parent fed cockatiels can be tamed fairly easily and will also become wonderful pets, but when your bird starts out handfed, there is no adjustment period when you bring him home as a new pet.
There is a difference between hand feeding properly and just hand feeding. A baby cockatiel can be hand fed quickly and returned to his clutch males and end up just about as wild as another baby cockatiel that was parent raised. Time must be taken when hand feeding to take some time to handle the babies, talk to the babies and love the babies. Cockatiels hand fed in this manner will be tame, loving birds.
When I was breeding cockatiels, I removed the babies from their parents when the oldest one was approximately two to three weeks of age to begin hand feeding.
Most pet stores sell hand feeding formula. This is a powder that must be mixed with warm water and fed to the babies immediately. Whatever is not eaten must be thrown away, so just mix up a bit at a time. Follow the directions to mix the formula up to the right consistency – usually thinner for younger birds and a little thicker for older birds.
The formula has to be the correct temperature – if the food is too cool, it will not digest properly and if it is too hot, the baby's crop may burn. These are both serious problems and may result in the death of the baby cockatiel.
There are a few slightly different tools that can be used to feed your baby cockatiels. I normally used an eyedropper. The ones with the glass tube are best because they can be boiled between uses. Others use a small spoon with the edges turned up or a small syringe. All methods require that the baby is ready to eat and he or she indicates this by bobbing the head up & down (or pumping). When the baby is pumping, you can give him food. You can feed the baby until the crop is nice and full.
The cockatiels will need to be fed every four hours throughout the day. At two weeks of age, I would be closer to three hours between feedings, and gradually increase the time as they got a little older. They do not have to be fed at night, but I would normally delay the last feeding in the evening, so they did not have to go a full eight hours before their morning feed. You can use your own schedule, but my feeding times were 6am, 10am, 2pm, 6pm, 11 pm.
When the babies are approximately four to five weeks of age, you can start giving them some food in a dish to start nibbling on. You can give them small pieces of fruits or vegetables, hard boiled egg, mashed potatoes (without any additives), small pellets (either dry or mixed with some warm water – do not leave in container long if moist).
Baby cockatiels will not try new foods if they are hungry, so please make sure you continue hand feeding them on the same schedule while they try out some of the new foods. You will find that at about 8 weeks (a little before or a little after), they will be more interested in flying than in eating what you have to offer. They will be eating and drinking more on their own. When they refuse to take any hand feeding formula from you for a few days and you can see them eating and drinking on their own, you can consider the baby cockatiels weaned.
Although it is scary watching the babies flying on their own, it is important that you provide them with a safe place to fly in order to develop their muscles and learn how to maneuver safely.
I spent many years raising and breeding Cockatiels. The knowledge I gained from this experience can be found in my Cockatiel e-book.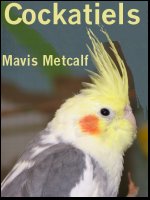 Chapters Indigo have wonderful books for pet bird owners.