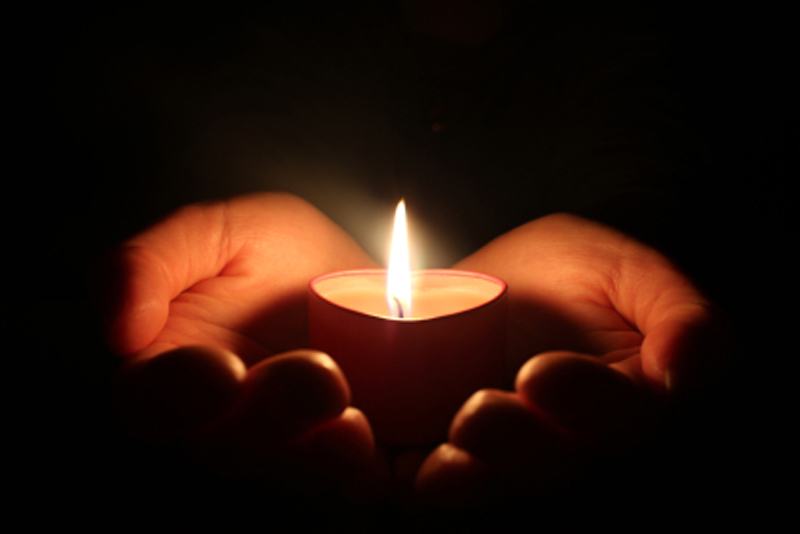 Faced with his life review, the Fool leaves the physical world behind him. As Gabriel the Archangel touches him he rises naked and cleansed into the sky with his dog Wisdom in his arms.

The next sensation the Fool experiences is being in a warm and comfortable space. He and Wisdom sleep suspended in that space for a very long time. He is in the womb of the Mother. Gaia the body of the Earth is nurturing him within her womb.

Eventually the Fool awakens and stretches his limbs. He realizes that he is much smaller and so is Wisdom. He looks down at his tiny fingers and toes and understands that he is about to be reborn. Wisdom is a tiny white puppy with her eyes still tightly closed although she is beginning to wiggle and stir.

He feels a pressure squeezing him downwards and is suddenly propelled into the world of matter. He takes his first breath and opens his eyes.

Wisdom is beside him, eyes open too. She is looking around her with the same wonder and delight that the Fool is feeling. Their journey has reached completion and they have been reborn again.

He sees his mother dancing beside him in her Earthly form. She is the Earth incarnate. And he is her child.

She holds two batons in her hands representing true balance of body, mind and spirit. She is dancing in the center of a thick green wreath representing success and achievement. The wreath is tied on two sides with red infinity ribbons indicating the cycles of life.

Around her dance the same figures the Fool met in the Wheel of Fortune. The Eagle, Bull, Cherub and Lion dance in harmony with Gaia. She has control of the elements, the natural world, and her own needs and desires.

The Fool has completed his cycle too. He has danced his way through the Major Arcana and now he is ready for this last part of his journey. His mother holds him to her breast and nurses him and he is content and happy.

The Fool, being a magical creature, grows very quickly into a young man. He spends his days dancing with his mother and basking in the sunlight. Wisdom grows quickly too and is soon a very beautiful little white dog. She is the Fool's constant companion, never leaving his side. He has completely forgotten his old life, and is only aware of the sunlight on his body.

When the time is right, Gaia calls the Fool to her and bids him to dress in his new clothing. He is going on a journey. The Fool does her bidding without a question. He has no questions to ask. He is a blank slate waiting for his story to be written.

If the World card appears in your layout, you are about to be reborn!! This is the end of a cycle and a brand new beginning for you. And, you have all the tools and skills necessary to make this new beginning an awesome one. You are fully awake and aware and ready to take control of your own life.

The Fool picks up the bag Gaia has packed for him, slings it over his shoulder and steps out of the trees and onto a cliff.

The journey of the Fool has ended.. and just begun.


Related Articles
Editor's Picks Articles
Top Ten Articles
Previous Features
Site Map





Content copyright © 2022 by Linda J. Paul. All rights reserved.
This content was written by Linda J. Paul. If you wish to use this content in any manner, you need written permission. Contact Linda J. Paul for details.