Helping Your Orchids through the Summer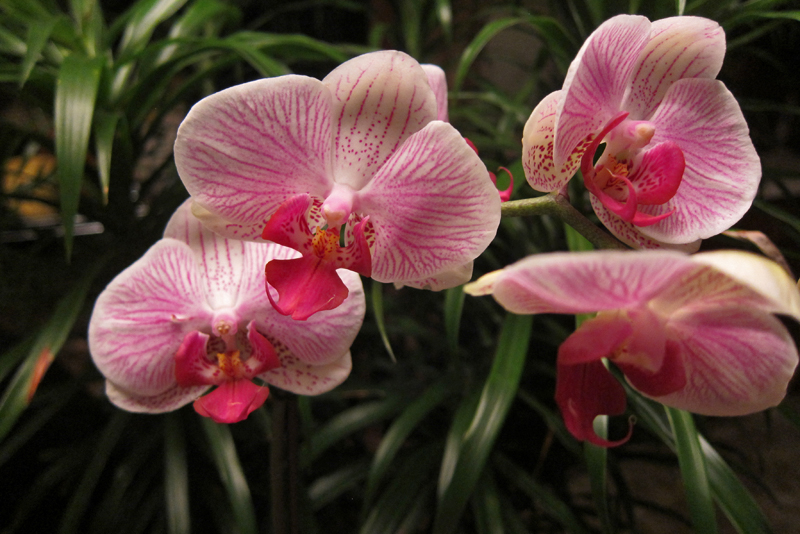 Here in the south we have very hot summers and my greenhouse faces west so that it receives full afternoon sun. My main concern at this time of year is keeping my orchids cool enough. Another problem is that the smaller orchids in less than four-inch pots dry out much faster than the larger ones. In order to be consistent, I only water twice a week, but will mist and wet down the media on the smaller ones as necessary. I've experimented with several different options and the best one I've found is to put a clay saucer under the smaller pots of Cattleyas. I use a five-inch saucer for a four-inch pot.

What this accomplishes is to provide a longer period for the media in the pot to absorb water, rather than only as the water is run through. The clay saucer will respire and evaporate water, especially on dry days, so that the plant is cooler while it gets more water. The clay saucers will not hold water as long as a plastic one so that there is less chance of the roots staying too wet for too long. If you notice one saucer that has water in it when all the others are day, then either water a little less or dispose of the water to allow the plant to dry. I've had good luck with this method for most hybrid Cattleyas except for the Nodosas and their primary hybrids. It is just too wet for them. Oncidiums seem to adapt well to this culture, also. Dendrobiums do not like this, so don't try with them.

For larger plants, add some sphagnum moss to the top of the media and wet that down between waterings to provide extra moisture. It will dry out fairly quickly, but allow the top roots to absorb more moisture as they need it without getting too waterlogged. This will also provide some extra humidity to the plant as the moss releases its water to the air.

Mounted orchids and Vandaceous orchids should be watered morning and evening during the hottest part of the summer. Putting them under the misting system will provide enough extra water if you are unable to water by hand this often.

Extra air circulation in the form of an exhaust fan or a circulating fan will cause extra evaporation from your pots and saucers also reducing the air temperature. A misting system, either hooked up to your garden hose, or a self-contained system, is almost a necessity during the summer to provide humidity and help cool your orchids.

You Should Also Read:
Summer Orchid Growing Tips
Growing outdoors
Outdoor orchid areas


Related Articles
Editor's Picks Articles
Top Ten Articles
Previous Features
Site Map





Content copyright © 2023 by Susan Taylor. All rights reserved.
This content was written by Susan Taylor. If you wish to use this content in any manner, you need written permission. Contact Anu Dharmani for details.