A Beer Hunter Fantasy - Christmas in March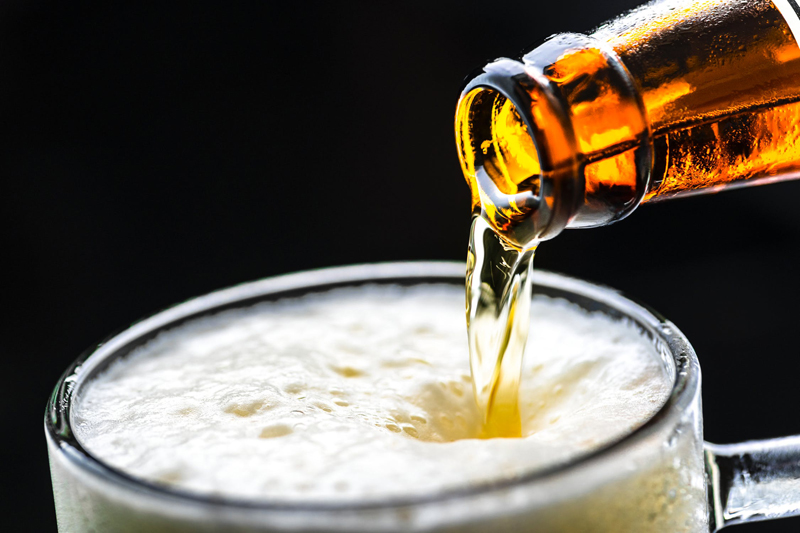 I wondered if such a bizarre dream would be considered blasphemy with a strange twist of impropriety. Was it Michael Jackson's reminder to me from the "other side" that his birthday was imminent, and that I must celebrate March 27th 2008 with the youthful 66-year-old yet one more time? Had he wanted to raise a glass, despite his early demise from life?

I stood surrounded by a dreamy mist, a character actress, immobile and confused. The cavernous space inside Macy's Department Store loomed in arches above my head. The scene mirrored that of the chaotic Hollywood of "A Christmas Story," that childhood fantasy flick of Ralphie Parker in 1950s small-town America. Beer Hunter Michael Jackson was dressed like Kris Kringle – yes, it was March – his curling salt-and-pepper beard, wrapping in wisps around a crimson cap that was trimmed in the soft aura of hoary, Siberian fox fur. Oddly, Jackson wore a black tuxedo jacket, its satin lapels trimmed with deeply embroidered stitches, black-on-black. Around his neck was a ribbon of royal azure, adorned with the symbol of the Keepers of the Quaich. He was agile and sure-footed as he swung a clanking sack of bottles from his left shoulder onto a powdery, snow-covered floor. Adults and children were milling about, while our amiable Bard of Beer anchored their attention, introducing new and exciting styles of beer to all who would listen. He shared his most vivid stories of farmhouse brewers in Belgium – of gazing from the rooftops across the Zenne Valley - and of brewers in America who aged their beer in barrels fashioned from Paraguayan Wood.

Although the dream-like event was already underway, I hurriedly began making a poster to advertise the exotic nature of this rare festival, but needed two photographs to finish the grand announcement. I enlisted the help of Tom Dalldorf, publisher of Celebrator Beer News, but he kept handing me lovely architectural drawings of house designs. I became increasingly anxious that the photos were just not right. Noticing my frustration, a chubby little boy (or was he an elf?) led me up a wood-slatted stairwell and prompted me to stash my bags in a cedar chest at the top. It seems I was about to go on a journey.

A tall, lean Sir Richard Branson led me into a state-of-the-art facility in which sleek, glossed onyx aircraft, similar to modified F-117 Nighthawks, were lined up like military nutcrackers. I was ushered into one such aircraft, where Sir Richard, Kringle (played by our own Michael Jackson), and Tom Dalldorf were awaiting dispatch on yet another Iron Liver Tour of magnanimous proportions. Dalldorf asked me if I could withstand the G-forces of entering outer space. I assured him that it would be no problem for this experienced pilot. Dalldorf and I were seated on the floor of the cargo hold, bracing ourselves against a bar that separated this cargo area from the cockpit. The esteemed First Officer, Michael Jackson, was belted into a seat paralleling the pilot, anxious and excited with the prospect of igniting a lifetime passion in his charges.

I can recall fighting the g-forces, feeling my face distort as the speed became close to unbearable. I forced my eyes closed, as my cheeks flattened and my jowls flapped along the edge of my jawbone. The feeling was intense. Was I about to pass out? Expire? Suddenly, it was over.

As my eyes became slits, then saucers, a myriad of galaxies spread out before me -massive light patches and the pink, blue and green swaths of color washing a nearby planet. "The Final Frontier." I was suddenly aware that Tom and I were floating in the cabin. Michael explained that this was how a spectacular beer should make you feel. Awe-stricken…shaken…relaxed. You should want to revel in the experience. Delight in the weightlessness. Laugh and share the moment with others who cared.

What would the Beer Hunter serve for this esteemed Birthday celebration? Where had he been?

One might think he was in collaboration with the Duvel, as he spoke of Avery's Mephistopheles' Stout, black as ebony, with a velvety tongue and vinous notes, reaching deeply into chocolate and fruit, star anise and rummy liqueur. He spoke of the Russian River of Damnation Oak Aged Batch 23, with foaming, billowy head and flavors of apples and spice. "One must give acute attentiveness to Midnight Sun's Arctic Devil Barley Wine," he advised, "for its brusque chocolate maltiness, with heat that rises in your soul like the velvet hammers of Milt Jackson."

I was nearly convinced of this alliance with the dark-side, when his conversation tumbled onto the subject of Salvation, Avery Brewing Company's Belgian Style Golden Ale, riddled with the fruitcake sweetness of peaches and apricots, sprinkled with cinnamon, nutmeg, and Eastern Indian exoticism. He waltzed to the subject of Jämtlands Bryggeri, with Jämtlands Heaven Schwarzbier of Pilgrimstad, Sweden. Malty, with rich cappuccino bitterness, it was drenched in flowery hoppiness and a dry, abrupt finish.

In the end, it didn't matter if he were in Heaven or Helles, as long as it was from Fitger's Brewhouse in Duluth, Minnesota. A crisp and sharp quencher with balance and a sonic merging with food could last an eternity. "But wait! We are on La Fin du Monde, Chérie, n'est ce pas? Douceur de vivre!" he whispered. Then he rattled off his list of also-must-haves: Drei Fonteinen Oude Gueuze, DeuS, Dupont Avec Les Bon Voeux, Westvleteren 12°, Hildegard's Urthel Hop-It, Saison D'Erpe Mere, Malheur, and Rodenbach. Ah, yes, Rodenbach!

I awoke abruptly, wishing I had more time to revel in the wisdom and warmth of this wise scholar – to celebrate his day – to laugh and share the moment with others who cared…

Cheers!

 
You Should Also Read:
Beer Hunter Michael Jackson's Philadelphia
Michael Jackson - Maven of Malt - Wins James Beard Award for Whiskey
Michael Jackson Passes Away - World Beer & Whiskey Authority


Related Articles
Editor's Picks Articles
Top Ten Articles
Previous Features
Site Map





Content copyright © 2023 by Carolyn Smagalski. All rights reserved.
This content was written by Carolyn Smagalski. If you wish to use this content in any manner, you need written permission. Contact Carolyn Smagalski for details.