Mother's Day Beer and Food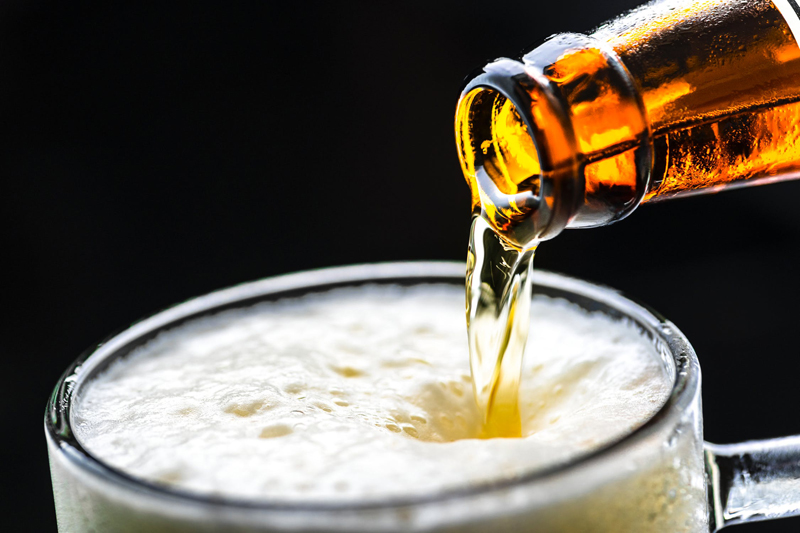 What style is, or was, YOUR Mother? One thing is certain…whether your Mom is the "ideal Hollywood queen, perfect in every way" Mom, the soccer Mom, the single Mom, the career-oriented go-getter, the difficult to please Mother, the passed-away-too-soon Mom, or the in-absentia Mom, we all are children of someone whom we think about on Mother's Day. We tend to both idealize her and criticize her – then realize how much we are like her. Mothers ensure this will happen with their propensity to bestow the "Mother's curse" on their kids during the "declaration of teenage independence" years. "Mother's Curse?" you ask. You remember: "I hope you have kids just like yourself!"

Let's raise a glass and toast both her and ourselves on Mother's Day. Pick a beer that fits her image and enjoy it to the max.

Mother Martha's Kölsch-style Ale – Rock Bottom Restaurant & Brewery, Arlington, Virginia, USA - Kölsch 5.3% ABV

Pale amber gems glisten like this beauty, the enticing hue of sweet straw that a magic sorceress could spin into gold. A lean layer of white covers the surface. Bubbles stream throughout, and seem to carry the message of Noble hops into the air. Clean and crisp, a gentle, soft maltiness is enhanced by a spicy kick of Bavarian-style hops.

Pair with a Waldorf salad; hot, spicy Southwestern fare, Thai, Indian, or German Bratwurst.


Bitch Creek ESB – Grand Teton Brewing Company, Victor, Idaho, USA – Extra Special Bitter – 6.5% ABV

Her body is tanned a magnificent reddish amber, with that slathering of creamy foam that settles into the body. Toast with caramel and fruit comes to mind in the aroma, with nuances of florals and coffee. The mouth feels immediate pleasure with the smooth body and delightful flavors of fruit, earth and malt, drenched in caramel. A firm bitterness bites at the end, making this a victorious satiater.

Pair with London Broil, lamb kebabs, Sirloin tip, venison, pheasant, burgers, or a standing rib roast.

Working For Tips - Moonlight Brewing Company, Fulton, California, USA – Scottish Gruit/Ancient Herbed Ale

Brewed without hops, but with the budding, delicate tips of Redwood Trees, the Reinheitsgebot might very well have something to say about the" purity" of this Scottish Gruit. If Mom's working for tips, she might like to be surprised though, and the toasty aromas, mixed with resiny pine, are a welcome treat. The body gleams coppery-garnet, with a substantial white head that sits like King Leonidas on the throne. A tongue treat, the malts lay in perfect harmony with pine accents to deliver its smooth and delicate body.

Pair with highly seasoned lamb chops, cassoulet, chicken, Cornish hens, and other game birds.

Houdini's Escape Stout – Stone Cellar Brewpub, Appleton, Wisconsin, USA – American Stout 5.0% ABV

Imagine the magic man, in a black sack, his wrists and ankles are handcuffed, and he is locked in a box; there seems to be no way out. That's the ebony of this creature, with a tight tan head that slams against the glass. Aromas are roasty and rich, like Columbian coffee, touched with delicate fruit and bittersweet cocoa. Houdini must escape and roll across the palate, smooth and oily, rolling in roasted coffee and chocolaty mellowness. Mother will like this Sunday surprise.

Pair with barbecue, cured meats, Mexican and Cajun fare, strongly flavored oysters, stir-fried shrimp, velvet midnight cake, and vanilla ice cream.

Grey Lady - Cisco Brewers Inc., Nantucket, Massachusetts, USA – Witbier

As you peer across hazy hills into the morning sun, a soft yellow hue burnishes the sky. This is the color of her body - soft, supple, bright, yet subdued. Carbonation launches with liveliness, and you pull aromas through her ample head. Citrus, cotton candy, coriander, lemon zest and earth. Your lips explore the complexity, like a fine lover. You taste every nuance. Orange and lemon, the sharpness of the citrusy outer skin. Seeds of spicy coriander. Shrinking spun-candy, aloof and sweet. Then earthiness, heat and pepper.

Pair with salads dressed in raspberry viniagrette, bacon, sausage, French bread sandwiches of peppered ham and swiss cheese, salmon, lobster, shrimp, and crab.

Lady Godiva - Warwickshire Beer Company, Leamington Spa, England, United Kingdom - English Pale Ale 4.2% ABV

Just like our grand lady, honey and malt bare it all. Her body is golden, topped with a head of cream. A biscuity malt greets the mouth, slathered in honey…but wait! A keen bitterness rounds out the gentle sweetness.

Pair with roasted turkey, grilled ribs and rib eye steaks, veal marsala, jambalaya, crawdaddys, pates, and quiches.

Stinky Hippie – North Country Brewing, Slippery Rock, Pennsylvania, USA – American Amber/Red Ale

Her ruby-orange body stuns with a pearly meringue head that hangs her lace out for all to see. She spills over with maltiness, then grabs your tongue, slipping down your throat with pine, resin, grapefruit, malt and spices.

Pair with tacos, chimichangas and other spicy Mexican foods, Vietnamese fare, snapper, cheesesteaks, and substantially-dressed burgers.


Belly Dancer - Brewster's Brewing Company Limited, Leicestershire, England, United Kingdom – English Pale Ale 5.2% ABV

Originally known as Serendipity IV from the Wicked Women Series, this voluminous lady has entered as a regular due to a demanding public. She is as deeply ruby as the gem in her navel, with sweet aromas of fruitiness and toasted caramel. Brewed with crystal and roasted malts, her secrets are spellbinding as two additions of traditional English hops add spice to the finish.

Pair with Indian foods, cream and yogurt-based sauces, grilled salmon steaks, trout, tofu, peanuts, and smoked meats.

High Class Broad - Tyranena Brewing Company, Lake Mills, Wisconsin, USA – American Brown Ale

She is a class act…brown, mahogany glow, a tan head tossed casually into the glass, sticky and euphoric. Your nose is captivated with her fruitiness – figs, raisins, dried cranberries, boysenberries, and plums. Add brown sugar on her, baby, and swirl her around with brandy notes, like liquid fruitcake. Wallow in the intense flavors. An echo of fruit on the tongue, brandy, vanilla, nuts and oak. Brown sugar becomes more dense in the mouth, like molasses and liqueur. As a sipper, there is little that can surpass this fine, barrel-aged mother.

Pair with smoky, barbecued meats, grilled peppers and zucchini, almond dressed Mexican stews, peppered pork tenderloin, and rotisseried chicken and duck.

Happy Mother's Day!

Cheers!
 
You Should Also Read:
Luxury Beer for a Mother's Cheer
Commemorative Mothers Day Beer & Food Pairings
A Classic Beer Guide for Women


Related Articles
Editor's Picks Articles
Top Ten Articles
Previous Features
Site Map





Content copyright © 2022 by Carolyn Smagalski. All rights reserved.
This content was written by Carolyn Smagalski. If you wish to use this content in any manner, you need written permission. Contact Carolyn Smagalski for details.