Chicken Cacciatore Recipe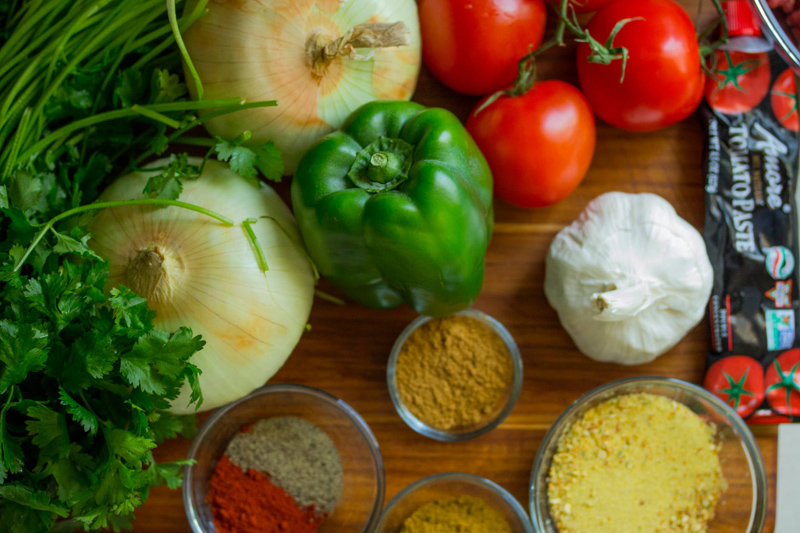 Chicken Cacciatore or Chicken Hunter (in Italian Pollo alla Cacciatora) is a classic Tuscan recipe and perhaps one of the most famous Italian chicken entrees, and not without merit. The combined flavor of seasoned braised chicken, fresh vegetables and herbs is intensified by a splash of crisp white wine, resulting in a delectable experience for anybody's taste buds. In Italy, the tasty sauce of the chicken cacciatore is normally served alone over pasta (a small serving), as first course; the chicken pieces are then served as second course with roasted potatoes, cooked veggies or even a green salad on the side, which we never eat as a starter. As they say, When in Rome…

The classic Chicken Cacciatore recipe includes a light tomato sauce, while some others contain red bell pepper or olives and even capers. My version is somehow simpler but equally rich in flavor, as I skip the overpowering tomato sauce and let the fresh herbs and soffritto (a sauté mix of finely chopped onion, carrot and celery) do their magic in concert with the extra-virgin olive oil, the white wine and the natural juices of the chicken. Hungry? Here is the recipe:

Ingredients and Instructions (serves 4):

• ¼ cup of extra-virgin olive oil
• a whole chicken, cut up in pieces
• 1 medium-large onion
• 1 big carrot
• 1 stick of celery
• 2 cloves of garlic
• 1 sprig of fresh rosemary
• few leafs of fresh sage
• 1/2 cup of dry white wine
• 2 cups of water
• sea salt and freshly ground pepper to taste

1. Wash the celery, wash and peel the carrot, and chop both rather finely.
2. Clean the onion cutting ½ an inch off the bottoms and removing the papery outer layers; cut in half and chop, again, quite finely.
3. Peel the garlic and chop as well. Set all veggies aside.
4. Wash the chicken and pat dry with paper towels.
5. In a large pot heat the extra-virgin olive oil over medium heat.
6. Season the pieces of chicken with salt and pepper and add to the pan.
7. Braised the chicken, by letting it brown on all sides, then add in the chopped garlic, onion, carrot and celery, stir and cook some more, until the veggies are slightly tender and start turning golden.
8. Add the wine and let it cook for a couple of minutes, while scraping the bottom of the pot to gather all the flavors of the browning.
9. Add the whole rosemary sprig and the sage leafs, without chopping, so that they can be removed easily at the end before serving.
10. Add the water, stir, cover the pot and lower the heat to medium-low, letting the chicken simmer in that flavorful mixture for about 15-20 minutes or until the chicken is fully cooked. In the end, as usual, taste the sauce and add salt and pepper as needed.
11. Transfer to a serving dish, remove the sage and rosemary and serve warm.

Chicken Cacciatore is delicious over pasta, but not only. Try serving it also over rice, polenta, crusty rustic bread or just with pan-roasted potatoes and some cooked vegetables of your choice.

As always, buon appetito!

Wine pairing note: My personal suggestion for white wines to pair with Chicken Cacciatore is Chardonnay and Pinot Grigio. For a full Italian alternative, look for Verdicchio, Vernaccia or Cerveteri bianco.




You Should Also Read:
Chicken Recipes


Related Articles
Editor's Picks Articles
Top Ten Articles
Previous Features
Site Map





Content copyright © 2023 by Cinzia Aversa. All rights reserved.
This content was written by Cinzia Aversa. If you wish to use this content in any manner, you need written permission. Contact Cinzia Aversa for details.