Tatting Plus Hairpin Lace aka Maltese Crochet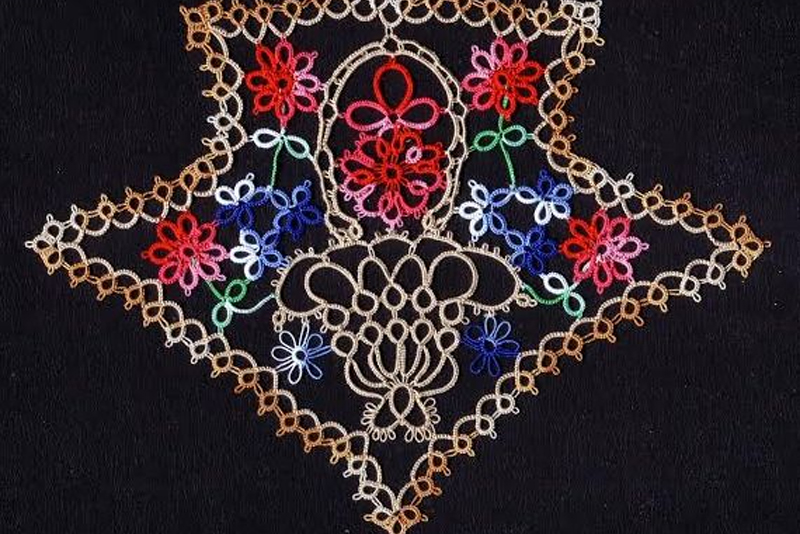 Through the years I have happily ignored that old rule of needle work which advised us to not mix our mediums. As I have continued my study of tatting, I have found that many other needle workers, especially tatters, have ignored it, too. In the files of the Online Tatting Class there are many examples of tatting mixed with other needlework types.


Tatting has been combined with hairpin lace with surprising results. Hairpin Lace is also called Maltese Crochet. It uses a loom that was originally a U-shaped hairpin around which thread is wrapped and then brought together in the center using a crochet hook.


Harriet Sharp shared a vintage lace piece tatted by Jane Kefford, a tatter who died at age 92. Here Jane combined a tatted outer edge with a hairpin lace inner lace strip. She gathered up 3-4 hairpin loops with each join to the tatting.


Diagram for the tatted edging in the Kefford collar. Please note that the stitch counts given are a best guess. The three red rings join to one picot but the two blue rings are not joined to that picot; the blue rings join only to the adjacent picots on the red rings. The "+" signs indicates where the repeat joins and where the loops join to the tatting.


Here is another example of a common true hairpin lace strip to which a tatted cloverleaf edging has been attached. The length of the loops of hairpin lace are determined by the size of the hairpin loom and by the placement of the crochet work. The crochet work need not be centered between the uprights of the loom. It may be placed closer to either side also. Even small pieces of hairpin lace can be mixed with tatting for small motifs. This effect is shown in this round motif by Saundra Hameed and the angel by Martha Ess.


This multi color tatted doily by Master Tatter Dale Pomeroy introduces the hairpin lace in between rounds of tatting.
In recent years there was a development of an all tatted faux hairpin lace. All tatted faux hairpin lace requires a picot gauge. In this example Mary Maynard used a half inch picot gauge, wrapping the thread around it. So if the picot were to be stretched out, the picot would be one inch in width. This is important as the center has to lay flat and the picots work for this size picot and this size thread. In Mary's example the crocheted center of true hairpin lace is replaced with split rings and long measured picots.


In this last example, a fan tatted by Anita Adamson from a pattern by Wally Sosa, the crocheted center of the hairpin lace was replaced by a tatted chain with long tatted picots. Again, the length of the picots is important to the design. The number of loops gathered into each join also determines the overall shape. Try it yourself! Experiment and have fun.

You Should Also Read:
Tatting plus Coronation Cord
Tatting plus Needleweaving
How to use a Picot Gauge


Related Articles
Editor's Picks Articles
Top Ten Articles
Previous Features
Site Map





Content copyright © 2019 by Georgia Seitz. All rights reserved.
This content was written by Georgia Seitz. If you wish to use this content in any manner, you need written permission. Contact Georgia Seitz for details.