The Lost Village of Tubber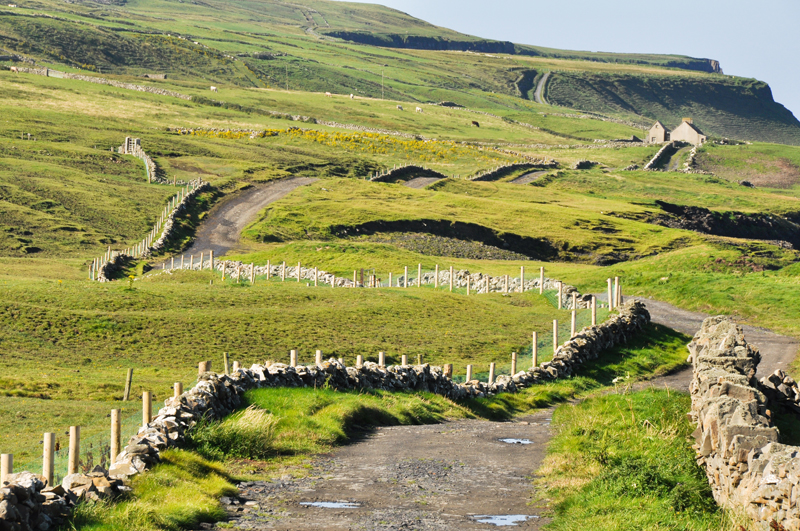 The hamlet is known as Tubber, which is a corruption of the Irish tobár, which means well. It's full name is Tobár Mhuire – Mary's Well. In the 21st century there are two houses and a couple barns in this Irish rural townland, but back in the 18th and 19th centuries it was a thriving village with over fifty households, a smithy, several taverns and shops. All that would change in July 1861.

Tubber is in Co. Cavan and back in the day was on a straight, narrow lane that was the Coach Road running from Blacklion towards the boundary with County Leitrim, some eight miles away. Tubber was roughly mid-way along the coach road in a fold of land between two tributaries running downhill to meet the River Shannon. This is limestone country with peaty bogs on the hilltops, and a combination of 'daub' (heavy clay) and peat soil in the lower lying ground. What is called 'wet ash woodland' runs along one of the streams close to Tubber well.

In late June and early July 1861, heavy rains came. Finally, there was a flash flood and a mudslide. When the earth finally quieted itself there were only five houses standing.

I live a couple hundred yards down that Old Coach Road from Tubber and have long been fascinated by its historic and spiritual significance. My old neighbour, the late Delia Hamilton, lived to nearly 100. She told me that the name Tobár Mhuire referred to an apparition of the Blessed Mother at the well – 'oh, a long time ago.' Such a distance came into her eyes that I imagine she was repeating what several generations of grandmothers had imparted.

The well has probably been a place of both civic and spiritual significance since pagan times. Each Lunasa (late July/early August) there would be fairs and frolicking and the inevitable fights. During one such fair a fight broke out and blood was shed into the well. In this way the sacred water became polluted. Most probably, there would have arisen a notion that there was 'no luck in it.' Or certainly not for the families of the combatants.

Then the flood came. I recently walked and surveyed the land surrounding Tubber with a heritage student researching the topic. "How could it have happened?" Well, the land would have been water logged. Peat and clay are not porous. Also, the village a Tubber was nestled in a fold of land that formed a natural gulley. The water pouring down the hillside of Boleybrack would have rushed into that gulley. The rocks of this stony territory would have been dislodged by the force of the flood and so, the land would have begun to slide down towards that gulley.

Michael showed me old maps of the village. There had been a school and a 'pound' where cattle would have been safely corralled. Today, all that remains of the village is a small barn and the well itself. Piles of stones suggest where cabins may have stood. But stones would also have been taken to move to the new population locus. A couple miles away, at a natural ford of the River Shannon, the new village of Dowra was founded. Tubber was never rebuilt. In fact, only two houses have been built in that townland since the Great Flood.

The well is to this day still a spot for private prayer and meditation. People tie clooties, those offerings for favors and cures requested or in thanksgiving, to a hawthorn growing beside the well. A local farmer discovered that it is on his land and he has taken on the responsibility of hereditary well keeper. In 2012, he began to repair the well, which had become clogged with debris and loosening stones. Over a year the work progressed. New stone for the well was found in his field and a local mason mortared in the rocks. A Mass of rededication and blessing was held on the Feast of Maria Assumpta (August 15) in 2013 with over a hundred local people attending.



You Should Also Read:
The Holy Wells of Ireland


Related Articles
Editor's Picks Articles
Top Ten Articles
Previous Features
Site Map





Content copyright © 2022 by Bee Smith. All rights reserved.
This content was written by Bee Smith. If you wish to use this content in any manner, you need written permission. Contact Bee Smith for details.