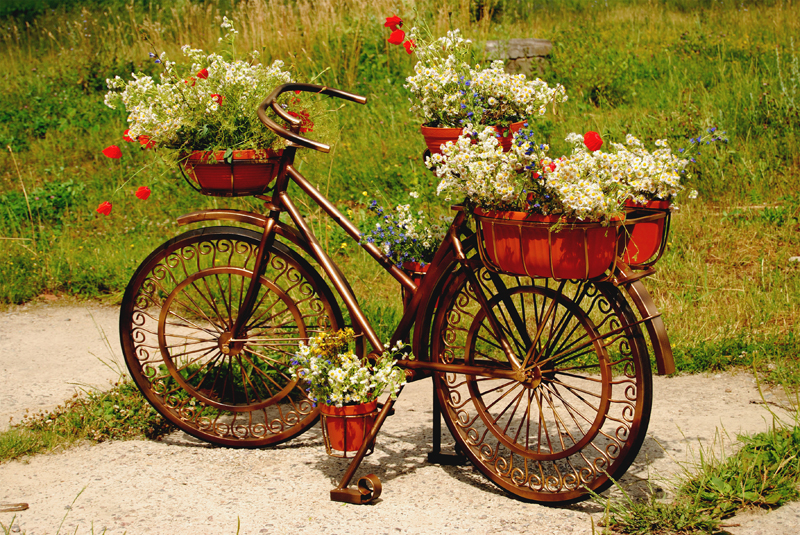 Have you come across Hypertufa containers before? Heard of them? Garden art is fun and moderately easy to make with a Hypertufa mixture; and if you are creative, looking for something very different and like making mud pies, then you are likely to have some real fun with these. Or of course, you may like their look but not want to make them yourself; so then you can search out a nursery that sells them ready–made, and the effects in your container garden will be just as impressive.

What is HYPERTUFA? Well, it is an artificial 'rock' material that usually ends up looking like natural stone. It is made of a cement, peat/sphagnum moss, sand or perlite mixture to which are added all sorts of bits and pieces according to your needs and imagination. It can withstand harsh weather conditions on either end of the temperature scale (so it is useful across all USAD zones) and could add a 'rough' country feel to any container-garden garden design.

But first a bit of background.

Tufa rock (say toofa) is a naturally occurring rock which is formed when the water evaporates from water sources like rivers that are lime-rich. Often found in caves, quarries and cliffs where limestone occurs, they form very quickly where and when conditions are just right and in all sorts of shapes and sizes and I guess you could even say configurations. When the water recedes from lime-rich rivers for instance, very often calcium carbonate (which is left behind) crystallises in rock formations alongside, and these rocks are 'harvested' and sold commercially to rock gardeners as tufa. These tufa rocks really do make different container and there is a lot you can do with your tufa rock when it comes to planting many kinds of plants, most especially alpine flowers and cacti.

Often when these tufa rocks are being formed, rust from the iron oxides present give the tufa a characteristic yellow and brick red colour which offsets the green colours of plants growing either in the holes (roots once established tend to wander) dents or through the whole rock into the ground beneath in an ordinary garden. I have not been lucky enough to have ever seen real tufa rock formations and neither have I been able to purchase any and it would seem that tufa rock is not found easily or everywhere (UK, Wales, Canada yes). There also seem to be conflicting reports about whether or not there is still the real McCoy available commercially for purchase.

The thing is Tufa and Hypertufa are totally different – tufa rock is not hypertufa but, and you will see why, they may be confused with one another as they can look similar and can be used for much the same purposes. Sometimes too hypertufa is passed off as tufa when it is not, and of course any shaped container or created article will have been made with hypertufa mix and cannot be tufa rock found au naturel. I would say if you managed to find a big enough piece of real tufa rock, while it is softish and therefore possible, it would be a wasteful action to take if you were to hollow it out into a container shape when you have nature in your hands in the form of a beautiful rock formation. Still, having said that, you could use your homemade hypertufa dyed mix to fashion a natural tufa-looking 'container.'

So let's go with answering the what's and how's of Hypertufa ending with some suggestions of plants to grow and effects to seek and other articles to make with special effects (using Hosta/Elephant ear leaves for instance) and sphagnum moss and twigs and 'fossils'… and … and … your imagination and creativity!

First off,know that HYPERTUFA is an easy material to work with and you can make all sorts of things with it from planters, plant pots, paving stones, edgers, concrete seats and birdbaths and even shapes like masks and Japanese lanterns and totem poles and wall plaques and other garden whimsy. It is easy to mix and generally inexpensive and best of all you only need everyday purchases and tools to make your creation.

WHAT DO YOU NEED?
You will need a wheelbarrow or open half drum or similar vessel (for mixing the cement hypertufa mix), a spade; cement, sphagnum and/or peat moss, river sand, perlite and/or vermiculite, twigs, shells, pebbles; moulds like plastic dishes or planters of matching shapes but different sizes; plastic garden bags or sheeting (4 mls thick or so) and a dibber (or dowel stick). You may also want some fine chicken wire for inner support and, if making large structures and pots, wood pieces and concrete blocks for outer supports while the pots etc. are drying and curing. If you want to mimic the colouring of the real tufa, then you need some cement dye and paints too.

For safety, you must use good rubber gloves, plastic garden goggles and a face mask (to protect against the fine cement and moss dust); and a working apron to protect your clothes unless you are wearing your gardening favourites.

Remember too that sometimes a bit of trial and error and a couple of failures are your best teachers, so do not be impatient with yourself, the results are so worth the fun, the creativity, the achievement and your garden enhancements. So, the last ingredient you need a lot of is patience. It is a virtue here for sure as your creations need time to dry and cure before you can use them.

INGREDIENTS FOR HYPERTUFA
There are several recipes for hypertufa, though for the most part they are pretty similar. The one I use I got out of a cement company advertising brochure and find that it works well all the time because I followed instructions (usually!), but this time for sure.

* One part cement to one part each of any two of the following:
Peat or sphagnum moss, teased out coir, river sand (not salty fine sea sand), vermiculite or perlite and then you add your own bits and bobs for decoration.

* Enough water to make a mix just off pouring consistency. It must not be too loose or runny, and you will know that you can keep adding water until you know. Do not mke the mistake (I did my first time) of adding too much water then just adding cement until I got the right consistency, it does not work that way).

You will find too that if you use sand, the pots and things you make are heavy. This you want but for some projects you do not need to use sand, so you can go for a lighter mix.

For the two containers I have made I used a cement; sphagnum moss and vermiculite mix (they are not heavy to move around chasing the sunshine!)and for my paving stones (still need to make more and more and more) I am using sphagnum moss and riversand mixed in with the cement (with round two inch high drip trays for my moulds). Sand will be a good choice if you were to make a plinth for a statue or a base for a birdbath, but for the birdbath dish itself or a butterfly water dish or a topsy-turvy home for a toad or frog I would use the lighter vermiculite/perlite mixture.

1. Mix the ingredients in their measure thoroughly first then add just enough water so that when you squeeze a double handful not much water comes out (it must ooze like a thick mud-pie). Please use your gloves etc. when handling cement, many have caustic additives.
2. Add cement dyes if you are using them or paint (not enamel)
3. Pour into mould (see more detailed instructions below)
4. Unmould and allow to dry and cure by spraying with a mist spray or splashing with plain water at least once daily allowing it to dry out before misting again.
5. For pots and containers that are upside down, place on bricks so that the air can circulate nicely.
6. Use a potter's bench or raised table for convenience and easy working space.

MISTAKES WHEN MAKING HYPERTUFA
*Not measuring your ingredients in the right proportions,
*Using too much (or not enough) water for mixing,
*Not having everything (tools etc.) you need on hand,
*Not leaving it to dry in the first instance then cure in the second for long enough.
* Repeat: Not letting it cure for long enough.
*Not cleaning your wheelbarrow and other tools used straight after use.
*Not protecting your hands with gloves.

SAFETY TIPS
* Use goggles and mask and gloves to protect from the fine cement dust,
* Use right tools if using chicken wire mesh (like cutters or pliers) must be on hand.
* Use a potting bench to table to make your things to save your back and make the job more easy to do well.
*Get someone else younger and stronger (if not you!)to in mix in the water to the right consistency – then you have the fun making whatever the 'it' may be.

STEPS TO MAKING A HYPERTUFA CONTAINER
Do you remember how much fun it was to play mud pies and let them dry in the sun? I do and as kids we also used to collect clay from a nearby river bed on the farm and make farm animals that my Dad would buy from us for a tickey and a sixpence! How old am I? Not so old that I don't remember running in splashy puddles and climbing trees or when sleepovers were in the tree house in the back garden. Ah, sometimes I think them w'are the days!

1. Mix your chosen ingredient mix thoroughly in the wheelbarrow before adding just enough water (like stiff pastry?).
2. Have your moulds ready. Line the bigger one with the plastic and pour the mix into the bottom spreading it evenly around 2 inches thick, like making a cheescake biscuit base.
3. then press the hollow plastic tubing pieces strategically for the drainage holes making holes in the plastic here too;
4. then place another piece of plastic on top of this and insert the smaller mould/dish/bucket so that it sits well and evenly on top of this base layer.
5. Now between the two plastic bags and going up the sides of the two moulds fill in the sides with the hypertufa mix pressing it in as you need to until you reach the top. This space should be around two inches thick too if you have chosen the right container sizes.
6. Now leave in place for at least 6 hours or so while it sets hard enough for you to unmould. You have to play by ear at this stage, come back and feel the top rim. If you can made a dent in the top, leave it for longer and until you cannot make an impression or indent.
7. Now, very carefully twist the inner plastic basin/bucket slightly and remove it. Peel away the plastic.
8. Leave for another hour. The come back and with help, turn the pot upside down and gently but firmly pull the outer pot up and away. If the plastic stays, no fuss, just it peel away.
9. Leave in place (raised on bricks or something similar for air to circulate), mist with water regularly for around 6 – 8 days and wait for your pot to cure.
10. Turn it up the right way, do not drop it and allow to stand for another two to three days. Voila! You have a new container to plant up.

YOUR FIRST PROJECT

There are other ideas and explanations to come in future hypertufa project articles like tree supports or vegetable circles or 'garden gremlins' or big leaf decorations, bonsai pots and birdbths etc., but for now, as an easy introduction to the medium here is a simple project to try (and the memories are good too!)

Make some (as many as you need) wall plaques or pavers using the lighter mix of cement, moss and perlite and in different sizes. After letting it dry for 1-3 hours or so, lay on plastic as for a flat stepping stone, get each family member to press in their hands and date them. Turn these over at this time and carefully stick in wire hooks (cut lengths of doubled back wire coat hangers is a good idea) so that when they are cured and hardened, they will be ready for you to hang them as wall plaques. Hollywood comes to a home near you!

What do you want your container garden to do?

................................................................................

CASUAL VISITOR … and just browsing? Why not sign up to the Container Garden newsletter? It won't matter what space or how many pots you have or even how much time you have to spend in your container garden; what will matter is that you get our reminders and good advice and ideas all in one interesting article.





Related Articles
Editor's Picks Articles
Top Ten Articles
Previous Features
Site Map





Content copyright © 2023 by Lestie Mulholland. All rights reserved.
This content was written by Lestie Mulholland. If you wish to use this content in any manner, you need written permission. Contact Lestie Mulholland for details.