Philanthropy and the American Brewer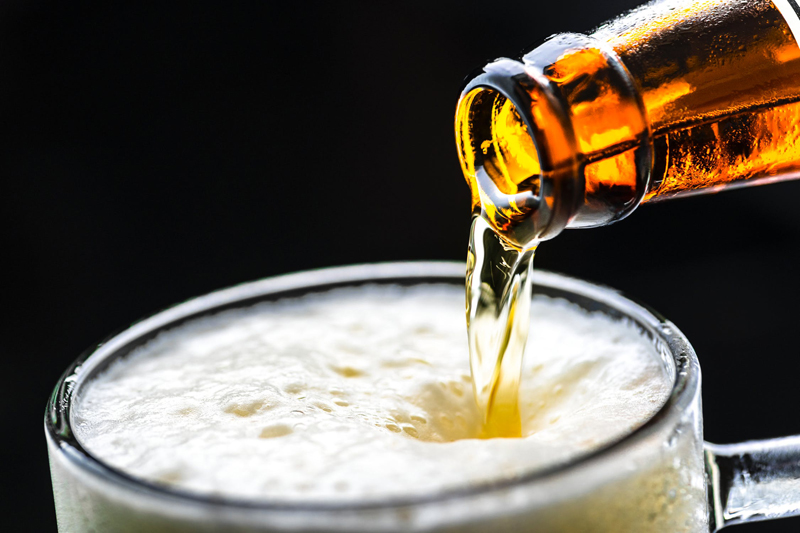 She had pink hair, vibrant, pink hair…and her smile had the candlepower to light the whole of New York City. Natalie Cirluzo, co-owner of Russian River Brewing Company in Santa Rosa, California, proudly wore her All Hopped Up for the Cure, September 23, 2007 t-shirt at the Great American Beer Festival in October, 2007 and enthusiastically spoke about her commitment to Breast Cancer Awareness. The pink hair was shocking, indeed, but drew attention to the second leading cause of cancer death in women.


His beard was blue…so was his hair, but he was a true Dye-Hard for Charity. Mike Palmer of Stone Brewing Company in Escondido, California has dyed his hair blue to stir up support for the radical Going Blue to Raise some Green campaign, a Stone Brewing Company fund raiser that benefits four local organizations in the San Diego Area: The Boys and Girls Club of San Marcos, Palomar Family YMCA, Looks Like Me, and the Palomar Pomerado Health Foundation. So convincing is the Stone event that Garrett Marrero of Maui Brewing Company in Lahaina on Maui, Hawaii has joined the crusade and is focused on raising $2,500 himself to add to the Stone Brewing Company projected cache of $35,000.

Since the beginning of civilization man has benefited from the euphoric effects of beer. High priestesses and medicine men used it as a hallucinogen in religious rituals, and they interpreted the effects as a connection to the hands of their Maker. Even today, brewers still feel the ethereal sublimity associated with beer, and direct the pleasure and satisfaction they experience in their work toward those in need. Whether working toward helping the surrounding community, acting in environmental stewardship for the earth, or spreading their philanthropic funds to a wide assortment of charitable causes, they are making a commitment to enhance the welfare of mankind.


The list is impressive, particularly among American brewers, and includes companies both large and small. In many cases, the smallest contributions may actually encompass a greater percentage of the total earnings. The limits of this space do not allow every generosity to be mentioned, but my selection speaks of the expansive scope touched by these civic-minded brewers.

New Belgium Brewing Company of Fort Collins, Colorado, USA donates $1 of every barrel sold to philanthropic causes in the communities where they do business. They have established a Philanthropic Committee (open to all co-workers) that researches and selects worthy recipients. Since its inception, they have donated more than $2.5 million to these communities. In 2008 alone, their donations are expected to reach $475,000.(Click to view the 2007 beneficiaries of the Philanthropy Program)
In addition, New Belgium Brewing Company has a strong commitment to environmental stewardship. They have found ways to recapture and reuse heat in the brewing process, use evaporative coolers (rather than compressors) for cooling, utilize "green design" throughout their building, treat wastewater, reclaim and convert methane into heat and electricity, reclaim nutrient-rich sludge for use as high protein fish food on aqua farms, and have used wind-powered electricity since 1999. They are members of 1% for the Planet and donate 1% of all revenue to environmental causes. They have a commuter advocacy program called "Team Wonderbike," 10,000 members strong, who have pledged 8 million bike miles in exchange for car miles. They have also partnered with two technology companies to develop greater environmental strategies linking business to better use of the earth.

Brewing giant Anheuser-Busch (Anheuser-BuschInbev), with corporate offices in St. Louis, Missouri, USA has established two giving programs: The Anheuser-Busch Foundation, and the Anheuser-Busch Corporate Giving Program, established in November 1975. Through contributions of time, money, and grants, they support education and the environment, arts and culture, minorities, youth, and health and human services. In 2006 alone, they allocated nearly $11 million in grants to worthy organizations. In addition, they spend $300 million each year serving as a sponsor at sporting events, festivals, art venues and other non-profit programs.

Stone Brewing Company of Escondido, California, USA raised more than $63,000 for charitable causes through their "2005 Stone Wall Project" in which community members added stones from the construction site or their own property to the new bistro wall, in exchange for a charitable contribution. Funds benefited the Palomar Family YMCA, the Boys & Girls Club of San Marcos, the College of Business at Cal State San Marcos, and the Escondido Sunrise Rotary. Currently, Stone Brewing is running the "Going Blue to Raise some Green" campaign, from August 10, 2008 through September 2, 2008 in conjunction with their 12th Anniversary.

Sierra Nevada Brewing Company, Chico, California, USA is listed in the National Green Pages, a directory of nearly 3,000 businesses committed to "sustainable, socially just principles." Despite producing eight hundred thousand barrels of beer annually, they use principles of recycling raw materials, heat recovery, CO2 recovery, water conservation practices and wastewater treatment to create an environmentally friendly structure. They employ the use of fuel cells, and continually seek ways to become more energy efficient. They have installed electronic ballast lights and motion sensors, replaced compressors with with highly efficient, speed-controlled drives, and installed high efficiency motors on equipment throughout their facility.

Alaskan Brewing Company, Juneau, Alaska, USA has committed 1% of all proceeds from its new Alaskan IPA to help preserve the Pacific Ocean and its coastlines through the Coastal CODE (Clean Oceans Depend on Everyone) initiative. They are also official sponsors of the Iditarod Trail Sled Dog Race®, held each year in February.

Wynkoop Brewing Company, Denver, Colorado, USA has partnered with the Mountain Gorilla Conservation Fund of Denver to raise money for the preservation of the endangered Mountain Gorillas of Africa. They are allocating 25% of all sales of their newly released Silverback Smoked Porter to the MGCF.

Two California USA Brewers, Marin Brewing Company of Larkspur and Moylan's Brewery of Novato join forces in sponsorship of the annual "Fermenting Change" Microbreweries Battling Breast Cancer Festival. In 2008, they donated $40,000 to the Charlotte Maxwell Complementary Clinic of Berkeley and San Francisco. The clinic offers alternative methods of cancer care to low income women afflicted with breast cancer.

Hook and Ladder Brewing Company, Silver Spring, Maryland, USA has initiated a "Penny in Every Pint" program in which a portion of every beer sale is given to the local firefighting communities in their distribution circle for firefighting support, burn treatment, and awareness. In 2007, they raised more than $20,000 through their efforts. For every barrel sold, they donate $2 into the fund, and ask that their distributors to match their generosity.

Sprecher Brewing Company of Glendale, Wisconsin, USA donates thousands of dollars annually in the form of beverages that benefit more than 25 fundraising venues, including the Muscular Dystrophy Association, Milwaukee Children's Hospital, Milwaukee Athletes Against Childhood Cancer, and reading program Sam's Hope. They have also held an event called "Sprecherfest," that raised $20,000 annually for local Public Television.

Cheers!

Photos are (from top): Natalie Cirluzo, Co-owner of Russian River Brewing Company; (courtesy of Stone Brewing Company)Mike Palmer, Dye Hard of Stone Brewing Company; Natalie Corluzo shows-off her Cancer Cure shirt

 
You Should Also Read:
The Great Alaska Beer & Barley Wine Festival - History Past & Present
Celiacs Guide to Gluten Free Beer
Are You Safe to Drink and Drive ?


Related Articles
Editor's Picks Articles
Top Ten Articles
Previous Features
Site Map





Content copyright © 2023 by Carolyn Smagalski. All rights reserved.
This content was written by Carolyn Smagalski. If you wish to use this content in any manner, you need written permission. Contact Carolyn Smagalski for details.