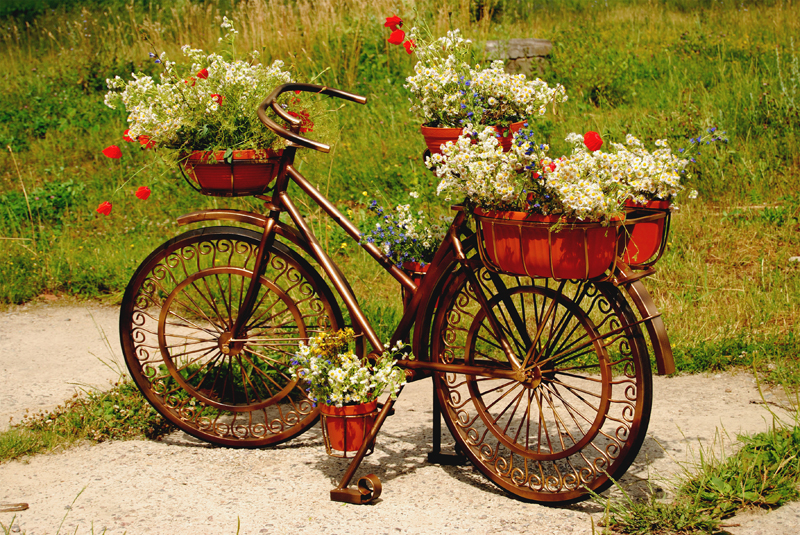 Hydrangeas will grow in a wide range of climates, from areas with very cold, snow-covered winters and short growing seasons, to the low desert areas with constant hot days and nights that never see a frost. A few extra care tips are needed for areas of extreme cold or heat, which makes growing your hydrangeas in containers an excellent choice.

First, select the type and color of hydrangea you wish to grow. Colors range from pure white to pink, red, purple and blue. Most hydrangeas bloom from summer through fall with large balls of flowers ranging from 6 inches to more than 12 inches across, then the plants lose their leaves for the winter. There are both climbing and bushy varieties, ranging from small, compact plants 3 to 4 feet wide and tall, to ones which will grow 10 feet tall of more in a container.

The climbing hydrangeas that I know are all white in color, though new cultivars may have been developed that I am unaware of. They have flat, white flower clusters up to 10 inches wide, with small fertile flowers in the center surrounded by large, long-lasting sterile flowers. (This is sometimes referred to as a 'lace cap flower'.)

Some of the shrub hydrangeas include:
Smooth Hydrangea: grows in a dense, upright habit with large gray-green leaves and clusters of large, sterile white flowers.
Bigleaf Hydrangea and Garden Hydrangea: grows in a rounded habit with very large, shiny, coarse-toothed leaves. Blooms are white, pink, red, purple or blue. In areas of hard freezing winters these may never bloom – best if brought into a cold but not freezing location during the winters in these areas.
PeeGee Hydrangea or 'Grandiflora': a beautuful upright shrub with a slightly open growth habit. Does not do well in extreme heat. Leaves are 5 inches long and darken to a beautiful bronze in the fall. Flowers in large upright clusters of white flowers 10 to 15 inches long, turning to a bronzy-pink as they age.
Oakleaf Hydrangea: Broad, rounded shrub grows to 6 feet tall and wide. Beautiful, oak-shaped leaves turn bronze to red in the fall. Also sensitive to extreme heat. Creamy white open flower clusters in June. Unlike other hydrangeas, prune this one to soil level in the spring.

Basic Care
Your hydrangea will need pruning and shaping a few times throughout the growing season, and removal of stems which have flowered when the flowers fade. Every 2 to 3 years, root prune the plant (see instructions which follow) or re-pot to a larger container.

Plant hydrangeas in rich, porous, well-drained soil and fertilize with compost tea or a slow-release fertilizer a few times throughout the growing season. Keep hydrangeas in partial shade in hot, sunny areas. They can be located in full-sun if you live along the coast.

Acid / Alkaline & Flower Color
Pink and red hydrangeas can usually be coaxed to bloom purple or blue in acid soils. To encourage purple to blue blooms, add aluminum sulfate to the container soil as needed prior to flower budding. To get red to deep red flowers, lime the soil or apply super phosphate prior to bloom bud formation.

Pruning
Most hydrangeas are fast growing and will need shaping and thinning throughout the growing season. Remove any stems which have flowered. Remember when pruning and thinning that fewer stems will yield fewer but larger bloom clusters, and more stems will yield more but smaller clusters.

Do an early shaping of your hydrangeas in early spring when leaf buds first begin to form. First remove all dead, weak, damaged and diseased wood. Then remove any stems or branches which cross. Finally, make straight pruning cuts across long branches to shorten and shape, just above a strong bud or shoot. If you want to train the branch to grow in only one direction, remove the leaf bud or shoot on the opposite side.

Root Pruning
When your hydrangeas grow too large for their containers you have two choices – move to a larger pot and allow the shrub to grow larger, or root prune to maintain the size (and health) or your hydrangea.
Root-pruning is a great tune-up to give you hydrangeas every 2 to 3 years or so.

In early spring, before your hydrangea begins vigorous growth, cut off clumps of roots from two opposite sides of the root ball within the pot. Use a narrow, sharp trowel or shovel, and dig down as far as you can along one side of the container. Cut out clumps of the old roots and remove five or six good-sized root sections for large, root bound shrubs, smaller and fewer clumps for shrubs not yet root-bound.
Refill the holes with good, fresh potting soil and compost. Repeat on the opposite side of the container. Mark the area you pruned, and in 2-3 years root-prune the areas not pruned in this round.

Remember to water your hydrangeas well, especially in hot weather, and keep them shaded in hot, dry climates. Protect sensitive cultivars from freezing in the winter, and fertilize a few times during the growing season. Then sit back and enjoy these beautiful container shrubs!

................................................................................

CASUAL VISITOR … and just browsing? Why not sign up to the Container Garden newsletter? It won't matter what space or how many pots you have or even how much time you have to spend in your container garden; what will matter is that you get our reminders and good advice and ideas all in one interesting article.

You Should Also Read:
Fragrant Perennials for Containers
Shade Tolerant Perennials for Containers
Shade Tolerant Bushes for Containers


Related Articles
Editor's Picks Articles
Top Ten Articles
Previous Features
Site Map





Content copyright © 2022 by Jessica Carson. All rights reserved.
This content was written by Jessica Carson. If you wish to use this content in any manner, you need written permission. Contact Lestie Mulholland for details.