Guest Author - Jason Hodge
Modern day life has its challenges with work, school, varying schedules and families on the run, the only way to ensure you have the best grocery bang for your buck is to make sure that your storage system is intact. Although pre-prepping is important, how you store your pre-prepped items is even more important. Here are the two tips you'll need to preserve the most flavors and nutrients your food has to offer.
Repeat after me... "
Air is bad! Light is bad!
" That is... when it comes to food. When air, namely oxygen, and light are present in/around your stored foods it shortens their 'shelf life'.
Here's what you're going to do to decrease those shelf-life-loss woes:
1. Vacuum seal your food items once you've got them separated and portioned according to your menu.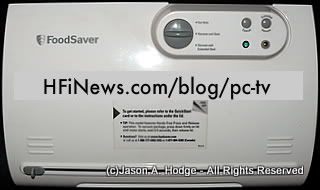 We've used our vacuum sealer for everything from soups and stews, rice, pastas, '
meat
' loaves, shredded veggies and cheeses, salads, crackers, spices, teas, etc. Basically everything we consume, that can be affected by air and can be vacuum sealed, we seal. It saves on spoilage, money and adds to the flavor preservation.
For this I like to use our 'FoodSaver' from Tilia. I've used it for so many things. From my signature sauces, marinades and dressings, to my soups, stews, dry herb and spice blends and even complete meals that I'll make for those days when we want our own vegetarian '
fast food
' or '
healthy
' TV dinners, it works like a charm to save on time and loss. It also keeps us from sacrificing those valuable nutrients and flavor when we simply don't feel like cooking. It was one of the main lifesavers we used for catering our own wedding. - More on that in issues to come.
[Note:
Vacuum sealing in most cases more than doubles the shelf life of your ingredients.
]
2. Store your food items away from direct light and heat.
[
That means for all of you who have your spices directly above the stove, oven or another heat source, find a new home for them.
]
Their flavor will keep longer. Find a cupboard, drawer or use the fridge or freezer to keep them away from excessive exposure to light and heat. You can also accomplish this by storing them in dark amber glass. It cuts down on the color and flavor leaching UV rays.
I prefer to store it in glass when at all possible. Glass, for the most part, tends to be non-reactive so it doesn't affect the flavor and health of your stored items the way plastic does.
Think square or rectangular and think stackable. It will make the most use of your space, is easier to organize, will make locating things easier and can be more aesthetically pleasing.
Implementing these two tips alone will make a world of difference in your overall outcomes with storage, convenience and will save you a bundle by reducing your loss to spoilage.
For more information or to have one of your questions answered,
drop me a line
, stop by
my forum
, join my
Vegetarian Resource Newsletter
and definitely stay tuned in as I bring you more articles to help you effortlessly achieve your best, health, well being and wholeness in the life of your diet.
As always... It's been my pleasure sharing with you. Until next time...