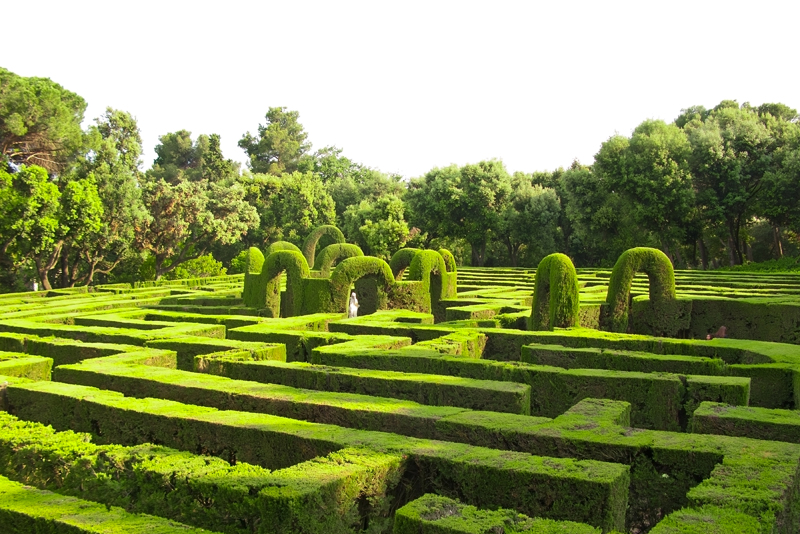 Walled gardens make you feel as if you're in a cozy, protected world of your own. They go back to medieval times when a walled garden literally protected people from the menace of the outside world. The forest was seen as a scary place full of nasty animals (or nasty people!) and walls kept those threats at bay.

As people started exploring the world, however, they found the outside world wasn't such a scary place after all. They came back to England full of stories of the different lands they'd discovered, and also brought back new and unusual plants. As more people set out to explore the world, they needed to build boats. To build boats, they needed wood, and to get wood, they had to cut down trees. Gradually, the forests were cleared, and they didn't seem like such scary places anymore.

This was the beginning of opening up gardens into picturesque vistas, a movement that really hit its stride in the 19th century.

With the stresses of today's fast-paced world and uncertain economy, we can all benefit from a return to the security of a walled garden. It can provide a relaxing oasis in which to get away from the problems of the day.

How do you create a walled garden?

First, decide on the placement of the garden. Is it right outside your back door? Or will you stroll through your garden to reach a secret place that's just right for doing your morning yoga or sipping your afternoon tea?

Next, consider the materials you'll use to create the walls. Make sure the style and color of the materials complement your home.

Bricks or rocks are traditional. They give a sense of permanence and security. These materials, however, are somewhat expensive. To cut costs, try rummaging through brickyards for "seconds", checking classifieds for used bricks or rocks, or stop by a house that's being demolished and offer to take away the debris!

Fences are a lower cost alternative, especially if you choose unpainted lumber and install it yourself. Vinyl coated white picket fences are another, slightly more expensive option and create a traditional country cottage look.

Finally, you might consider a living fence. Shrubs create a softer enclosure than bricks or wood, but it can take years to get hedges to grow to a height and fullness that creates the desired amount of privacy. If you don't mind the wait, yews are a traditional shrub to use, but you could also consider hollies, privet or boxwood or even the taller ornamental grasses such as many of the Miscanthus species. In England, hedge nurseries train trees such as Beech or Hornbeam to become a hedge plant. They're pruned for years to keep them full and short rather than tall and open.

One of my favorite walled gardens is at Lamb House in Rye, England. Now owned by the National Trust, it was once the residence of Henry James. But the house, and its walled garden, was made immortal by E.F. Benson in his wonderful Mapp and Lucia novels. Lamb House was the inspiration for Miss Mapp's Mallards and the garden in the back was Lucia's 'giardino segreto'. I could sit there for hours, letting the worries of the world melt away while I lose myself in the lushness of the flowers, and the warm, protective feeling created by this beautiful walled garden.

You Should Also Read:
Focal Points for your English Garden
Planning an English Garden border


Related Articles
Editor's Picks Articles
Top Ten Articles
Previous Features
Site Map





Content copyright © 2022 by Carol Chernega. All rights reserved.
This content was written by Carol Chernega. If you wish to use this content in any manner, you need written permission. Contact Carol Chernega for details.