Many families begin preparing traditional Christmas goodies several weeks or months in advance. English Toffee is a great choice if youíre trying to get a head start on Christmas treats, since it keeps well at room temperature and doesnít dry out or go stale. My Grandma Burgie was famous for her wonderful buttery English Toffee; Iíve included her recipe below.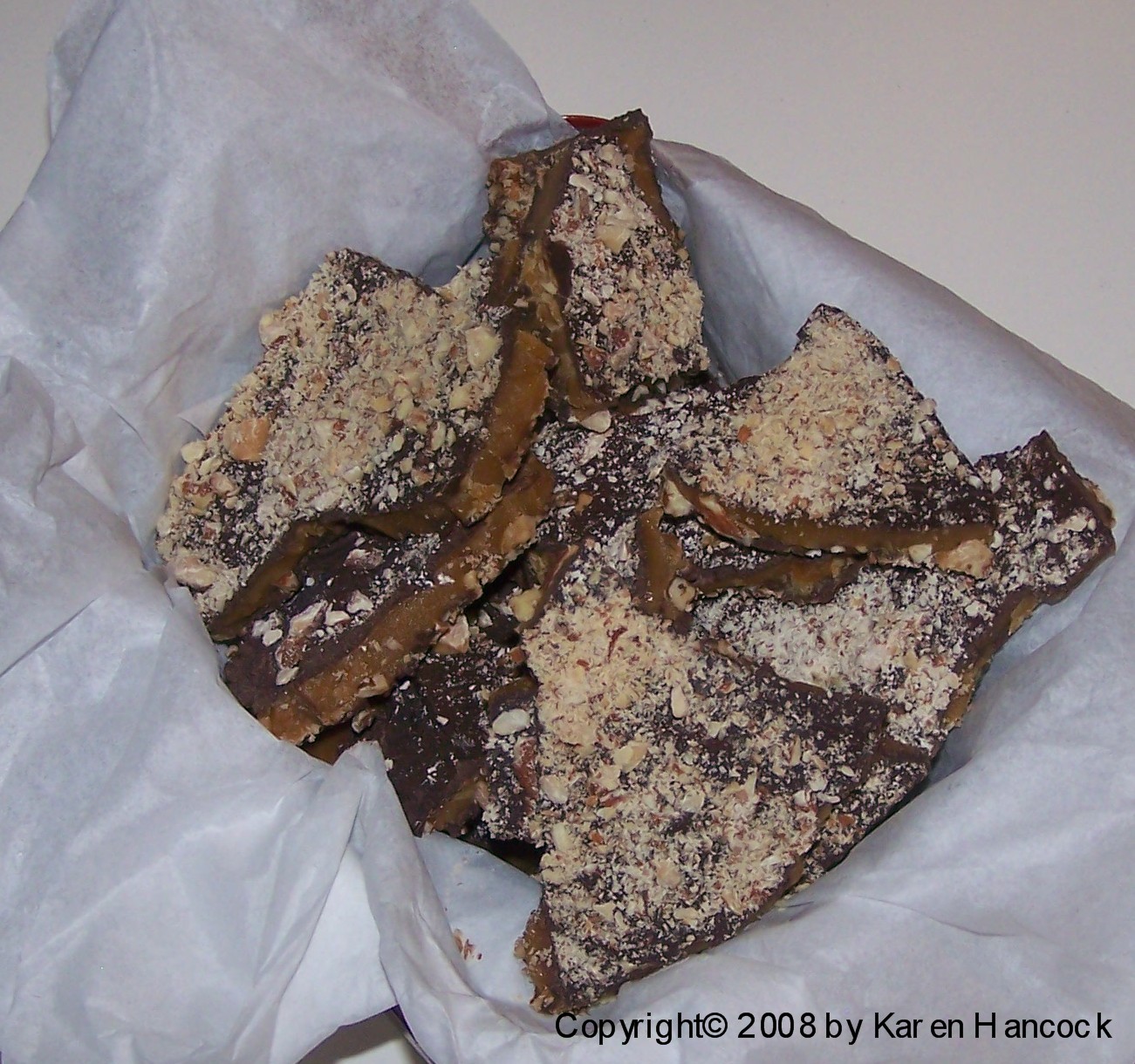 According to Grandma, the key to perfect English Toffee is to use real butter. Itís also essential to cook it in a heavy pan and use a reliable candy thermometer. I like to use a heat-proof silicone spatula to stir the toffee rather than a metal or wooden spoon; itís much easier to clean, and itís a good idea to have a cup of water with a pastry brush next to the stove to wash down any sugar crystals that accumulate on the sides of the pan.
Grandma Burgieís Famous English Toffee
Makes about 48 pieces
1 pound butter, (no subs)
2 1/2 cups sugar
1 cup water
1/4 cup light corn syrup
1 cup whole almonds, finely chopped (or substitute pecans or walnuts)
3 cups highest quality semi-sweet chocolate chips (you may substitute milk chocolate chips)ground in a food processor, or finely chopped
In a large heavy saucepan stir together the butter, sugar, water, and corn syrup.


Cover the pan and bring to a boil over medium heat (covering the pan creates steam which prevents sugar crystals from forming).
When the mixture boils, remove the lid, stir the mixture, and wash down the sides of the pan.
Continue boiling over medium heat, stirring occasionally, and washing down the sides periodically to prevent sugar crystals.
As soon as the candy starts to thicken and is near the hard crack stage, stir constantly to prevent burning.
Cook the candy to hard crack stage (300į).
While the candy is cooking, butter an 11 x 17Ē jellyroll pan; sprinkle half of the nuts evenly over the bottom, then half of the chocolate over the nuts.
When the candy is ready, pour it over the chocolate and nuts on the jelly roll pan.
Sprinkle the remaining chocolate evenly over the hot candy; use an offset spatula to spread it evenly
Spread the nuts evenly over the chocolate
Let the mixture cool thoroughly, then break into pieces.
Amount Per Serving
Calories 160 Calories from Fat 96
Percent Total Calories From: Fat 60% Protein 3% Carb. 38%
Nutrient Amount per Serving
Total Fat 11 g
Saturated Fat 5 g
Cholesterol 22 mg
Sodium 84 mg
Total Carbohydrate 15 g
Dietary Fiber 0 g
Sugars 0 g
Protein 1 g
Vitamin A 6% Vitamin C 0% Calcium 0% Iron 1%