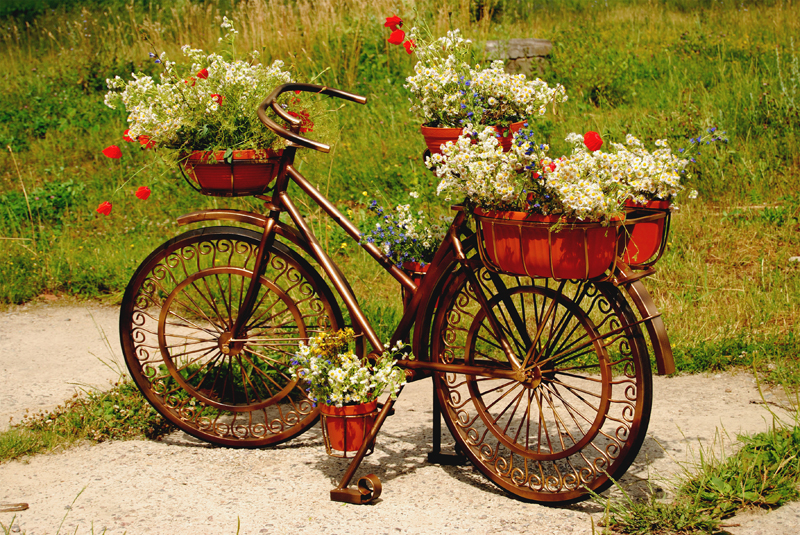 Even if you live where the winters are freezing, you don't need to give up on your container garden for the winter. Some cold-hardy plants and flowers can make beautiful growing arrangements to brighten up you entryway or patio. There are a few things you need to keep in mind when planning your winter garden – here are the tips yo need to make it successful!

Containers
Your choice of container for a winter garden can make or break your success. Even a light freeze can damage or destroy some containers, so be sure to choose carefully.

If you live where it never freezes, or keep your garden well protected from frost, then pretty much any container can be used for your winter garden. If you have even the occasional freeze, however, it's best to avoid terra cotta, ceramic, and most plastic pots for your winter garden. Ceramics will crack and break as the wet soil inside expands with a freeze, and most plastics become very brittle and crack, as well. Your best choices for winter containers are wood, fiberglass, and metal. Some of the foam containers are excellent for winter use, as well.

Planting Design
Since most plants grow slowly, if at all, during the winter, plan your design to be fairly compact from the start. Plant your choices close together, assuming very little change in shape or size during the season. One exception to this will be certain cold-hardy annuals, such as decorative kales, viola, and snapdragon. Also, if you plant winter or early spring blooming bulbs, plan your companion plantings accordingly.

Colorful, bare deciduous tree branches make wonderful backdrops or center pieces in winter containers. Some of the colored dogwoods, or decorative branches like Harry Lauder's Walking Stick, are wonderful in winter containers.

Winter hardy annuals are great choices for your containers if they will be protected from heavy freeze. Pansy and Viola, cyclamen, and snapdragon will add beautiful color and texture to your winter plantings.

Bulbs of paperwhite, daffodil, and crocus will also lend interest as the leaves and stems grow, and color when the flowers emerge.

Flowering Kale and colorful cabbage are beautiful in winter containers, especially when combined with the flowers mentioned above.

Evergreens can be the anchor for your containers, as an upright backdrop or drooping over the sides in the front, as with a low, spreading juniper. Some great evergreen choices are false cypress, juniper, and dwarf spruce. Holly, pink heather, and dusty miller are also excellent winter choices.

Possible Combinations
Cool Whites and Grays: Plant a group of Paperwhite bulbs towards the back of a round or square container, to one side. On the other side, plant one or more Dusty Miller. If room allows, add one or two upright juniper at the back, also. Fill in toward the front with flowing kale, and add some white pansies or cyclamen at the front.

Pinks: Plant an upright juniper or dwarf spruce at the back of your container, paired with one or more pink heather. Add some pink flowering kale or purple cabbage, and fill in with pink snapdragon, cyclamen, or pansies.

Textural interest: Plant a Harry Lauder's Walking stick or colored dogwood at the back of a large container. Fill in will five color false holly or deciduous holly with berries. Purple cabbage or flowering kale in front and draping over the side finishes off the design.

Experiment with your favorite colors and shapes and come up with a design that is uniquely yours. You may surprise yourself with just how beautiful your winter container garden can be!


You Should Also Read:
Winter Kitchen Gardens
Winter Container Garden Care
Winter Fuschia Care


Related Articles
Editor's Picks Articles
Top Ten Articles
Previous Features
Site Map





Content copyright © 2019 by Jessica Carson. All rights reserved.
This content was written by Jessica Carson. If you wish to use this content in any manner, you need written permission. Contact Lestie Mulholland for details.