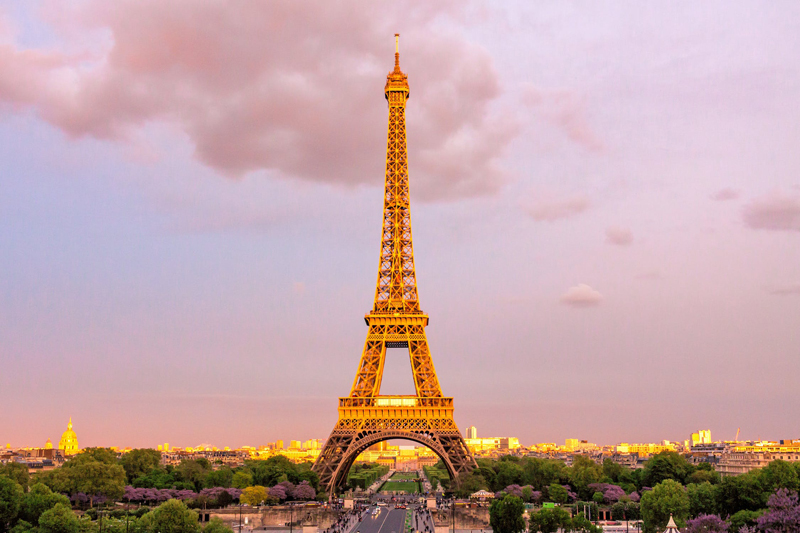 Sounds like a fairytale and on sunnier days my life in France does seem to resemble one. But in the midst of another long winter all I want to do is curl up near the radiator. As an alternative to hibernating during these winter months, I suggest warming the oven to bake a tart or boiling up a hearty pot of soup.

Ever since college, my first endeavours in the kitchen, I have loved experimenting with soup recipes, be it creating my own to empty the fridge or attempting to replicate restaurants. After trying the gypsy soup at Mothers in Austin, I cooked my own of orange and green vegetables like sweet potato, carrot, and zucchini in a cinnamon and cilantro broth. When asked which food I'd like to dine out my days with if stranded on a dessert island, I'm likely to say Tom Kha, a spicy lemongrass and coconut milk fire pot. I just love soup.

Living in France where saying that you're vegetarian is near profanity, I've come to appreciate all my options. Trot into any well-stocked boulangerie and you're likely to find a spread of salty along with the sweet. The sandwiches are bready, but the quiches referred to as tartes are indulgent. Trois fromages is a staple rich with blue cheese and crowned by a walnut, though I lean more toward the vegetable varieties. Making tarts at home is a weekly affair, made simple by buying refrigerated dough. I precook the vegetables then tuck them into a mixture of egg, cream and herbs sometimes adding cheese. I've yet to have a catastrophe aside from burning the bottom of the crust, and my concoctions often insight bragging from my well-fed husband.

There is one cookbook that never quite makes it back on the bookshelf. I reach for it when making soups, quiches, salads dressings, and sweets. The pages are soiled with a rainbow of splatters. The recipes are simple, delicious and maybe even failsafe as I rarely measure out ingredients. Once Upon a Tart began as a Soho café where the scope and popularity of their menu bloomed into this cookbook. Along with each recipe is an anecdote about its origin or instructions on how to choose or prepare the ingredients. The book was gifted to me by my mother who said, "This one is going to be your favorite. You'll use it all the time." Once again she was right.

Here is an adaptation of their recipe for a Ratatouille Tart. Roasting the eggplant, tomatoes, bell pepper, squash and zucchini is suggested when making this Provencal dish, but when in a rush the canned variety will do nicely.

Ratatouille Tart with Herbes de Provence

Ingredients:
a savory tart crust
a large can of ratatouille
3 eggs
a splash of cream
herbes de Provence
garlic

1. Preheat the oven to 450 degrees
2. Unroll the dough and press it into a tart pan.
I leave it sitting on its paper so that it won't stick after baking.
3. Whisk the eggs and cream together in a bowl.
4. Add the canned ratatouille, a clove or two of pressed garlic and a sprinkle of herbes de Provence.
5. Place the tart in the oven to cook for 45 minutes.

I like to serve quiche with a green salad dressed in vinaigrette. One of the first recipes I learned in France, it is made by whisking one part olive oil and one part balsamic vinegar with a spoonful of Dijon mustard.
Miam miam!

Have a peek into my favorite cookbook...


Related Articles
Editor's Picks Articles
Top Ten Articles
Previous Features
Site Map





Content copyright © 2023 by Melissa Demiguel. All rights reserved.
This content was written by Melissa Demiguel. If you wish to use this content in any manner, you need written permission. Contact Melissa Demiguel for details.