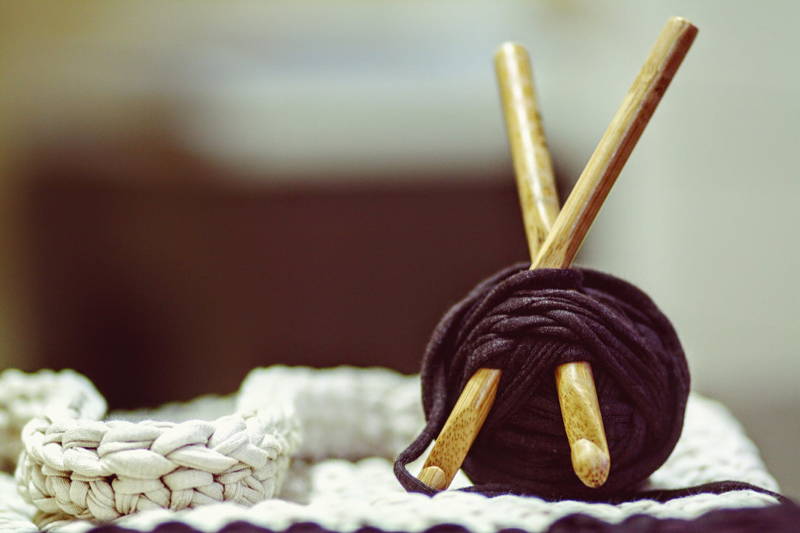 Reading a yarn label might sound like a simple task, but if you aren't familiar with the symbols and format it can feel like you're trying to read a foreign language. Yarn labels have all the essential information about the yarn from how to care for the fiber to what size hook to use. Here's how to make sense of what's on that label.
Let's examine a label for Red Heart Soft Yarn as an example:
Country of Origin. In the image above, the first piece of information is the country of origin, or where the yarn was manufactured.
Color and Dye Lot. This area of the label includes the color name, color code number, and dye lot number. For this example the color is Leaf, the color code is 9522, and this is a no dye lot. A no dye lot is usually associated with fibers that are uniformly and consistently dyed from one batch to another. If you see a dye lot number, it means the yarn was part of a specific dye batch. In which case, you should try to make sure the dye lot numbers match on skeins of the same color because it is possible for colors to vary noticeably between dye lots.
Yarn name and logo. The next information we see on this example is the company name and logo for Red Heart Yarns.
Weight. Next, we see how much yarn is in the skein, which is 5 ounces (140 grams) and 256 yards (234 meters). This is not to be confused with the yarn thickness, which is also referred to as yarn weight.
Pattern. Moving down to the next section of the label we see that there is a pattern on the back of the label and a picture of the project. The knitting needles icon shows that it's a knitting pattern and calls for needles in sizes 4 and 5 mm, which are US sizes 6 and 8 needles. The pattern requires 11 to 17 ounces (312 to 482 grams) of yarn. Remember our skein of yarn is 5 ounces, so you'd need 3 to 4 skeins of this yarn for the project. If you want more detailed information about the pattern, you will need to pull off the label to get it.
Fiber Content. The next piece of information is the fiber content. In this case the yarn is 100% Acrylic. If it were any other fiber or blend of fibers, the label would tell you here along with the percentage of each. The label also tells us the yarn is machine washable and dryable. There is more detailed care instructions in the symbols.
The next area of the label contains 6 symbols. You may see more or less on other balls of yarn. These symbols tell you the yarn thickness, recommended needle size, and care instructions. On our example label here are what the symbols mean:
Yarn Thickness or Weight. The picture of a yarn skein with a number indicates what thickness the yarn is. The Craft Yarn Council of America has implemented a standard system, which most (but not all) yarn companies use. The standard uses a number system from 0 to 6 with 0 being the finest yarn and 6 the bulkiest of yarns. Our skein is a medium worsted weight of 4. You can use this information to substitute a different but similar yarn.
Gauge. The next 2 symbols are the gauge information for knitting and crocheting. Look at the squares on the label. They tell us that using size 8 (5 mm) knitting needles you should be able to produce a 4 x 4 inch (10 x 10 cm) square of 23 rows with 17 stitches each; or using hook size I-9 (5.5 mm) you should be able to produce a 4 x 4 inch (10 x 10 cm) square of 15 rows with 12 single crochet stitches each.
Laundry Instructions. The next symbol tells us we can machine wash our finished item in water of 104F or 40C. You might see something different if the fibers require hand washing or cold water washing only. Lion Brand Yarns has an excellent chart for the different washing, drying and ironing symbols. The link is at the end of this article. You can print it out and keep it handy for future reference.
Drying Instructions. In our example, the square with a circle and dot is telling us to tumble dry, using normal or low heat. Again, refer to Lion Brand's chart for different drying symbols and instructions.
Ironing Instructions. Clearly, our label is telling us not to iron. Some fibers might benefit from ironing or steaming. Refer to the chart link for other ironing symbols.
The last little bit of information on our example label tells us who the yarn company and distributor are and their website address.
The hardest part of reading a yarn label is realizing what the symbols mean. I've provided a couple helpful links below with printable materials you can keep handy for quick reference. Also, the print on a label can be tiny, so keep a magnifying glass handy as well.
If you have questions feel free to send an email or post them in the forum using the links provided in the right hand column. Also feel free to share any great tips you have about reading a yarn label that aren't mentioned here.
Lion Brand Yarn Care Page
Trend Setter Yarns Care Symbols
You Should Also Read:
Crochet Gauge or Tension Swatch FAQ


Related Articles
Editor's Picks Articles
Top Ten Articles
Previous Features
Site Map





Content copyright © 2023 by Melissa Rodriguez. All rights reserved.
This content was written by Melissa Rodriguez. If you wish to use this content in any manner, you need written permission. Contact Holly Messenger Aamot for details.