Lacework! Tatting Lace Asahi Originals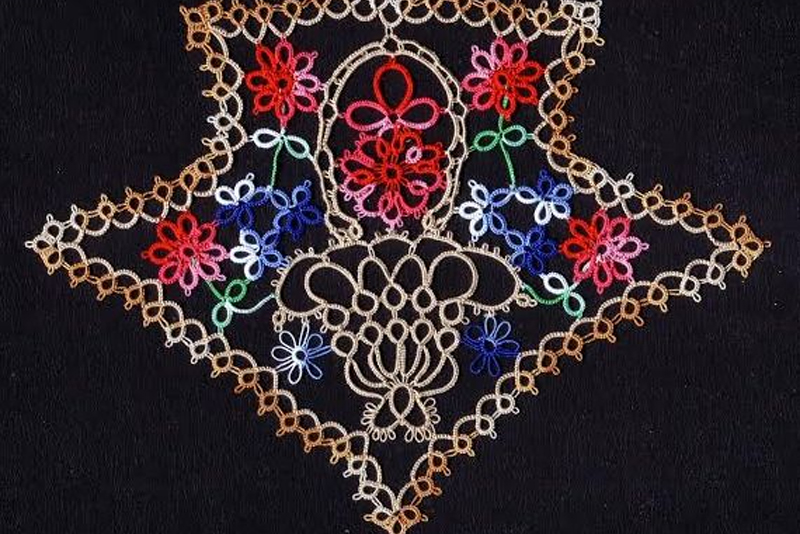 Asahi Original #424 Lacework! Tatting Lace
So many of the Japanese tatting books that are imported to the USA are more like coffee table books than tatting pattern books because of the wonderful photography. I am so delighted when the contents are more than just pretty photo layouts as with this new book by Asahi Originals. "Lacework! Tatting Lace" is published by Applemints ©2013. It is a 8.5" x 10 " (22 x 26 cm) paperbound book with 65 pages packed with full color photos of the tatting, full color tutorials and multicolored diagrams.




There are very good photo tutorials for all the basic tatting essentials, ring, chain, picot, and joins even though the book is printed in Japanese. Although it teaches the "up" join instead of the "down" join (which allows the tatter to create lace with a definite front/back side look, it makes the method very clear and also shows how to join the last of outward facing rings. This awkward join often results in a twisted picot and requires concentration to complete correctly.


There are many patterns in this book that I just fell in love with. It began with the standard illustration of the differences in the size of the finished tatted product depending on the size of thread used. The typical, dull, row of edgings or rings was replaced by a host of golden butterflies! And the butterflies are not the regular 4 ring butterflies. The upper wings are actually tatted as chains with a twist in them giving the butterfly great personality. Even the back cover of the book has a bird with these sculpted chains giving it form.




And for me the best part was the ABCs alphabet. The letters of the alphabet are all tatted in rings with one shuttle. The bare thread space between the rings contains very petite beads. The letters are remarkably easy in construction but the bars and cross pieces, even the cedilla on the Q are cleverly done.




After that comes the "cute" section. Seriously cute. So cute, so precious, so just right for kids, it made me wish I had small grandkids. The two styles of large tatted bows are so pretty but the edging of small bows joined side by side are just so right, so perfect. They would delight any young girl. But the boys are not neglected. No, indeed. They have a menagerie of dinosaurs, whales, and dolphins, plus airplanes, rocket ships and a police car!




Also included are edgings and flowers and medallions for us "old hands" and one edging I can't wait to try out. It is a ring and chain repeat. Two colors. Worked in two strips simultaneously as in opposing rings but here worked so that the rings of one color join to each other through the rings of the opposite color. Too cute!!



This one is a keeper!



Note: I acquired this book for my personal tatting reference library. G. Seitz
You Should Also Read:
Selection of Japanese Tatting Books
Beaded Needle Tatting
Beaded Tatting Tips


Related Articles
Editor's Picks Articles
Top Ten Articles
Previous Features
Site Map





Content copyright © 2019 by Georgia Seitz. All rights reserved.
This content was written by Georgia Seitz. If you wish to use this content in any manner, you need written permission. Contact Georgia Seitz for details.