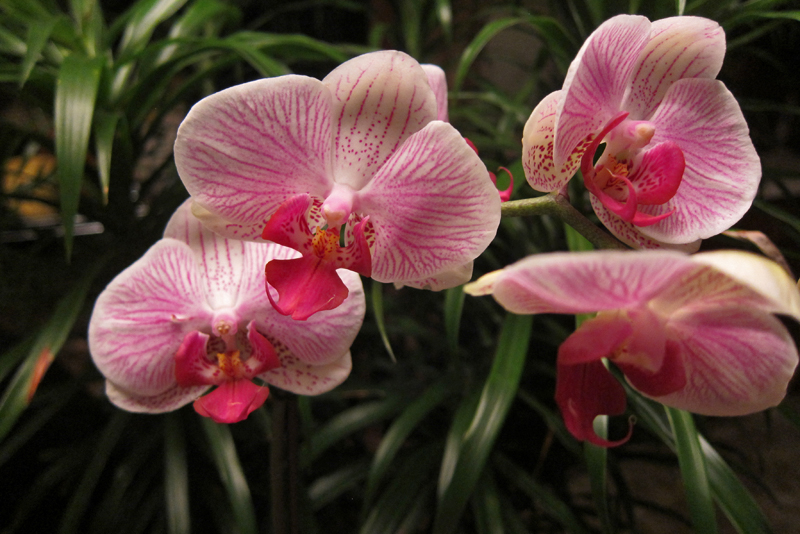 Calcium deficiency
Calcium deficiency in Cattleyas is evidenced by a blackening of the tips of the leaves with a yellowish halo between the green and the blackened tip. Use lime, preferably dolomitic lime, at a rate of one tablespoon per large pot (one teaspoon per small pot) two or three times a year to eliminate this problem.

For yellow leaves
Before bringing in your plants or preparing them for a show, spray with a weak solution of calcium ammonium nitrate in water in the afternoon.

Salt Crystals on pots
If you have salt crystals on your pots it is an indication that you have a buildup of salts which will cause burns on the roots. You should reduce the amount you fertilize and make sure that you flush once a month with plain water to reduce the mineral buildup. If this does not take care of the problem then you should consider using rain water or reverse osmosis water which has all the minerals removed.

Epsom salts for Phals
Some growers recommend adding a teaspoon per gallon of Epsom Salts to fertilizing solutions for Phalaenopsis as they are developing their spikes. The extra Magnesium keeps the leaves from yellowing and increases flower production. Do not do this more than once a month and do not spray the solution on any plant.

Use Cinnamon dust for rot and fungus
Use a hairdryer and cinnamon to coat plants which are showing signs of rot or fungus. The cinnamon will act as an inhibitor and the blower with allow you to coat parts of the plant that are difficult to reach otherwise.

Watch the temperature of your water
During the winter months it is important to use water that is almost air temperature to ensure that you do not cause damage to the leaves on your plants. Indoors this can be best accomplished by putting the water you will use in a container and allowing it to sit overnight. It is very easy to over or under-estimate the temperature coming out of a tap and many plants have been killed by being watered with water that is too hot or shocked by water that is too cold.

Watch out for sunburn
With the changing seasons it is easy to have plants sunburned when you least expect it. During the winter months we try to give our plants as much sun as possible so they will have a chance to flower. But as the days grow longer we need to start watching for signs of redness in leaves which shows that the plants are nearing the limits of their sun exposure.

You Should Also Read:
Winter Orchid Growing Tips
Pest Bugs on Orchids
Orchid Profile - Laelia purpurata


Related Articles
Editor's Picks Articles
Top Ten Articles
Previous Features
Site Map





Content copyright © 2022 by Susan Taylor. All rights reserved.
This content was written by Susan Taylor. If you wish to use this content in any manner, you need written permission. Contact Anu Dharmani for details.