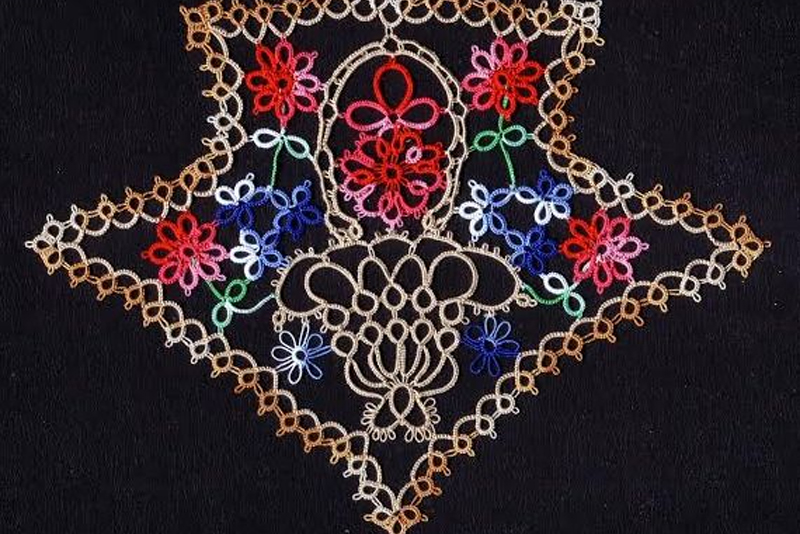 Tatting Lace by CreAtor 06
Tatting pattern books from Japan are so lavishly photographed and illustrated that it makes me quite envious at times. This new book surpasses all previous ones. It is a collaboration of ten tatting designers. It is large in size, 9" x 11.5" or 23 x 30 cm and fully half an inch thick! The 88 pages are all high quality heavy stock paper. Half the book is in full color showcasing the patterns while the other half has black and white detailed illustrations. Although printed in Japanese, the elaborate step by step diagrams make the patterns available to all.




The delicate lace featured on the dust jacket front is by Yusai Shokoin, gentleman tatter and past President of the Japan Tatters Guild. Mr. Shokoin is but one of ten tatting designers whose work appears in this book. He is joined by other tatters from Japan whose work we have enjoyed in the past.








This is but a small sample of the tatting projects inside!


Toshiko Takashima from Osaka, Japan developed the Japanese Style Hook Needle Tatting. A talented designer she learned tatting, knitting from sisters at childhood and later learned Ribbon embroidery from Shizue Sanda, French embroidery from Leonie Miura, Knitting from Yasuko Uga and Continuity lace from Kazuko Yamashita. She has published three books teaching the hook needle style. Taeko Takashima's (her daughter?) work also highlights tatted lace in large size thread. The pieces are used for purses, runners and scarves as well as traditional doily edgings.


Teiko Fujito, Hisayo Sugita and Sumie Shimazaki have all published books in recent years with wonderful patterns both simple and complicated. Their tutorial sections are always remarkably well done.






Teiko Fujito book.








Hisayo Sugita book.




Tomoko Goto, Ritsuko Morihisa, Keiko Kato, and Yuuko Terachi are all new names but this sample of their work has me hoping for more. Ritsuko Morihisa's kaleidoscopes with tatting are utterly charming and her small doll pincushions are so sweet! Yuuko, Keiko, Sumie and Tomoko all included tatted jewelry in their sections. Lovely items all tatters will enjoy.








This is a book for any tatter's wish list.



I acquired this book for my personal tatting reference library. - G. Seitz


You Should Also Read:
Selection of Japanese Tatting Books
Tatting Lace - Hisayo Sugita


Related Articles
Editor's Picks Articles
Top Ten Articles
Previous Features
Site Map





Content copyright © 2019 by Georgia Seitz. All rights reserved.
This content was written by Georgia Seitz. If you wish to use this content in any manner, you need written permission. Contact Georgia Seitz for details.