Guest Author - Mavis Metcalf
An exciting event occurred in Winnipeg, Manitoba this weekend as the Gabriel Foundation accepted a request for them to visit our city with their Beyond Birdie Basics Workshop.
Winnipeg is really not on the usual tour for any of the bird workshops, seminars or shows and this is the first time that anything like this has happened here.
I signed up to attend this two day workshop when I heard about it and have just returned from day 1.
Two speakers from the Gabriel Foundation attended and these ladies were very knowlegable about the subjects they spoke about and committed to helping others learn. Julie Weiss Murad is the President and Founder of the Gabriel Foundation and Patti Christie, CVT,RN is the Director of Operations, Education and Avian Welfare.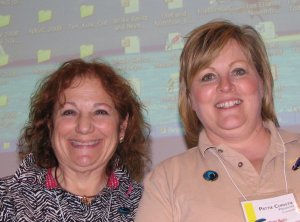 Julie Weiss Murad and Patti Christie
The first part of the workshop would be an excellent education tool for someone who is thinking about adding a bird to the family.
They discuss both good and not so good reasons to bring a bird home and advise you to be realistic about your abilities, which includes time, to care for the various species that you could choose. They also talk about where to get your bird, if you decide that you do have the time and ability to care for one as well as the differences between finding a young, just weaned baby or adopting an older mature bird.
Julie and Patti talk about the various species that you might find, discuss the good and the not so good about these birds, and compare general noise levels, energy levels and cuddliness between these species.
Cages, toys, cage cleaning and placement were then discussed along with some great advice on foraging and enrichment. There was a good discussion on avian nutrition, which included natural feeding behaviours of birds in the wild and tips on how to encourage similar feeding behaviours in your own flock.
I am excited about going back tomorrow to finish the workshop.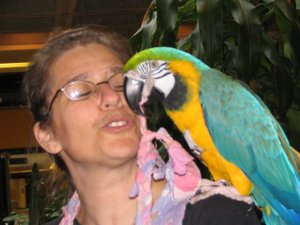 Avian Welfare Canada is one of the hosting organizations of this event in Winnipeg. Melanie Shura of AWC is pictured here with my friend Kia.
Please
click here
for more information on the Gabriel Foundation. You can check out their schedule of upcoming workshops and may be lucky enough to find one in your area.