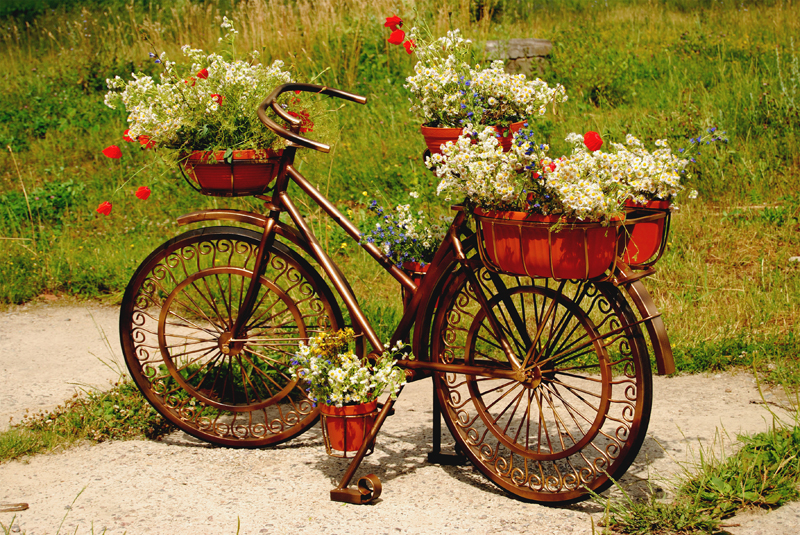 Worm castings, or vermicompost, is one of the best fertilizers and soil amendments you can use in your container garden. Ready-made worm bins and worm trays can be purchased; and you can make your own simple worm composter or worm bin for less than $20 (see "How To Make Your Own Worm Bin Composter" article). Whichever you choose, here are some simple, basic steps you'll need to follow every few days to keep your worms happy and productive.

Once you have your worm bin set up and have added your worms, you'll need to feed them and check the bin periodically to ensure a healthy environment is maintained. A few things are critical: moisture, air flow (oxygen), temperature, and amount of food.

If the materials in the bin ever appear to be drying out, mist the mixture lightly with a spray bottle. The bedding should be damp enough that a small amount of moisture oozes out when you squeeze some bedding in your fist, but it should not be dripping wet. The worms need moisture to survive, but too much water will drown them. If the bedding is too wet, prepare some dry bedding and gently mix it in with the too-wet bedding.

Make sure your worm bin is in an area with fresh air and no toxic fumes, and that the bin has adequate ventilation holes. Also, worms prefer temperatures between 55 and 75 degrees F. When the temperature drops below 55 the worms will become semi-dormant, feeding very little (and making few castings). As the temperature in the bin cools or climbs above 75 degrees F, the worms will move to the center of the bin and bedding for a warmer or cooler environment. If the entire bin becomes too cold or too hot, the worms will die.

Too much food can be as bad for your worms as too little. If there is more food than the worms can consume before it rots, the rotting food can create a noxious environment for the worms. If there is too little food, the worms will not reproduce, and many may die. In additional, large amounts of worm castings are harmful for the worms, so change the feeding location to keep the worms moving. Add your kitchen scraps in a different location in the bin each day or week, depending on your schedule. Moving in a spiraling pattern around the bin makes it so the worms don't have far to crawl from one meal to the next.

Never put meats or dairy products in your worm bin. The worms won't eat them and the food will rot, making a bad smell and toxic conditions for the worms.

If you will be away from home for a long period of time, give your worms a little extra food before you leave. If you will be away longer than three weeks, arrange to have someone feed your worms at least once every two weeks while you are away.

Once your bin is full of castings and ready to be harvested, follow the instructions for your bin to encourage your worms to move to a new tray. Then run your fingers or a cultivator through the compost and worm castings to be harvested, and place any stray worms you find into your new, active bin. Any worms still left will be a nice addition to your garden.
Mix the worm castings into your garden, spread on the top of your containers, or add to your potting soil mixes.

This may all sound complicated, but it's really not – worms could very well be the easiest 'pets' you'll ever keep.

Possible problems and solutions:

Problem: Large numbers of worms are dying. Possible causes: too hot, too cold, too dry, food scraps too salty or too acidic, not enough bedding.
Solution: check the temperature inside the bin and make sure it is between 55 and 75 degrees F. If too dry, lightly mist with a spray bottle. Add some fresh, damp, shredded paper bedding to offset too-salty or too-acidic conditions. If you have a pH tester, worms prefer a pH of 7.0, but can tolerate a range of 4.2 to 8.0. If the pH is too low, add crushed egg shell or calcium carbonate (ground limestone) to correct, or gently mix in fresh bedding or add fresh bedding to one end of the bin. If the bedding is used up, add fresh damp bedding or start a second bin.

Problem: Bad odors from the bin (rotten or ammonia smell). Possible causes: too much food for too few worms, not enough air, too wet.
Solution: if the food is not being eaten before it starts to stink, don't add any new food for several days or up to two weeks. If there is not enough air, add more ventilation holes (do not make them bigger or you may find worms crawling about your home!). If the materials inside the bin are too wet, add some dry shredded newspaper (black ink only, no colors!) and gently mix so it will absorb the moisture.

Problem: Fruit flies and other insects.
Solution: bury food below the cardboard and be sure the cardboard fits securely over the bedding. Keep plastic lid tightly closed.

................................................................................

CASUAL VISITOR … and just browsing? Why not sign up to the Container Garden newsletter? It won't matter what space or how many pots you have or even how much time you have to spend in your container garden; what will matter is that you get our reminders and good advice and ideas all in one interesting article.


You Should Also Read:
How to Make Your Own Worm Bin Composter


Related Articles
Editor's Picks Articles
Top Ten Articles
Previous Features
Site Map





Content copyright © 2023 by Jessica Carson. All rights reserved.
This content was written by Jessica Carson. If you wish to use this content in any manner, you need written permission. Contact Lestie Mulholland for details.