Herbs in Action - LAVENDER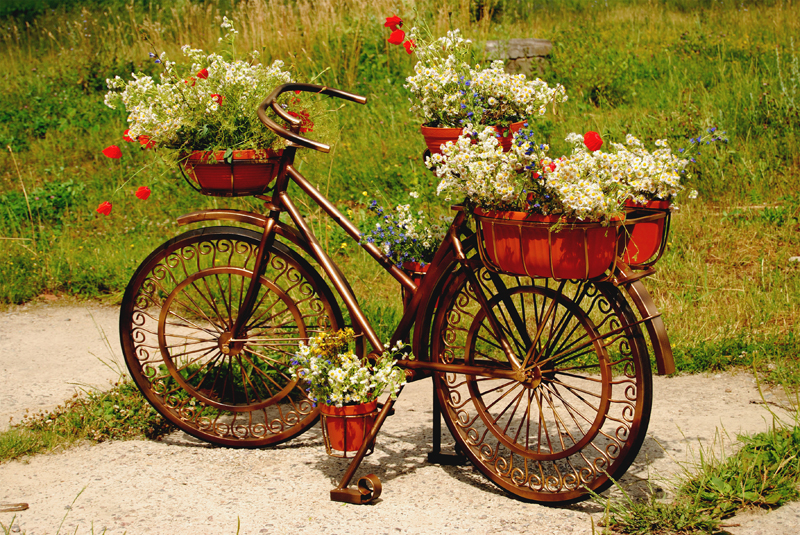 Claude Monet is said to have said "More than anything, I must have fragrant flowers, always, always." And when you think about those beautiful impressionist paintings we see and enjoy and love, he surely captured that fragrance in his work along with so much else. And what better way is there to invite yourself back into your home everyday than to have two beautiful containers of fragrance captured for you to brush past as you enter your front door? It may take some time to produce flowers, but when it is fully grown, English lavender in full bloom has little to beat it for scent and beauty.

With sun, it is so easy to achieve this and if you don't already get this fragrant greeting, well – there is time this next weekend to choose and gather all the bits you need and then determine to plant it all in readiness for the new week starting soon after. Add a touch of patience and anticipation, care and expectation and you will get all the returns you may not have thought about in quite the same way.

First off, a mini survey of where to place your containers. Remember it's sunshine you need so hopefully you have enough of that at your entrance – but it could also be at the pool, or at the entrance to the deck, or just outside the gates to the driveway or up the steps to the front stoop ... the possibilities for a fragrant garden are many and it just may be these possibilities that will push you towards a couple of choices you have not yet considered. Of course you will take the best one available to you, but sunshine will place the pots for sure. Brushing past them is important too – though a little breeze or so will help here as well.

After this, all your other requirements will fall into place like which containers you will use, (material, size, shape, colours), watering and soil and food and fertilisers and mulches and winter protection and a go-away plan for any plant pests that may visit. Second last come my mates the earthworms in your containers and last, but not least by any means (hope you are smiling by now) what plant/s will you choose? Shade lover or not? What fragrance? Tree? Shrub? Colour of blossoms? It all seems so obvious not so? Still needs your thinking and note making in your gardener's notebook so that you can open up your choices and options and all, especially when you go shopping at the garden centre. There, once you have done your homework and thinking, the beauty of choice may astound.

Does this seem like too much fuss for planting up a container or two? Don't let it be, and when you think of it, even if you are a beginner gardener, these requirements are becoming second nature and readily gathered together.

We will be talking of planting Lavender in this article but there are many choices open to you for fragrant plants and flowers – mini lemon citrus trees, managed creepers like jasmine (several species are well known for their perfumes), or dwarf buddleias (bring pollinators like bees and butterflies and hummingbirds), roses, herbs and many more.

As mentioned above, right now the one we will look at is a very popular garden and container plant – French and or English LAVENDER. And for another smile I like this quotation I found from Cornelia Otis Skinner … "I can enjoy flowers quite happily without translating them into Latin." For our purposes here we don't need to speak Latin, but of course when you need to know exactly what you are planting, then Latin it should be to be right and correct and standard and international. But just in case you do want to know then go for English lavender: Lavandula Angustifolia or for French lavender: Lavandula Stoechas though there are many more (over 40) to choose from.

And so to grow Lavender you will need:

• Two matching containers that suit the style of your entrance. And the plants. I have seen Lavender being grown in wooden tomato boxes and tyres and once in a big silver tin and for me these just did not work. I would say something plain, a classic design, an urn or something similar suits the plant which, while it can grow wild in a field or free in an open garden, to me needs a touch of respect when it comes to which container they look best in. An alibaba pot may look good too or because of the deep purply-blue flowers and grey-green leaves, a terracotta patterned pot would suit fot sure. But of course it's your choice, and actually it's the fragrance we are after!
• Lavender is usually grown from cuttings but for your entrance container I suggest you buy at least a 12-18 month old plant from the nursery as you want to have an 'instant' showing.
• Soil, compost, bone meal, gravel and/or crock pieces, your plant of choice and some mulch to finish. And of course your gardening tools like a willing pair of hands and a small spade and some time.

Steps to planting up your container include:

1. Place the pots in their end position as moving them later will be a fuss when they may be too heavy with the soil and plants. Use drip trays/saucers and check your containers for drainage holes or go for pot-in-a-pot planting which is also possible. I belong to the school of gravel or broken crock pieces at the bottom of pots (for air and good drainage and to stop soil escaping) and onto these you will throw your first layer of soil.
2. Use a good loose potting type soil (not garden soil as it is too heavy), mix in a little compost and a half-a-handful of bone meal. Lavender likes dry soils, hates wet feet so add sand if you think your soil may compact. I wish I could be more specific but gardening is not that specific, so think like the plant (!) and you will know when the soil is just right for your plant. It may be odd for me to say that but you will.
3. Before planting submerge the plant in a bucket of tepid water and leave until all the air bubbles have gone and the soil is thoroughly soaked.
4. Then remove the plant carefully and inspect the roots and if it looks root bound, (roots going around on each other in the tight shape of the pot), tease them open, prune about one third away then match this pruning by trimming the top of the plant also by a third.
5. Place the plant in the centre of the pot allowing enough space for root spread. Gently fill in the spaces around the roots pushing down gently, adding soil pushing down gently, adding soil pushing down gently and then adding soil until the lavender is firmly seated and supported by the soil. Water again briefly to settle the soil. Do not leave the soil soggy or muddy ever.
6. Water lightly. Lavender in a container needs more water than lavender in the open garden, but do not wet the plant. It can go with out water more easily than it will cope with too much.
7. I have both French and English lavender in containers in the front garden which I keep 'tidy' by having a topiary effect at the bottom of the pots but allowing a free frond look for the flowering bits and stems at the top. Many have commented positively on this combination of style (we call it a Bob Marley cut). These containers are under a well established oh so fragrant frangipani tree bordered by a container of scented geranium. A nosey-treat I say, that's our entrance sorted!
8. Annual pruning is best done in coolish weather and spring or at the end of autumn in Southern hemisphere climates.
9. Deadhead after blooms die and you can propagate new plant by planting 4" or so pieces in good soil. They take around 4 weeks to root and there you'll be on your way. The seeds that you will get at this time are hard to germinate. Try and you will see.

Right now I am allowing the plant to seed itself and spread. These will then/ and have established themselves as plantlets and where and when I can I am moving them into the back open garden where I am planning to grow a clipped lavender and rosemary hedge. It will take time to establish itself, but the end result is going to look really nice. But if you want to use some of the flowers in your home, then the flower stems can be harvested when the flowers start to open. If you leave them for too long or until they are completely open, they will lose their scent. Midday is a good time to cut the stems and harvest for your various uses

Besides the fragrance of Lavender, what else can you do with it?

A lot, including making scented sachets in muslin with the dried flowers which, when placed with your woollen clothing or bed linen, add fragrance but also chase away fish moths and other household insects. Sweeten salt by adding a few dried flowers to the shaker or make a difference with your baking by making Lavender sugar. And once you have some lavender stalks and a fire in the grate on a cold day, throw these into the fire to release a floral fragrance just made for cosy homes. If you are a crafty person and make soap, then add lavender flowers to the mix; and you can add the edible lavender flowers to your salads or home-made ice-cream (only use organically grown flowers though, harvested from your garden where are no fungicide sprays were used). There are teas and mixed herb tisanes you can make, and medicinal uses include assisting with sore joints, relief for headaches, as a salve for mozzie bites and more.

This strongly perfumed plant is one of the prettiest you could choose for a lot of reasons, fragrance being just one of them. And for a welcome home front entrance container ... I love it!

What do you want your container garden to do?
................................................................................

CASUAL VISITOR … and just browsing? Why not sign up to the Container Garden newsletter? It won't matter what space or how many pots you have or even how much time you have to spend in your container garden; what will matter is that you get our reminders and good advice and ideas all in one interesting article.





Related Articles
Editor's Picks Articles
Top Ten Articles
Previous Features
Site Map





Content copyright © 2022 by Lestie Mulholland. All rights reserved.
This content was written by Lestie Mulholland. If you wish to use this content in any manner, you need written permission. Contact Lestie Mulholland for details.