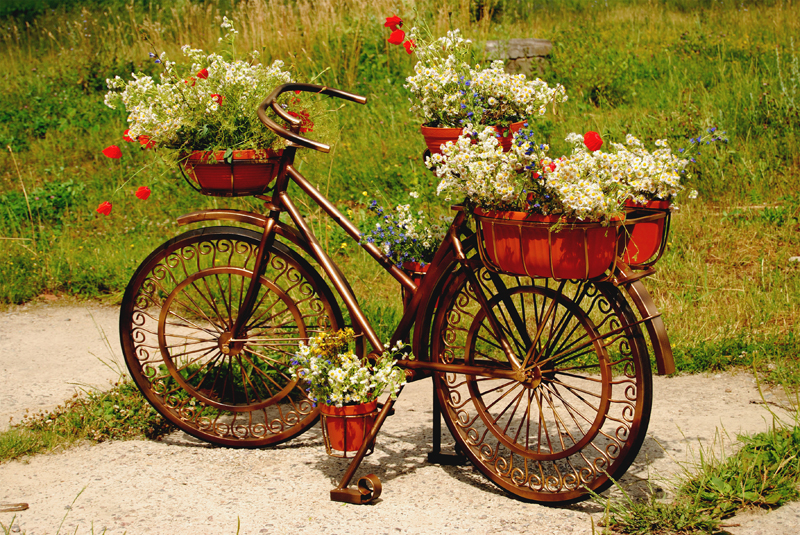 It's winter time here in Fort Worth Texas – well, what we call winter time anyway. I live in climate zone seven, which is a pretty temperate region compared to most parts of the country. This time of year, daytime temperatures can vary from 30 to 70 degrees but most days are warmer than 50 degrees. Some days are overcast, but compared with northerly regions, the sun will shine more days than not.

Several of my indoor container plants live quite happily on my back porch during the summer. The position of the building prevents them from getting the direct sunlight that would damage them, but as the temperatures have dropped, I've brought them inside. My spider plant (Chlorophytum comosum,) my snake plant (Chlorophytum comosum) and my ficus tree are now settled into their "winter homes" inside my apartment.

I have a large, plastic container with drainage holes in a corner of my patio, filled with potting soil. It's a temporary holding place for my off season plants. During the summer, it holds the bulbs that will bloom in the fall or spring; in the winter, it holds the summer loving plants that die back during the cold weather. Because the winters are so mild here, I'm able to leave the container outside most of the time. Occasionally, it will become cold enough that I'll need to drag it inside to protect my tender summer plants, but that's a rare occasion.

I've already dug up the bulbs that I've been storing over the summer and planted them in containers on the front and back porch. In a few short months hyacinth and daffodils will bloom from the containers, heralding spring. Right now, the amaryllis and the paper whites are growing full steam ahead and will produce beautiful red and white blooms in time for the holidays.

Although the temperatures are too cold to support some my favorite summer container plants, its perfect weather for cool season annuals. I've replaced the poor looking petunias, portalaca and vinca that colored my porch during the summer. Into those pots I've planted pansies, snap dragons and of course, chrysanthemums. All of these plants are inexpensive and readily available at my local garden center and over the years, they've been bred to come in a wide variety of colors.

I love ornamental grasses and there are several varieties that do very well during the cooler temperatures. I have liriope, both solid green and variegated, and blue fescue. During the summer, they're filler plants but this time of year they take center stage. I let them show off by themselves for a few weeks, and then I add mums to the containers, which will quickly reduce the grasses to filler again.

Purple fountain grass (Pennisetum setaceum 'Rubrum') is popular in this part of the country and a personal favorite. Mine is almost three feet tall and has pretty, tufted seed pods at the tips. Prior to October, it shared a container with my hibiscus and summer annuals. As the weather cools, I remove the summer plants, adding yellow mums and place small pumpkins and decorative squash in the container; a perfect decorative container for the Halloween/Fall season.

I confess I dislike cold weather and I struggle when it becomes full dark at 6:00 pm, but winter is easy here and I know it. I grew up in Missouri, and I remember what it's like to endure a consistently cold and overcast winter – with lots and lots of snow! I'm grateful for the mild Texas winters; it's the reason why I live in this part of the world.

For those of you who are enduring harsh winters, there are a lot of ways to keep your world full of color during the winter season, both indoors and out. Ornamental kale comes in many colors and can endure the harshest temperatures. Cyclamen will grow very well indoors as long as it gets enough light. African violets and orchids can be a constant source of indoor color year round. Croton leaves come in splashy colors of red, yellow and orange and will grow indoors quite happily. Of course, Christmas cactus is coming into to its full glory now.

As much as I dislike the cold weather, I remind myself that many plants require a cold period to trigger new growth in the spring. I'll do what I do every year; I'll hunker down for the winter and begin planning my container gardens for next spring!

................................................................................

CASUAL VISITOR … and just browsing? Why not sign up to the Container Garden newsletter? It won't matter what space or how many pots you have or even how much time you have to spend in your container garden; what will matter is that you get our reminders and good advice and ideas all in one interesting article.




Related Articles
Editor's Picks Articles
Top Ten Articles
Previous Features
Site Map





Content copyright © 2019 by Kay Boeger. All rights reserved.
This content was written by Kay Boeger. If you wish to use this content in any manner, you need written permission. Contact Lestie Mulholland for details.