Orchid Profile – Spider Orchids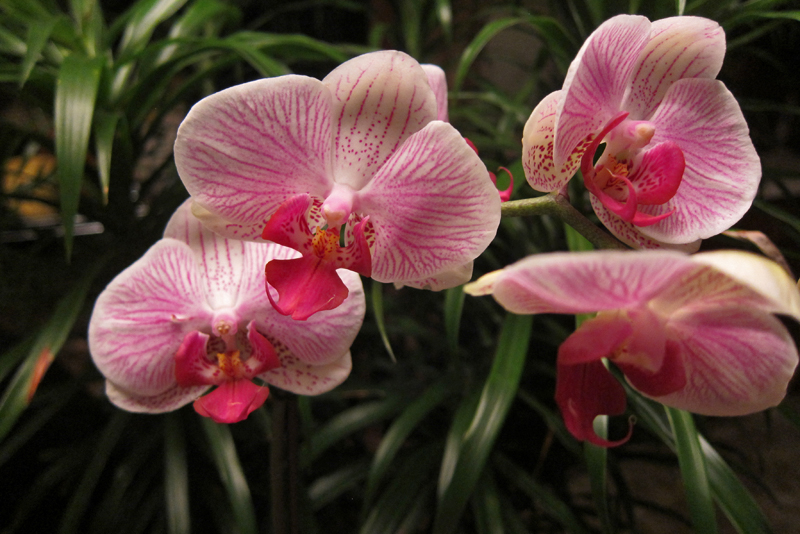 Spider orchids, or
Brassia
orchids, are among the most interesting and unusual orchids commonly grown.
Brassia Eternal Wind
as grown by Wickford Orchids shows what a spectacular show these orchids can produce. And you can certainly see why they have been nicknamed Spider Orchids.
A member of the Oncidium genus, Brassias are quite common in Central and South America where they are pollinated by parasitic wasps which think the flowers are the spiders they are hunting in which to lay their eggs. The female wasp attacks the flower and thereby picks up the pollina which it then deposits on the next flower when it lands there. There are approximately 30 species ranging from Florida through Central America to South America. The largest flowering of the species is
Brassia gireoudiana
which can have flowers up to 12 inches, or 30 centimeters, long.
These plants are fairly easy to grow for most hobbyists although they can get to be quite large depending upon the individual species – up to five feet across for the largest. They need humidity in the 60-70% range, good air circulation and moderately moist conditions common to the genus while they are growing. They need medium bright light in order to bloom, but no direct sunlight. The temperature requirements are considered to be intermediate to warm for most species and hybrids may tolerate more heat. Give them a rest after flowering for several weeks and then return them to normal watering schedule.
In the spring to early fall they will put out an inflorescence up to 36 inches, or 90 centimeters, long which can contain 10-20 flowers. The inflorescence emerges from between the pseudobulb and one of the bottom leaves when the pseudobulb is about half grown. The pseudobulb will mature as the inflorescence grows and the flowers will open at about the same time the pseudobulb is mature. Many species and hybrids are very fragrant and a plant in bloom will perfume a whole room when they are in bloom. In some of the hybrids now available the flowers can reach 10 inches, or 25 centimeters, in heights and they are normally very nicely displayed right in a row on the inflorescence. Most of the species are yellowish with blackish or brownish stripes, but new hybridizing with Miltonias and Oncidiums has given rise to a real spike in the popularity of these orchids since the flowers now come in many colors from purple to orange while the distinctive spider shape is still evident.
You Should Also Read:
Orchid Profile - Encyclia
Repotting Your Orchids - Oncidiums
Orchid Profile - Encyclia cochleata


Related Articles
Editor's Picks Articles
Top Ten Articles
Previous Features
Site Map





Content copyright © 2022 by Susan Taylor. All rights reserved.
This content was written by Susan Taylor. If you wish to use this content in any manner, you need written permission. Contact Anu Dharmani for details.