Orchid Profile - Prosthechea cochleata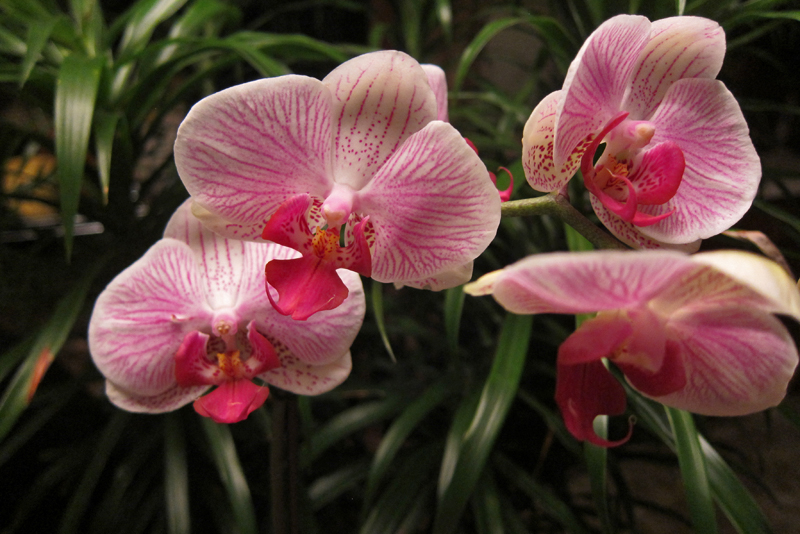 For sheer cute appeal
Prosthechea cochleata
has to be one of my favorites. It looks like a little octopus to me although it is nicknamed the Cockleshell or Clamshell Orchid referring to the shape of the lip and the lines on it making it resemble a shell. In Mexico where it is rather common, it is known as
Pulpo
. The plant is found from south Florida, where it is endangered, through the northern portions of South America and there are several different types, some larger and some smaller. It is a natural epiphytic (growing in trees) orchid. If you have been studying orchids for a while you might be more familiar with the former name Encyclia cochleata and then Anacheilium cochleatum, both of which were recently changed to the new genus noted above. The flowers are called
non-resupinate
due to the fact that the lip is carried at the top of the flower rather than at the bottom. This is the characteristic that required the new genus. There is also an albino or
alba
cultivar of the orchid and these indeed look like little octopuses.
These orchids are generally medium sized in growth habit with fairly large flat oval shaped pseudobulbs, however there are two distinct sizes one much smaller than the other. I would recommend the larger one since the flowers are much showier as they are larger. If you are limited in space, the smaller version will still put on a good show.
Two thin leaves are produced at the top of the pseudobulbs and the inflorescence emerges from scapes at the top of the pseudobulb. The flowers are produced sequentially and the plant will bloom for several months with two to four flowers open at a time. They grow all year long and require warm temperatures to put on a great display. Medium light is necessary, although I grow them with my hybrid Cattleyas. Many people grow these well in low light conditions, but medium light is better. Be sure to give them enough water during the summer so that the pseudobulbs do not wrinkle.
As mentioned above, the flowers are non-resupinate or with the lip at the top rather than the normal position with the lip positioned at the bottom of the flower. The lip can be anywhere from dark, almost black, to white with golden stripes depending upon the cultivar. The petals and sepals are generally a very pale green and contrast nicely with the lip. They may twist slightly, depending upon the cultivar. There is also an albino or
alba
cultivar of the orchid and these indeed look like little octopuses. The albino varieties tend to produce much smaller flowers than the regular ones.
An exceptional cross between Prosthechea cochleata and Encyclia trulla is
Prosyclia (formerly Encyclia) Green Hornet
. It has larger flowers than its parents, between two and three inches or five to eight centimeters across, and a vivid green color in the petals and sepals. This hybrid was registered by H&R nurseries and has brought new interest with its larger flowers and good coloration.
You Should Also Read:
Seed crosses or mericlones
Exhibit your orchids in the home
Orchid Growing Tips for Summer


Related Articles
Editor's Picks Articles
Top Ten Articles
Previous Features
Site Map





Content copyright © 2022 by Susan Taylor. All rights reserved.
This content was written by Susan Taylor. If you wish to use this content in any manner, you need written permission. Contact Anu Dharmani for details.