Job Interview During a Meal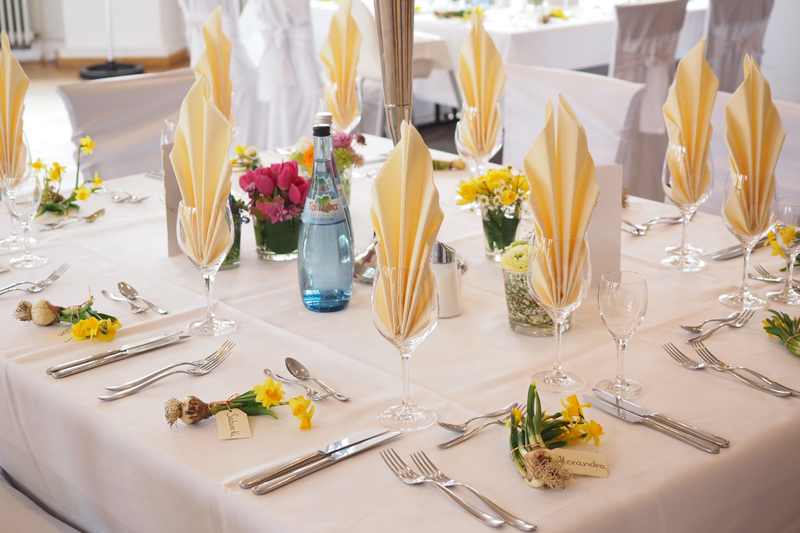 The unemployment rate is closing in on 10%. It's projected that by summer's end over 10% of our population will be unemployed. This stat is not to shake you up but to encourage you to check out how to interview well. We all want to properly handle and interview and snag that job out there before someone else swoops in.

Interviews are stressful. There is no denying that. For the seasoned actor who still gets butterflies before going onstage, the job seeking pro still gets stressed. In fact, it's said that when the actor stops getting the proverbial butterflies, it's time to get a new job. Being nervous is natural and simultaneously keeps you on your toes. Going into an interview relaxed can come off as cocky and it's quite possible you'll be off your game.

At times an employer will interview a potential hire at a meal. Yeah, like the interview itself wasn't already nerve racking. Now you have to manage eating paired with talking. Actually, this can be a strategic move on the employer's part. Not to worry, though, with a few insightful decisions beforehand, you can gracefully maneuver an interview and lunch.

One of the reasons employers take job candidates out to lunch or dinner is to evaluate their social skills. They also want to see if they can handle themselves gracefully under pressure. Dining with a prospective employee allows employers to review both interpersonal and communication skills. They also get a little insight on your table manners. This all happens in a more relaxed (well, for them at least) environment. Although you may have argued with your parents for years, table manners in fact do matter. And good manners may give you the edge over another candidate. I've written many articles on basic table manners. Feel free to peruse my other articles and take the time to brush up your dining etiquette skills.

If you are really nervous, check out the restaurant ahead of time. Then you will be familiar with the menu. Decorum is always key so be polite at all times. Remember to say "please" and "thank you" to your server as well as to your host. It's surprising how many adults actually believe that it's immature to say "please" or "yes please". Trust me. It's childish to presume that people don't want you to address them in a polite manner.

When you sit at the table, is it full of utensils? Begin at the outside and work your way in. Your salad fork will be on the far left. And salads are served first. Your entrée fork (this would be called a dinner fork if you were eating dinner) is next to it. Your entrée (main dish) will be served after your salad. Your dessert spoon and fork will be above your plate. Liquids (waters, wines, etc.) are on the right. Solids (bread plate) will be on your left.

Place your napkin on your lap once everyone is seated. Do not open you're your menu before you place your napkin in your lap. Finally, remember what your mother spent most of your early years telling you. Put your hands in your lap and keep your elbows off the table. Sit up straight. And for goodness sake, don't talk with your mouth full!

Messy food is messy. Pasta, chicken with bones, big sandwiches, whole crabs and ribs are entrees to avoid. Also, yes they are paying the bill but you should not order the most expensive entree on the menu. Order an entrée which will be easy to cut into bite-size pieces. If soup is served, the polite way is to spoon it away from you. There's less chance of spilling the soup in your lap. Do not cut your dinner role. Break your dinner roll into small pieces and eat it a piece at a time. If you need to leave the table, place your napkin on your chair or its arm. When you are finished eating, place your knife and fork to the "three o'clock" position. This tells your server you are done.

Remember, most of all, to try and relax. You want to listen to the conversation so you can participate in the conversation. For this reason alone, it's wise not to drink alcohol during an interview. Interviewing is tough enough without adding alcohol to the mix.

When you are finished with your meal, place your napkin on the table next to your plate. The prospective employer will pick up the tab. Let them. The person who invited you will expect to pay both the bill and the tip. You need to remember to say "thank you." Shake their hand and look them in the eye. Finally you should following-up with a thank you note. This note will remind them of what you talked about during the meal and expresses again your interest in this job. You can check my article, "Thank You Note for a Job Interview".




Related Articles
Editor's Picks Articles
Top Ten Articles
Previous Features
Site Map





Content copyright © 2023 by Lisa Plancich. All rights reserved.
This content was written by Lisa Plancich. If you wish to use this content in any manner, you need written permission. Contact Lisa Plancich for details.