Tour Blue Bell Creameries In Brenham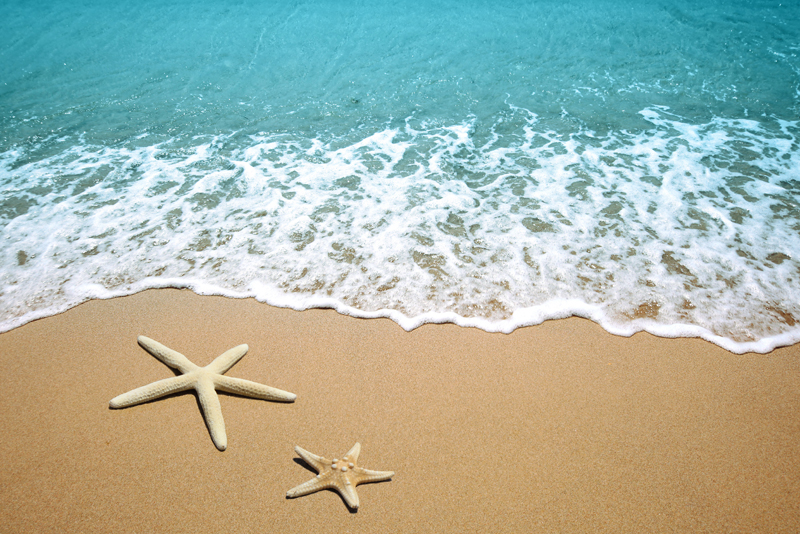 There's nothing like a big bowl of ice cream on a hot summer day. But our love of ice cream is a year-round affair. No matter the season if you're in the Washington County, Texas area you'll want to find time to visit the Blue Bell Creameries, in downtown Brenham. Made with farm fresh ingredients and shipped to stores quickly, Blue Bell truly does taste like homemade.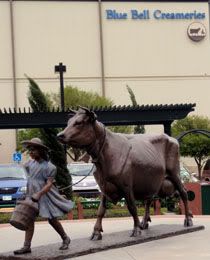 Visitors to the company headquarters in Brenham can get a factory tour of operations and top off the tour with a free dip of their favorite flavor.
Tucked in amongst the rolling Texas hill country about 70 miles northwest of Houston, Blue Bell began as a small, local creamery in 1907. Since then Blue Bell has churned itself into the number-three best-selling brand of ice cream in the U.S. and number one in their own market. Blue Bell recently celebrated its 100th anniversary and once you've had a taste you'll know why they've been around so long.
Blue Bell uses the freshest and best ingredients they can find including milk, cream, eggs, fruits, and nuts. Many of these fresh ingredients come from local farmers around the Brenham area and central Texas. Each day 12 – 15 tanker trucks unload fresh milk and cream into the factory tanks.
"We just like to make ice cream," said Blue Bell CEO and president Paul Kruse (Crew-zee). Kruse was on-hand to give our tour group, a warm Texas welcome, and to tell us a little bit about how his beloved Blue Bell ice cream is made. "To get ice cream just right takes some know how.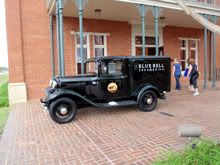 Everything we do has our name on it so we start with the freshest ingredients you can find. Ice cream can't get any better than the ingredients you start with."
Blue Bell also relies on their own distribution to ensure their precious commodity is handled properly, not only during manufacturing but also during the delivery process to stores. No one other than Blue Bell employees handles their product from production until it's stocked in the grocer's freezers. According to Kruse if the ice cream isn't handled carefully, and the proper temperature maintained, the delightful texture we so enjoy could be ruined. He's also proud of the fact that you still get 52 ounces for the price you might pay for, 40 to 48 ounces, with one of Blue Bell's competitors.
Today the company that began with two hand-cranked gallons of ice cream a day now produces over 250 different products including frozen ice cream bars. Popular ice cream flavors include: Homemade Vanilla, Dutch Chocolate, Buttered Pecan, Strawberry, and Cookies'n Cream.
Each year several new flavors are introduced like Mocha Madness, Snickerdoodle, and Butter Crunch. Blue Bell also produces regional favorites like Black Walnut, which is popular in the Midwest. But the most popular flavor year-after-year is Homemade Vanilla, which was created in 1969.
Blue Bell Creameries expects about 100,000 visitors to tour the Blue Bell plant in Brenham each year. I thoroughly enjoyed getting a sneak peek at the operations of this small town creamery that's made it big in the ice cream world.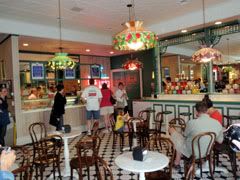 But the highlight of the tour is, of course, when you get to sample your favorite ice cream, or be daring, and try a new flavor.
You can also find a Blue Bell Creamery in Sylacauga, Alabama. You can find out more info about Sylacauga here. https://www.sylacaugachamber.com/
What's my favorite? Buttered Pecan…no, Cookies'n Cream…no, Peanut Butter Cup…no, Dutch Chocolate…no, Homemade Vanilla…no, Butter Crunch… Oh! I guess they're all my favorites. You can't possibly choose just one!
________________________________________________________________
For more information on Blue Bell Creameries visit: www.bluebell.com
For more information on Washington County and Brenham visit: www.brenhamtexas.com
You Should Also Read:
The Bluebonnets Of Washington County Texas
Murski Homestead Basil Cranberry Jelly Recipe
Mariposa Ranch Texas Ranger Baked Eggs Recipe


Related Articles
Editor's Picks Articles
Top Ten Articles
Previous Features
Site Map





Content copyright © 2023 by Hazel M. Freeman. All rights reserved.
This content was written by Hazel M. Freeman. If you wish to use this content in any manner, you need written permission. Contact Hazel M. Freeman for details.