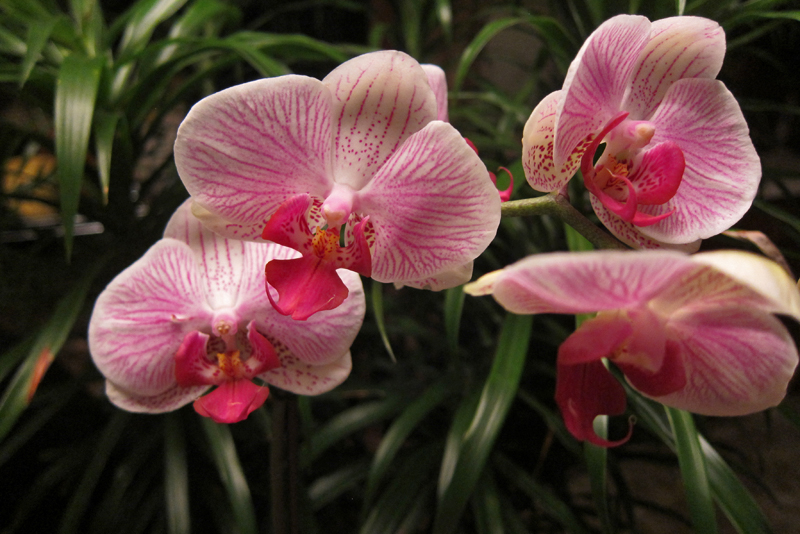 Stressed plants need more shade
During the heat of the summer if you have plants with poor root growth or plants that have just been repotted, remember to provide them with more shade until they show signs of growing new roots. Withered or drooping leaves, or loss of leaves, will signal to you that the roots cannot keep up with the need to obtain water for the plant. Watch your Cattleyas for withered pseudobulbs too.

Place hanging plants in clay pots
During times of high heat, put hanging plants in an empty clay pot and put the pot in a saucer of water. This will increase the humidity around the plant and allow it to better withstand the temperatures. This should also provide more shade as the plant will not be as close to the light source.

When Repotting Phals, drench the plant with Hydrogen Peroxide
When repotting Phals drench the plant and media with hydrogen peroxide to encourage new root growth. In addition to providing extra oxygen to the roots, it will kill any insect eggs in the media.

Learn all you can
Trial and error can be come expensive when learning to grow orchids. Read books on growing orchids. Sign up for the AOS electronic newsletters (go to www.aos.org). Go to local orchid meetings and discuss what works in your particular environment.

If you notice something wrong, don't wait!
If you see something wrong with a plant, either a pest attack or some kind of black infection, don't procrastinate! Many fungal infections will overwhelm a plant within days. An infestation of bugs will move from one plant to many within a couple of weeks, especially in warm weather. And, although you can rescue your plants from such attacks, it is better to keep the plants as healthy as possible before rescue so that they can bounce back and grow again and flower for you.

Experiment with inexpensive plants
Most growers start out with plants from hardware stores and this is a great way to learn how to grow orchids. The plants are relatively inexpensive, they are generally in bloom so you can see what you're getting and you can experiment with growing them after they've finished blooming. There are also good bargains for plants when they have gone out of bloom without selling. Pick up several of these and try different ways of growing until you find one that works for you.

You Should Also Read:
Summer Orchid Growing Tips
Spring Orchid Growing Tips
Falling leaves - Cattleyas


Related Articles
Editor's Picks Articles
Top Ten Articles
Previous Features
Site Map





Content copyright © 2022 by Susan Taylor. All rights reserved.
This content was written by Susan Taylor. If you wish to use this content in any manner, you need written permission. Contact Anu Dharmani for details.