Visual Impact for Containers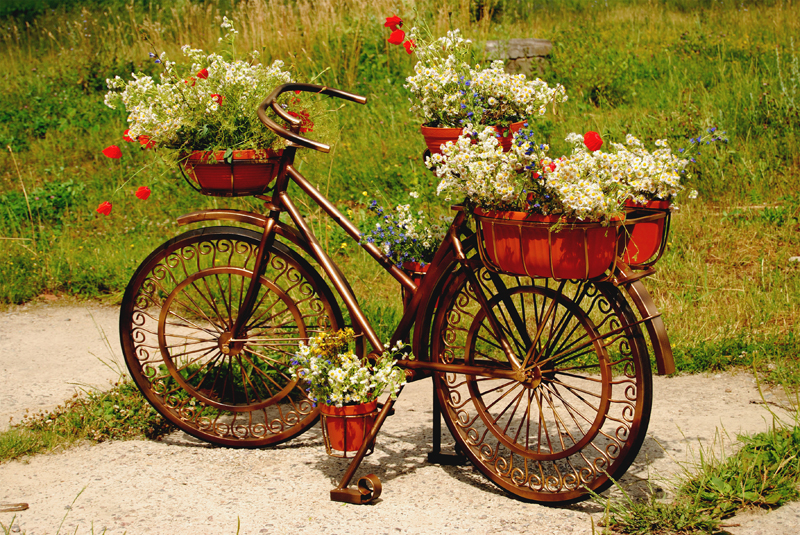 In a previous article, Combining Plants for Visual Effect, we discussed mixing plants of various heights in a single container. In this article, we'll talk about mixing flowers, leaf colors and textures to create container gardens with real impact.

Just a reminder – make sure the plants you group together in a single container have the same light/water requirements. Use a tall, specimen plant, a medium height filler plant and a trailing plant in a single container. Combining plants in evens (2, 4, or 6 plants) creates a formal, structured look. Combining plants in odds (3, 5, 7….) is more dynamic and will increase a containers visual impact.

Defining what gives something impact is difficult, but you know it when you see it. When the eye pauses on a beautiful object, when something interesting causes you to take a second look, when something creates a positive emotional response - that's impact. Many combinations of plants can look beautiful together, but to stop people in their tracks it must also have impact.

Creating impact starts by mixing leaf textures and colors. Leaves come in a wide variety of shapes and sizes; thin, round, heart shaped, wide, and narrow. The color green comes in an unlimited variety of shades. If the container is full of plants with the same leaf shape and color, the individual plants will be lost to the eye – it will all blend together. Mix plants with different leaf shapes and in different shades of green.

Keep in mind that not all leaves are green! Many foliage plants produce leaves with colors. Spiderworts have purplish leaves and coleus is available in many different colors – red, gold, purple, and pink to name a few. Crotons produce leaves in red, orange and yellow and dusty miller (Centaurea cineraria L.) has grayish/silver leaves. Caladiums also come in a wide variety of colors, including white, pink, red and every color of green imaginable.

I love flowers, but experience has taught me to limit the number of flowering plants I put in a single container. Three or five flowering plants grouped together can look chaotic – there's too much for the eye to see. I usually add one flowering plant per container, or separate a flowering specimen plant and a flowering trailing plant with a foliage filler plant.

Whether you're mixing flowers or foliage plants, remember the color spectrum basics. Colors on the opposite ends of the spectrum will complement each other and create impact. Combine purples and oranges, blues and yellows, reds and greens together. Adding a white, flowering plant to a container usually creates impact.

Don't overlook ornamental grasses. Many have interesting leaf textures and can come in a variety of colors which will change as the season progresses. An ornamental grass will add impact to a container, either as a specimen plant or as a filler plant.

My current favorite container garden is a very large container with Elephant ears (Genus: Colocasia), Penta's, and Sweet Potato Vine (Ipomoea marguerite.) The Elephant ears (my specimen plant) and the Sweet Potato Vine (my trailer) are very similar in color, a bright green, but of course the leaves are very different in shape and size. The impact comes from the filler plant, the Penta's. They have a leaf shape which is several shades darker and produces bright pink, purple and red flowers. All of these plants are partial sun lovers and reside happily on my back patio.

In the front, where I get more sunshine, I have a Hibiscus (specimen) with dark green leaves and yellow flowers, Purple Fountain grass as my filler (in theory – they are currently competing for the title of specimen plant) and dusty miller with a silvery/grey color leaf. The dusty miller isn't a trailer by habit, but it has grown so large that it hangs over the side of the container simply because there's no room in the pot.

Even indoor plants can be combined using these principles. Houseplants come in all shapes and sizes, so start combining them for visual impact. Ivy's, Pothos and Wandering Jew (Tradescantia zebrina) are all great trailers and many varieties of coleus are indoor plants.

Of course, everybody has a different definition of what's beautiful and what has impact. That's the fun part of creating these container gardens. You get to explore, discover and express your definition of beauty!

Don't be afraid to experiment. Usually, if you place plants next to each other in your local nursery or garden center you can get an idea of which plants will make great companions. But the great thing about container gardening is that if you create a combination that doesn't work for you, you can easily remove it from the pot and start over.

Have fun and share your great combinations with us in Forums!


................................................................................

CASUAL VISITOR … and just browsing? Why not sign up to the Container Garden newsletter? It won't matter what space or how many pots you have or even how much time you have to spend in your container garden; what will matter is that you get our reminders and good advice and ideas all in one interesting article.



Related Articles
Editor's Picks Articles
Top Ten Articles
Previous Features
Site Map





Content copyright © 2023 by Kay Boeger. All rights reserved.
This content was written by Kay Boeger. If you wish to use this content in any manner, you need written permission. Contact Lestie Mulholland for details.