Guest Author - Mavis Metcalf
These two little budgies were sharing a swing when Louis Garwood took their picture in this jigsaw puzzle. Thanks once again for the great pictures you send to me Lou!
As always, you can make this harder (or easier) by changing the size and shape of puzzle pieces. You may have to scroll over to get the whole puzzle in your computer window.
Click here
to send this picture as a postcard.
Budgies make wonderful pets. They have personality plus! Whether they are playing alone or with a flock of other budgies, their happy chatter can brighten anyone's day.
A male Budgie can be a great little talker, especially if he was handfed as a baby. Their talking voice is quite quiet and sometimes difficult to understand, but they can and do have very large vocabularies sometimes.
If you keep more than one budgies, it is unlikely that any of them will learn to talk as they prefer to talk budgie when in a flock. Even a bird that had been kept on his own and had been talking, will normally revert to just budgie talk shortly after being introduced to a flock of budgies, although he will probably remain very tame.
To learn more about the wonderful little Budgie, you can purchase the e-book I have written about these birds. Information I learned from several years of keeping and breeding Budgies can be found on the pages.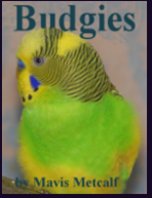 or take a look at some of the wonderful Budgie books available at Avian Publications.