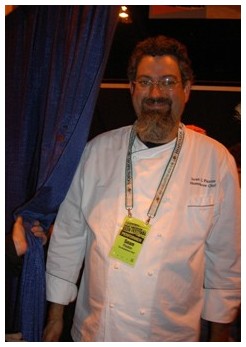 Sean Paxton is the real deal. Since the mid-1990s, Paxton, known as the Homebrew Chef, has brought his knowledge and expertise about food and beer to dining establishments across the country.

In 1993, he began homebrewing and discovered that complex ingredients in beer could open up a whole world of pleasure on the palate. As a professional chef, he began to focus on using beer to enhance food, much like many chefs were doing with wine. He quickly discovered unique properties that governed the use of beer in foods. For example, hoppy beers could add bitterness if brought to a boil; malts could overpower a dish and confuse the palate. He became well-versed in the flavors within each style of beer, and used his knowledge to reflect and mirror these nuances to titillate the taste-buds, like light bouncing within a prism.

Now he scours the country, presenting dinners at diverse venues, from rowdy city cafes to rustic country inns. Word spread like wildfire after his Belgian-inspired dinner at Ebenezer's Pub in Lovell, Maine, where he presented a dinner featuring 12 courses that incorporated beer in each course, while accompanying each dish with a Belgian beer.


Chef Paxton was a featured guest at the Beer & Food Pavilion at the 2009 Great American Beer Festival in Denver, Colorado, USA. In two separate presentations, he appeared with award-winning brewers to showcase their beers with his delectable and imaginative cuisine. With a generous spirit, he has asked that I post his recipes for those who attended his pavilion-packed shows, and for anyone who desires to create their own magic in the kitchen.

Matt Brynildson of Firestone Walker Brewing in Paso Robles, California, and Barnaby Struve of Three Floyds Brewing Company in Munster, Indiana, appeared with Sean Paxton – a powerful threesome in the beer world. Chef Paxton wowed the crowd with Union Barrel Smoked Sea Scallops and Dreadnaught IPA-infused Ceviche.

Union Barrel Smoked Sea Scallops

Served with a Double Double Barrel Ale Demi-Glaze

By taking this shellfish from the sea and treating it similar to a beef filet, the texture is mimicked and the results are very surprising. The rich malty undertone of the beer infused demi also creates a unique and tasty component that brings out a beefy flavor in the smoked scallop.

Serves: 4 people, as an entrée

Ingredients:

14 each sea scallops, fresh
2 tablespoon Firestone Walker Union Barrel shavings, American oak, heavy toast
1 tablespoon French grey salt
1/4 cup clarified butter, unsalted
1/4 cup veal demi-glaze
2 tablespoon Double Double Barrel Ale or Double Barrel Ale, Firestone Walker

Directions:

Gently rinse the scallops in cold running water. Pat dry with paper towels. Remove the abductor mussel, if still attached (small flap attached to the side of the scallop: tough if cooked and eaten). Place scallops into a ziplock bag and seal all but the last centimeter. Place the tubing from the smoking gun into the hole and fill the chamber with the wood chips. Turn on the smoker and light the shavings. Fill the bag until the bag is full of smoke. Turn the smoker off and seal the bag. Place the bag into refrigeration and let sit from 15 minutes to 1 hour depending on how much smoke flavor is wanted, longer exposure will result in a smokier scallop. Process can be repeated to increase smoky flavor. In another bag, add salt and smoke the repeat the same smoking process.

In a small size pot, add the demi-glaze and the Double Double Barrel Ale. Warm and whisk to combine. Keep warm until ready to serve.

Before service, sear the scallops on each side, in a hot sauté pan with clarified butter. Depending on the size, about 1-2 minutes each side. Remove from the pan onto paper towels to drain any excess butter. Place three scallops to a plate and drizzle the beerified demi on top. Garnish with smoked salt, fennel fond. This dish also works well with a roasted fennel and celery root purée.

Dreadnaught IPA infused Ceviche

With some of the same flavors that we taste when eating an apricot or mango, the Dreadnaught IPA malty backbone is offset with tropical notes from the hop bill. By using these flavors as an underlined flavor in this classic South American dish, the IPA is not as aggressive, playing a supportive role in the final flavor profile.

Serves: 8-10 as an appetizer or 6 as an entrée

Ingredients:

2 pound fresh white fish (halibut, sole, snapper, cod or trout)
1 cup lime juice, freshly squeezed
1 cup Dreadnaught IPA, Three Floyds brewing Co.
1 each habanero or other less spicy chili, seeded and diced (optional)
1 each red bell pepper, seeded and julienned
1 each yellow bell pepper, seeded and julienned
1 each mango, ripe, peeled and diced
1/4 each red onion, peeled and diced
2 tablespoon cilantro, washed and chopped

Directions:

In a non-reactive bowl, add the fish, lime juice and IPA; mix well. Place into the refrigerator for 1-2 hours. Add the habanero (if using), peppers, mango and onion; mix well. Return the bowl to the refrigerator and let marinate for another 30 minutes to an hour. At this point the dish will hold for a maximum of 6 hours, but the fish will start to overcook. Just before serving, add the cilantro and adjust the seasoning with salt and pepper. Drain most of the marinade and serve in half pint glasses.

If high quality raw fish isn't available or due to health reasons, the fish may be poached first, the cooled and added to the bowl and marinated as directed.

Cheers!

Photos: Sean Paxton at the GABF 2009; Matt Brynildson and Barnaby Struve clown around for a celebrity photo