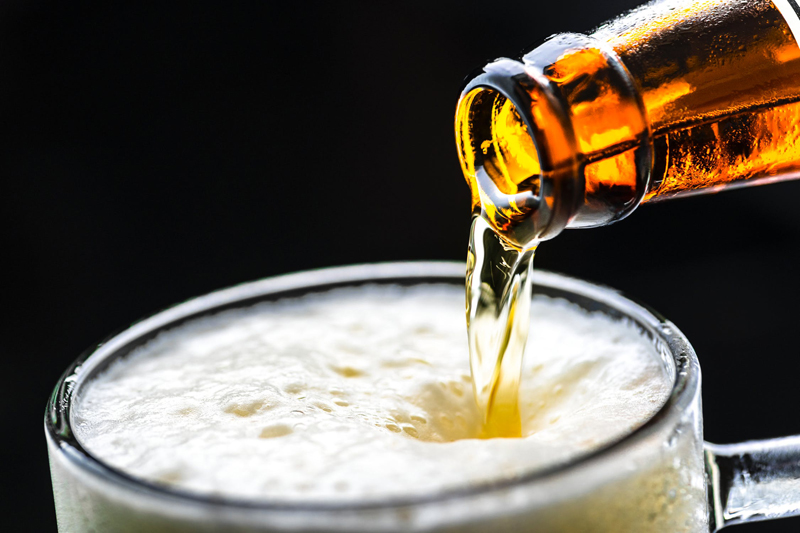 Mainstream beers such as Coors Keystone Ice, Miller Milwaukee's Best and A-B InBev Budweiser Select may not be my cup of tea, but they are the beer of choice for tens of thousands of beer lovers across the country. Since I do not typically drink these mainstream beers, I may appear to be a beer snob, and beer snobs can scare people who are not well-versed in beer. As a beer writer, I sometimes forget this because talking about beer comes as second nature to me. In fact, I see all things beer as fun! Look at the names – Terra-Rye'Zd, Big Sloppy Monster, and Midnight Sun's Panty Peeler. How could anyone be afraid of that?

This was not always the case for me. I cannot tell you that I was one of the first people to be involved in the craft beer renaissance in the United States…or that I was one of the first to recognize beer as the beverage of kings, fit to use as a toast at a wedding feast…or that I was one who took stealth sips of my daddy's beer when I was six. No, beer was not a part of my world from forever until now. I only discovered beer in 2004, five years ago - but when I did, passion was born.

As a woman, I was a bit put-off by the idea of beer. During the time I was "coming of age," most advertising for beer was aimed at men. Although I had some radical ideas about where women fit in the world, I was not adventurous enough to step across every threshold, so I drank dry champagne, merlot, chardonnay, and port wines that did not necessarily merge well with the foods I consumed. Scotch rocks, on rare occasions, too. If someone was talking about beer – and in particular, "craft beer," I avoided the conversation. I didn't really know what they were talking about.


I had never heard of Michael Jackson the Beer Hunter – even though he was the world's leading authority on beer. I did not even know that Pennsylvania laws required me to buy a whole case of beer at a beer distributor. My conversation went something like this: "You mean I can't buy just two or three bottles? But why would I want a case when I'm a woman and will NEVER drink a whole case? You don't understand…I want to cook with it and I need different kinds of beer – not beers that are all the same. What lawmaker would think making me buy a case of beer would control drinking among the general public? That's ridiculous! Where can I get single bottles?"

I did not want to appear stupid, because I knew I was not stupid. But how does one become well-versed in beer? I was not an award-winning anything, did not know what a brewpub was, and thought upscale meant drinking Corona with a lime. I was not alone.

I started reading, puzzled over ingredients used to make beer, and asked questions like, "What are these things called hops?" I had never seen any hops vines, with those delicate, papery cones and hidden, pungent oils in the lupulin glands under their leaf-like petals. Michael Jackson's Ultimate Beer – with intriguing photos of exotic beer in beautiful glassware, snuggled up against their bottles – became my Children's Bible. He explained the ingredients and the process in simple terms, provided a "Lexicon of Flavors and Aromas," and delved into the arena of cooking with beer.


I started creating recipes using beer, contacted brewers, and became seduced by the broad variety of flavors brewed into artisanal craft beer. Andy Musser, former sportscaster for the Phillies, the voice of two World Series, two Super Bowls, and other competitive sporting events, had become an ambassador for Anchor Brewing after he retired from the media spotlight. He met me at a common location to bring me beer samples – and recommended Garrett Oliver's book The Brewmaster's Table. I followed his advice without hesitation. I tasted wheat beers from the Midwest, hop monsters from California, and Trappist beers from the monasteries in Belgium. As I wrote about beer, I received comments and suggestions that led me to become a beer judge. "Contact Dave Houseman…he's in your area. He'll tell you where to find a BJCP class," one email relayed.

Although this is how my immersion into craft beer began, most drinkers would rather find a shortcut that could speed them through the basics and onto expert status in a streak of lightning. Christina Perozzi and Hallie Beaune do just that with their book, The Naked Pint: An Unadulterated Guide to Craft Beer, published by Perigee and due on the bookstands November 3, 2009. Funny and smart at the same time, this brilliant little gem is your flashdance to beer fluency. It speaks to us, and in particular to women, in entertaining style, while consolidating complex information into a format that is easy on the brain, yet hits all the important points.

So go for it! As you become more fluent in the language of beer, you will find that it is just another language, and has nothing whatever to do with snobbery.

Cheers!
 
You Should Also Read:
A Classic Beer Guide for Women
Coors UK - Gender Prejudice through Project Eve
In Pursuit of Ale Women's Club of Philadelphia


Related Articles
Editor's Picks Articles
Top Ten Articles
Previous Features
Site Map





Content copyright © 2023 by Carolyn Smagalski. All rights reserved.
This content was written by Carolyn Smagalski. If you wish to use this content in any manner, you need written permission. Contact Carolyn Smagalski for details.