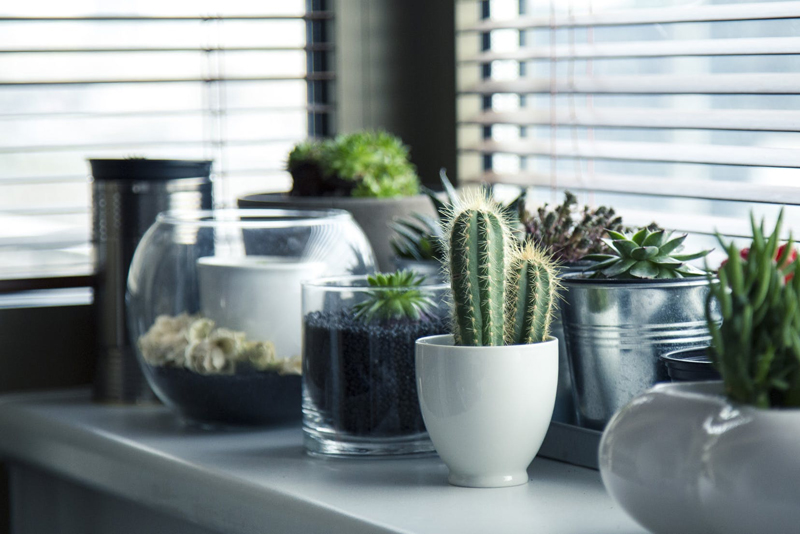 There are two foliage plants that go by the common name Swiss Cheese Plant. Monstera obliqua has holes in its leaves and the very similar Monstera deliciosa has split leaves. Other than the slight difference in the appearance of their leaves, the two plants are indistinguishable to the average person. For this reason, they also share a few other "common" names: Split Leaf Philodendron, Mexican Breadfruit and Windowleaf. Split Leaf Philodendron and Mexican Breadfruit are more accurate names for M. deliciosa and Windowleaf makes more sense for M. obliqua, but the names are used for both. The care of either of these species is pretty much the same when growing them indoors.

Swiss Cheese Plant does well in filtered or light shade. If the plant will be near a window be sure that direct sun will not fall on the leaves, especially at midday. Sheer curtains can help cut the light intensity to a level that won't burn the plant. Another option is to grow the plant near a window with a northern exposure.

These plants tend to be very fast growers and will have a thirst to match. Water thoroughly at each watering then allow the potting mix to dry out fairly well. When the mix is dry about an inch down it is a good time to water again. Avoid over-watering. Fertilizer can be mixed with the water at half-strength and given every three to four weeks during the growing season of spring to fall. Use a fertilizer with balanced nutrition; it should contain both macro- and micronutrients. In the winter, omit fertilizer from the water and reduce the total amount of water given.

Typically, Swiss Cheese Plant is propagated by cuttings. It will root readily in water or in a light propagation medium. Cuttings can be transplanted when the roots are large enough to support the new plant. This can be estimated by observing the appearance of many fine root hairs and the beginning of new leaf growth.

Many insects find the Swiss Cheese Plant to be as delectable as the name sounds to us. Check the undersides of leaves and along stems regularly for spider mites, mealy bugs, scale and even aphids. Neem oil is an effective tool for safely eliminating pests.

Monsteras are members of the Arum family and so are toxic. These plants contain oxalic acid crystals which can cause skin irritation if broken sections of the plant are handled without gloves and can cause pain and swelling of the throat if it is ingested. The fruit is edible when ripe, but contains the oxalic acid until that time. The fruit is ripe when the green rind falls easily away when knocked.



This site needs an editor - click to learn more!

You Should Also Read:
Propagation by Stem Cuttings
Mealybugs
Houseplants Newsletter




Related Articles
Editor's Picks Articles
Top Ten Articles
Previous Features
Site Map





Content copyright © 2022 by Lisa Beth Voldeck. All rights reserved.
This content was written by Lisa Beth Voldeck. If you wish to use this content in any manner, you need written permission. Contact BellaOnline Administration for details.