Winter Orchid Growing Tips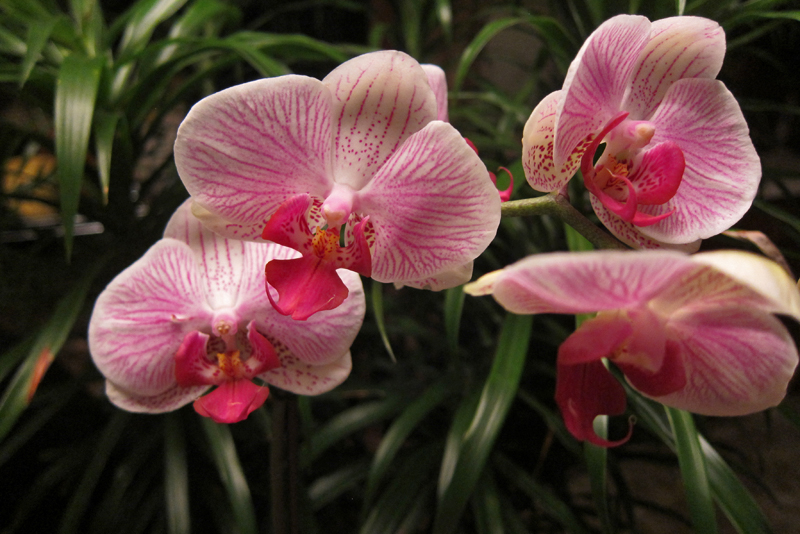 Recommended low temperatures
Different types of orchids require different temperatures during the winter months. In general, Vandas, Dendrobiums and Phalaenopsis will react badly if the temperature goes below 50 degrees Fahrenheit or 10 degrees Centigrade. It is better to keep them in the 55-60 degree Fahrenheit range, or 13-15 degrees Centigrade. Cattleyas can stand cooler temperatures, but if you don't have to do so they will do fine with the same minimums as the others.

Use air temperature water
Keep a supply of water either inside the house or in your greenhouse so that you don't shock your plants with water colder than the ambient temperature. I use plastic milk containers that have been carefully washed out. This is much easier than trying to determine if the water is warmer or colder than the air temperature. Many plants have been killed by water too hot for the plant when the grower is simply trying to take the chill off cold water. Just keep a container handy and the environment will do all the guess work for you!

Reduce water and fertilizer
Winter months in the Northern Hemisphere are cooler and have less light than the summer months. Your plants will need less water and fertilizer since they are not growing at the same pace they were in the warmer months. In general, watering will be about half of what it is in the hottest months and fertilizer requirements will also be about half. If you fertilize every time you water, you will automatically reduce the amount as you reduce watering.

Watch the light levels at windows
For indoor growers, now is the time to check out the light levels that your indoor plants are receiving during the shorter months. Light that may be too strong during the summer months may not be enough during winter months. If you have shading to keep your plants from burning during the summer, it may be time to remove those or at least open them up during the day.

In cold climates be careful of windows
Be careful that you do not allow plants close to windows to have leaves that touch the pane or you can have that plant's leaves freeze even though they are inside. Position your plants at least a 1/2" away from outdoor surfaces to allow for air circulation to keep the air from becoming too cold. Even in winter it is important to keep good air circulation around your plants in order to equalize temperatures.

You Should Also Read:
Orchid Growing Tips
Flowering size plants
Orchid Gifts Under $25


Related Articles
Editor's Picks Articles
Top Ten Articles
Previous Features
Site Map





Content copyright © 2022 by Susan Taylor. All rights reserved.
This content was written by Susan Taylor. If you wish to use this content in any manner, you need written permission. Contact Anu Dharmani for details.