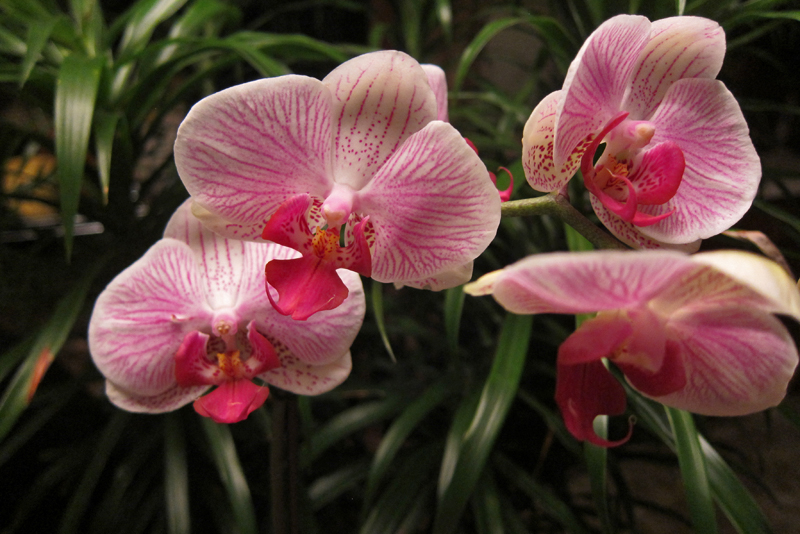 Be careful with aerosols around blooming plants
Don't spray air fresheners or aerosol sprays near blooming orchids, or the flowers will wilt and any unopened buds will wither. Many of these sprays contain ethylene which adversely affects orchids in bloom. Another source for this gas is ripening fruit, so be sure to keep any fruit away from your orchids too.

Watch your watering schedule
During fall and early winter it is especially important to watch your watering schedule as your plants will be using less water and growing more slowly with reduced temperatures. Remember that you can kill more orchids by overwatering than by under watering, so let them go a day or two more than you think is necessary before watering. Cooler temperatures also call for less fertilizer, so if you were fertilizing every other watering or once a week, then reduce to once every two weeks.

Pests will seek out warm places
As temperatures cool, pests such as snails and slugs will migrate to warmer spots such as outdoor pots. Be sure that you drench pots before bringing in outdoor plants or you will provide a new venue for these pests. Soaking pots in soap and water will kill insects and make snails and slugs crawl up out of the media where they can be disposed of.

Never plant directly in decorative pots
Orchid roots can be sensitive to salts and metals in decorative pots so never plant them directly in such a pot. They're called "cache pots" for that reason -- the phrase means "hide pots" in French. Simply put your orchid planted in its plastic pot into the decorative pot so that the roots do not directly connect with the sides and you will be fine. Mosses can be used to complete a decorative look by hiding the plastic pot.

Good air movement is critical
Be sure to keep the air moving around plants even in cooler temperatures or you run the risk of mildew. This usually manifests itself as a dark looking shadow on the back of leaves. Spraying the undersides of leaves with Physan or Consan will take care of the problem. Air circulation keeps the spores from settling in likely places.

Put Physan or Consan in your fertilizing water
As a preventative for fungal diseases, add Physan -- a broad range disinfectant, fungicide, virucide, and algaecide -- to your fertilizing water will help you keep these diseases from starting in your orchid collection. It is especially important if you are growing Phalaenopsis orchids which are particularly susceptible to Erwinia rot which will kill the plant in a short amount of time and spreads rapidly to other plants.

You Should Also Read:
Fall Orchid Growing Tips
Buying on the Internet
Orchid Gifts Under $25


Related Articles
Editor's Picks Articles
Top Ten Articles
Previous Features
Site Map





Content copyright © 2022 by Susan Taylor. All rights reserved.
This content was written by Susan Taylor. If you wish to use this content in any manner, you need written permission. Contact Anu Dharmani for details.