Right Angle Weave Photo Pendant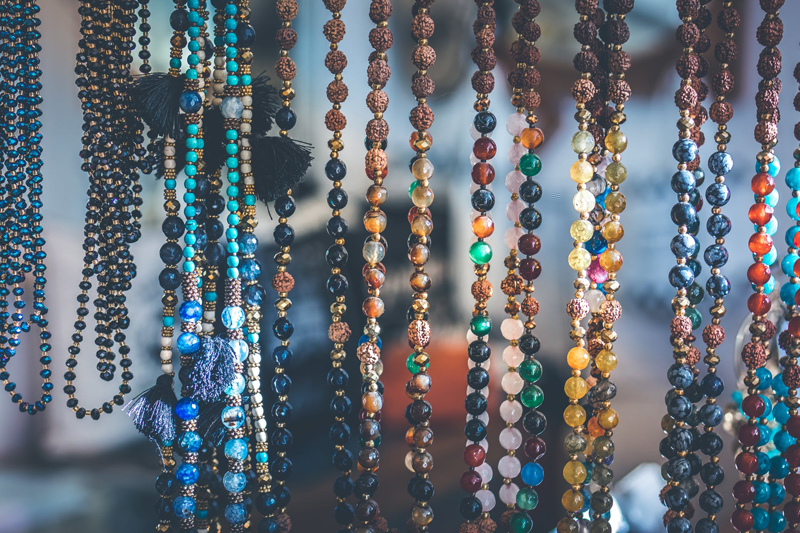 If you liked the
Rivoli right angle weave bezel
you'll probably like this one. It's an easy project, but I didn't include thread paths for right angle weave. It will work in single needle or double needle techniques. I learned the technique from Emily Hackbarth and adapted it for the square pendant.
Memory glass, by
Ranger Ink
, are pieces of glass that are 1/16" thick and put together using foil tape. The pieces for my project are the 1x1 inch squares which are actually just slightly under 1" so if you use a 1" inch square punch to cut out your images, you'll need to trim them slightly. The foil tape and the glass are available in the scrapbook section of any good craft store or at rubber stamp or scrapbooking stores.
Pick a photo or image you want for this pendant. Since this bezel is open on both sides, you can use two images. I used a good witch and bad witch I drew a while back, my image is at the end of this article.
Cut off a piece of foil tape that's just over 4 inches long.
Make sure you don't touch the surface of the glass, just the edges, you don't want to trap a fingerprint under the glass. Sandwich your images between two glass pieces and wrap the foil tape around the edges. Burnish it down with something blunt. I used the round end of a paint brush on mine. Burnish down the bit of overlap to create a slight framing effect. Clean off any fingerprints.
Now for the fun part. Beading it. Mine is simple, but you can adapt and decorate it by adding fringe and other embellishments. I used size 11 beads and it works up very fast.
You will need:
Size 11 beads- I used only two colors, one on each side, but to be able to see where your decreases go it might be easier to use 3.
Beading needle
Scissors
Beading thread
Start by making a loop of 32 right angle weave units. A unit is the 4 beads that make up each square with the second side bead of one forming the first side bead of the other. So it's actually a strip of 31 units joined by a top and bottom bead to the first side beads. Add 2 more rows of right angle weave. Diagram doesn't show all 32 units but there is a graph at the end of the article.
To start the decreases, because it's a square you'll need the decrease in the same place on both sides. Since I used solid colors I had to mark the spot on the opposite side I was working on which I did by sliding a head pin in that bead. If you use 3 colors it will be easier to see. Add 6 more 3 bead units, the next one is the decrease, so the bottom bead of the unit is actually 2 beads pulled together. Repeat around. 6 right angle weave units, decrease. The last 2 up beads on the previous row are decreased. The new row is shown in blue and red with the red marking the decreases.
For the final round, add one bead between each of the next 5 up beads, pass needle and thread through the decrease bead and the bead following that, repeat around. This row is the top green row of beads.
Put the glass with the images into the bezel, and pass needle and thread to the other side to repeat the decrease on the other side.
After you finish the bezel, you can add embellishment and any sort of loop you'd like or create a bead chain off of the image. I just made a small centered loop with more right angle weave and put it on a ribbon. In the following graphs, the join at the beginning and end of the round are marked with dots.
Right angle weave in either single needle or double needle technique is a nice drapey stitch that works up very fast.
Here's the image I used. It's double sided and created to be printed at 300 dpi. At 300 dpi it's 1x1 inch, so it will need to be trimmed to fit. The original image is one I drew for a
box
a while back.
You Should Also Read:
Rivoli Bezel
Netted Cabochon Bezels
Diamond Chain


Related Articles
Editor's Picks Articles
Top Ten Articles
Previous Features
Site Map



Follow @shala%5Fbeads
Tweet





Content copyright © 2023 by Shala Kerrigan. All rights reserved.
This content was written by Shala Kerrigan. If you wish to use this content in any manner, you need written permission. Contact Shala Kerrigan for details.